The calf is a very strong leg muscle, given this it allows all the mobility, grip and strength to the leg. However, it can be affected by a multitude of causes where there can be contusions, contractures or more serious injuries.
The best solution to prevent and improve all these conditions is by means of a calf brace, as thanks to the compression it exerts on this area, you will be able to avoid or reduce problems as serious as varicose veins, achieve a rapid recovery and even have a better sporting performance. So, if you want to know more about this incredible garment, then read on.
In what type of injuries are compression calf sports recommended?
The pain in the legs becomes constant day after day, either because of an exhausted training or because of being in daily activities without rest. There are many types of injuries, among them:
Muscle contractures and overloads: This is a condition that affects both athletes and a sedentary person. Normally, it occurs when we stretch our muscles much more than is permitted, when we exercise and do not warm up beforehand, carry out daily activities without having a prolonged period of time, among others.
Muscle cramps: These are spontaneous contractions in one or more muscles. In general, it is very common for this to occur while you are asleep or exercising. Its process is painful, immobilising, lasts a few seconds and tingling occurs.
Periods of a lot of training: this problem occurs when we spend many hours training or finishing a sport and do not warm up beforehand. At this point, the muscles contract with each other and generate intense pain.
Varicose veins: This is an inflammation of the veins due to the poor circulation of the blood that accumulates or is retained; as the valves that control this procedure are obstructed or damaged. Therefore, they dilate, swell, cause burning and pain in the skin. It is recommended not to stand for so many hours, when suffering from this condition because it accelerates the appearance of it.
Muscle tearing: This occurs when the tendon or muscle contracts, and can run the risk of a fissure. In short, it stretches quickly, leaving the leg immobile.
Thrombophlebitis: This is a disease in which there is serious coagulation in the blood and at the same time it blocks the flow of blood through the veins, retaining it and causing inflammation. It is a little like varicose veins but the difference is that it does not leave marks and the swollen lump disappears with anticoagulant medication.
Peripheral artery disease: It is located in the obstruction of the blood vessels due to the reduction of the arteries by the amount of fat in the body. It affects the nerves and ligaments causing a strong pain, preventing us from walking.
Baker's cysts: It is an accumulation of the synovial liquid that lubricates the knee, it is retained and a lump or ball is formed in front or behind it. It causes pain, swelling or bruising in the back of the calf or knee.
Achilles' tendon: This refers to the partial tear or rupture of the tendon that joins all the muscles, and is located behind the calf. This ligament is the one that supports and controls the body's weight. When it is broken, it immediately prevents us from walking properly.
Muscle breakage: This occurs when the calves are stretched, being vital for running and performing effectively in training. When they are injured, they contract and do not allow any movement.
Bestseller
What are the health benefits of compression calf brace for running and other sports?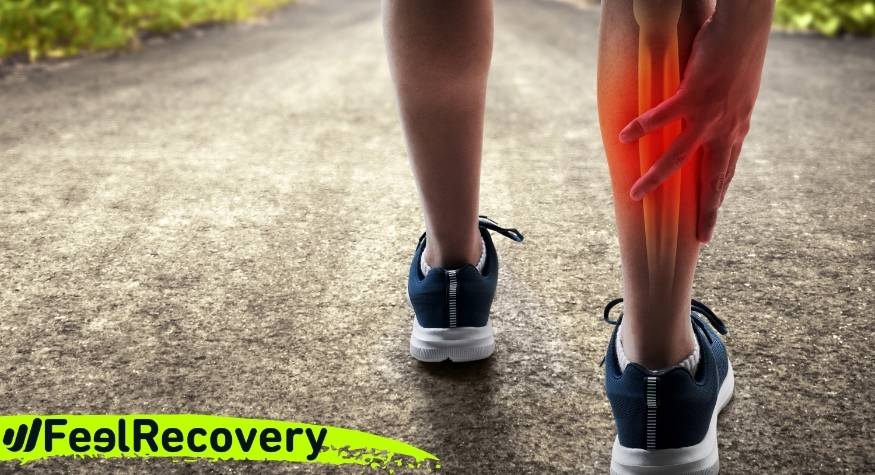 These garments began several decades ago for the sole purpose of therapy. Now, their use in sports and everyday life is increasing, due to the great advantages they offer us in taking care of our health. This is why we have summarised some of their benefits here so that you will not hesitate to have one.
Relieves pain: Wearing this garment facilitates blood circulation, provides warmth to calm or lower the intensity of discomfort.
It prevents injuries: Exercising for long hours without having a previous rest affects our body. Twins are very important because they offer you more safety, protection and comfort.
It improves circulation: It is a positive aspect that helps the blood flow correctly through the arteries and increases the oxygenation of the muscles.
Reduction of inflammation: This garment performs a compression in that area of the body, which generates an increase in blood flow and therefore, a decrease in inflammation.
Helps performance: A good temperature in the area, the confidence of not suffering contusions and most importantly, the constant circulation of blood, generates greater productivity.
Reduces fatigue: Implementing this item in your sportswear will help retain the wear and tear on the muscle fibre, exert pressure and provide support.
Avoid cramps or tingling: Exercising for so many hours in a row causes cramps or muscle stiffness, with your calves you can prevent it.
Post-operative: They are widely used after any surgical intervention, thanks to the deflation and stability of the joints that this garment provides.
Corrects the way of walking: It offers us the ideal support, firmness and comfort for running or walking, thanks to the compression it makes in the area.
Keeps warm: The sweat we can sweat in our routines, turns it into steam to keep the joints warm.
Improves perspiration: It serves to drain all the body's harmful toxins, taking into account liquid retention.
What features should you consider before choosing the best sports compression socks?
There are many aspects to consider before choosing the ideal calf for you. This is determined when you identify the use you want to give it, from there you can evaluate other areas such as: the level of compression, size, design and many more factors that will be explained here.
Compression level
These garments perform a compression in the area to be treated, which generates a better blood circulation. There are "standard" levels that can be used by any ordinary person, but if, for example, you need to use it to attack varicose veins, you should choose a higher grade.
The calves have different levels of compression, which are measured by millimetres of mercury (mmHg), below we will explain the grades, the conditions it helps to improve and what type of individuals can use it.
Light (18-24 mmHg): Prevents venous insufficiency (it does not treat them when they already exist), perfect for patients who suffer from swelling, leg exhaustion, pregnant women, are sedentary or spend many hours standing.
Moderate (22-29 mmHg): Recommended for people who are beginning to have varicose veins.
Strong (30-40 mmHg) and very strong (37-49): This level is medical grade, so it is very important to consult a specialist. This point already concerns people with chronic venous insufficiency, lymphedema and other serious complications.
Length
You can choose a longer or shorter garment, either for aesthetic reasons, comfort or because you require more pressure in a specific area. Here are the details:
The sock type covers the entire area of the foot and calf, i.e. it covers many areas with just one garment. Used by people who practice sports such as running, because it controls heat, it improves blood flow so that arteries are not obstructed. It also helps to improve injuries and many conditions in that area.
Calf braces are used by athletes who practice disciplines such as: football, basketball, baseball or tennis since it offers support, firmness and stability to their muscles even when they are exhausted from training. In addition, it can treat pain, injuries, illnesses and all kinds of contusions in that area.
Material
As its use is so important for different activities, conditions and even for therapeutic treatments, the material of its realization is the most important aspect for it to achieve the expected objectives:
Most of them are made with antibacterial threads because, as they have such a direct contact with the skin, they must prevent any kind of fungus or bacteria that may be present and avoid bad smells.
They are also made with elastic fabrics such as elastane, polyamides and other types. This allows it to exert pressure on the calf without being uncomfortable.
The percentage of materials used for each garment will depend on the manufacturer and the area to be treated, for example, whether it is for sports purposes, stabilizers or to combat varicose veins.
Size
You can't buy a garment without knowing your exact measurements. Because, if you choose a very small size, it can be so tight that it will hinder the circulation of blood and, if it is very large, it will not make compression, so it will be useless. If you make the purchase through a physical shop, the orthopedist or specialist will take your measurements. On the other hand, if you do it on the Internet (because they will surely have more models and options) you will have to know your size.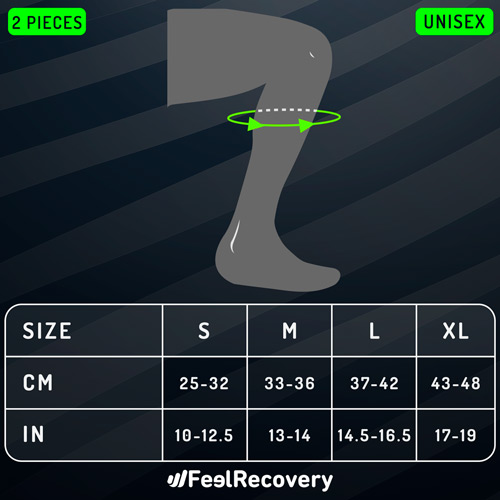 SIZE

S

M

L

XL

CM
25-32
33-36
37-42
43-48
IN
10-12.5
13-14
14.5-16.5
17-19
WHERE TO MEASURE?
The circumference of the widest part of the calf is measured (*See image)
*Note: If after measuring you are between two sizes, choose the larger size
Design
As explained throughout this article, there are many designs and uses for cufflinks. You can find in the market the ones that better adapt to you, according to your tastes of models and colours. It is possible to emphasize its use in the sport not only because it improves the performance or it alleviates the pain, also it has become a fashion of which many want to enter.
There are a lot of sportsmen who use this garment as part of their daily uniform, and perhaps many who watch them will want to imitate it without knowing in depth the benefits it brings. Also, it is important to ensure that the calf sleeve is breathable and has a flexible fabric, because otherwise it will be very uncomfortable to wear.
Price
The cost is very fluctuating, it varies according to the country where you live, the manufacturer, models, compression and among many other aspects. But, we can approximate its value for you to evaluate your budget.
When and how to use compression calf sleeves to improve your sport?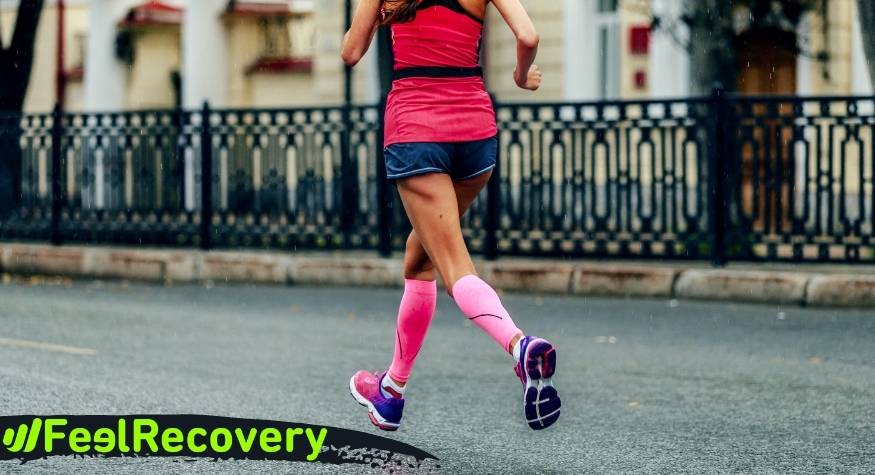 Compression calf braces are not the favourite garment of sportsmen and women just because of their aesthetic use. Their improvement in recovery and/or prevention of injuries has been proven by researchers for many decades. The first studies determined that garments with higher pressure on the ankle, and a little less on the leg area, were beneficial for blood circulation and muscle edema.
Some time later, with the evolution of the tissues and with a better understanding of these, they decided to investigate the recovery of sportsmen, specifically in disciplines such as: running, cycling, football, basketball, rugby, rowing and kayaking. In which they concluded that: After having finished the training or due to great sport efforts, the garment increases and improves the recovery capacity.
This was due to the reduction of hematocrit and lactate caused by compression in the area. In short, calfs supports will be the perfect ally to grow and perform in any sport you practice because, an injury in this race could be the end of it.