Volleyball is a sport that requires constant use of the arms and hands. Therefore, injuries in this area, especially in the elbow, can be present at all times. Therefore, if you want to have a good sport practice, while avoiding injuries or other ailments, the use of compression sports elbow sleeves are the best solution.
Throughout this article we will explain everything you need to know about the different types of compression elbow braces, their characteristics and function in volleyball, as well as the traumas that could be faced by anyone who plays this sport.
What are the most common volleyball elbow injuries?
Because volleyball involves repetitive overhead movements, such as spiking and blocking, players are prone to overuse injuries of the shoulder and elbow. The risk of accidents to that part of the body is higher in sports like volleyball, where you have to make different movements with the joint in order to play the game. To give you an idea, here are some of the most common elbow injuries you might suffer when playing volleyball.
Lateral epicondylitis of the elbow
Also known as "tennis elbow", this is an inflammation or irritation of the tissue that attaches the forearm muscle to the outer elbow area. It causes tenderness and severe pain in the lateral epicondyle of the elbow joint. The cause is due to overuse, which occurs most often in sports that require heavy use of the arms, although the condition is also possible in anyone who twists the elbow, uses it repetitively or with movements as simple as turning a screwdriver.
In volleyball, it usually occurs when poor technique is used with the ball between the elbow and wrist, which can affect the joint. It is also caused by overuse, when training for so long that the muscle can no longer withstand so much pressure, causing the elbow to swell. It is recommended that you consult a physiotherapist for treatment.
Epitrocleitis
This injury also has a particular name from a discipline, as it is called "golfer's elbow". Being recognised as a common condition in one sport does not mean that it cannot affect other people and sporting practices. It is the swelling of the tendons that allow flexion of the wrist and fingers, although it originates in this area, the pain is on the inner side of the elbow, increasing the discomfort every time the joint is flexed.
It can occur in volleyball due to overuse, because this practice requires repetitive and constant movements in the whole region of the arms and hands. When they are professionals, training sessions can be very long and the joint can suffer from tendonitis. It is important to immobilise the elbow, as flexion and extension movements can further damage the trauma and cause a major problem.
Elbow sprain
This is one of the most common injuries that occur in any part of the body. In the elbow, it is caused by a break, strain, blow or sprain that affects the ligaments of the joint. The severity of the injury is categorised by phases that are divided into three parts, the last and most complicated of which is a profound instability of the elbow and complete tearing of the tissue.
The sprain usually results in swelling, pain, tenderness and bruising, which could lead to suspension from volleyball as rest is required to avoid using the arm. It is also important to provide compression to the elbow to reduce swelling and relieve all these symptoms, which is possible with a sports elbow brace. This injury can occur in any bad movement that the person makes during practice.
Olecranon fracture
The olecranon is located under the skin on the back of the elbow and is of great importance for its stability. The symptoms are: pain in the area, swelling, bruising, limitation of movement, among others; everything will depend on whether it is a partial or total fracture, due to the intensity and depth of the injury.
The most common cause is a direct blow to the elbow, which can occur during volleyball practice due to falls of medium or great force. When the person falls, the hand usually rests on the ground, causing the break; it can also be caused by a contraction of the triceps muscle. The treatment consists of restoring flexion and mobility to the elbow, which will be indicated by a specialist and, depending on its severity, may require surgery.
Acute injury
There are many ways in which an acute elbow injury can occur, whether from a fall, incorrect bending, a direct penetrating blow, among others. These can result in fractures, bruising, pain, swelling and even dislocations. Those who play volleyball could suffer any of these accidents, due to the speed of the game and the constant and abrupt mobility that is exercised, and could suffer a fall due to poor mobilisation or have a dislocation due to an incorrect throw of the ball.
Treatments are indicated depending on the severity of the trauma, being able to recover with compressive elbow sleeves, although if it is very serious, it could require surgery, so it is always recommended to be prevented and protected to avoid these types of injuries.
Bestseller
What type of sports elbow braces are best for injuries in volleyball players?
Volleyball is a sport that requires a lot of preparation and training. To be able to play this discipline properly and safely, it is best to have the right protective equipment, such as sports elbow braces, which not only provide greater security, you can also treat injuries of varying degrees for their cure, among the most prominent are:
Elbow compression sleeves
The combination of elasticity and compression, are ideal for the treatment of conditions such as: inflammation, tendinitis, pain, epicondylitis, epitrocleites and more. This is due to the design of the garment, which provides flexibility and the necessary pressure to treat all the aforementioned injuries, and also to mobilise the arm without feeling restricted for sporting activities. It is also noteworthy that it adheres perfectly to the skin, without major complications. It provides heat, giving the joints a therapeutic effect to heal quickly. You will be able to move and bend your arms without any complications, while the elastic compression elbow brace does its preventive and/or healing work.
Orthopaedic elbow supports
Used for deeper injuries such as epicondylitis, epicondylitis, epitrochleitis or major sprains. They are also widely marketed in postoperative processes because they exert a deeper compression and a much more optimal level of support, so that the garment cannot be mobilised, and will always keep the joint in the same place so that it can recover more quickly. It is generally recommended by specialists for use. The most common materials for its manufacture are neoprene due to its resistance, elasticity and other characteristics, although it also needs the support of other complements such as hinges, straps or other necessary supports to carry out its function correctly.
Epicondylitis strap
This band is indicated for the recovery of lateral epicondylitis, treating at the same time the pain or other cases of tendinitis in the same area. Despite being a small garment, it exerts the effects it is supposed to do in the area in a proper way, due to its perfect fit and design, with velcro straps and anti-slip silicone strips, guaranteeing the band's hold and pressure. This elbow brace is recommended for all athletes who may suffer muscle damage, such as volleyball players, as it offers tendon support and pain-free activity. It is an excellent protector for the elbow, as well as an effective treatment for epicondylitis.
Stabilising elbow braces
This type of elbow brace is ideal for recovery and protection of the elbow. The first is possible because it stabilises the joint and gives the necessary support so that the injury can heal more quickly and properly, at the same time generating the necessary compression to increase blood circulation, relieving pain, inflammation, tendinitis, sprains and more. Despite being stabilising, it can be used during volleyball practice and in everyday life, due to the materials used for its creation such as: hook straps, nylon loop, steel springs, among others. In this way it prevents muscle damage that can be caused by overuse or force, relaxes the joint, prevents injuries, relieves muscle tension and gives good stability to the elbow.
What features should you consider before choosing the best sports elbow brace for volleyball?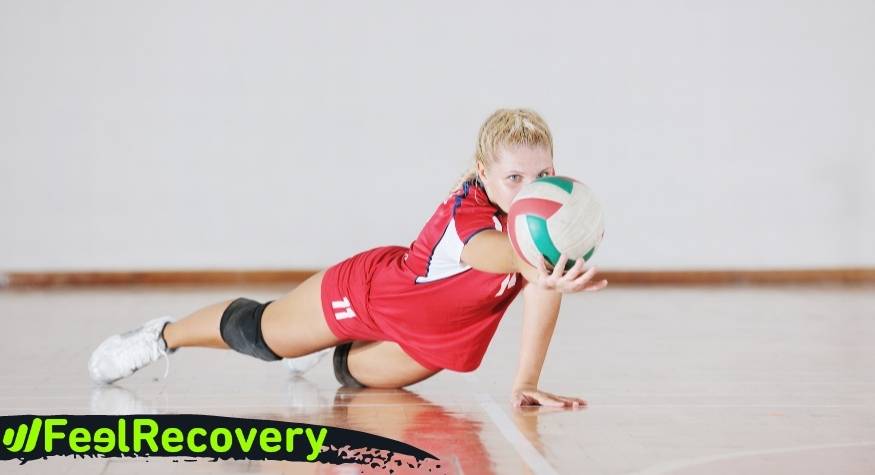 There are several steps to determine which is the best sports elbow brace. The first thing you should do is identify the need for which you need it, whether for protection, recovery, treating injuries or others, and then move on to more aesthetic phases, but which are equally fundamental to realise the benefits you want in the elbow, such as: materials, design, sizes and more.
According to their function
Elbow brace for pain relief: After an injury or after a sports practice, you might have discomfort in the elbow, which is normal if used constantly as it happens in volleyball. Sports elbow sleeves can significantly improve all these ailments due to their materials and the compression they provide to the area, reducing any inflammation and pain you may have quickly and easily, without the need for the use of chemicals or other typical pre-inscriptions.
Protective elbow brace: A feature that any athlete needs, is to feel safe and protected in every movement. Elbow supports offer different materials such as gel, padding, sponges and more, to ensure no injuries or accidents to the elbow, as well as keeping it stabilised, so you can flex or extend without fear.
Recovery elbow brace: After heavy training or volleyball matches, you may feel discomfort in the elbow and arm due to the use and effort generated in these. Therefore, the solution provided by these compressive garments are so beneficial because, just by using them properly, you will be able to exercise the whole process of recovery and healing of the muscles in the joint.
Long and short elbow brace: The most significant difference between the long and short elbow brace is that the former covers both the elbow and the forearm, therefore, its benefits and protection expand to more areas of the arm and does not focus on just one.
Material of manufacture
The process of selection of materials, should be one of the most thorough and detailed points that you should perform, this is due to the important role that highlights this feature, because if you make a wrong choice, with fibers that do not transpire, have no elasticity, or other disadvantages, will not perform the function for which you made the purchase of the garment.
In order to have a pleasant experience and optimal results to your expectations, we will name and explain the most used materials for the manufacture of sports elbow sleeves. In this way, you will have a complete overview of what you require and need to make the right choice.
Neoprene: It is a type of synthetic rubber, very used in the making of elbow braces for the subjection that it provides, resistance, flexible, free of germs and bacteria.
Elastic fabric: As its name indicates, it is a very elastic fibre that you can stretch without affecting its natural state. It is used in different percentages with other materials to create an incredible fusion.
Nylon: It is noted for its excellent compression, but also has other characteristics such as: strength, flexibility, breathability and more.
Type of support
Support means stability, so it is a fundamental characteristic that the garment must have so that it can always stay in the same place despite the sudden movements you may exert during volleyball. This does not mean that the sports elbow sleeve cannot stay in its place in the joint, but rather that it is a form of prevention and greater security that you need for important moments such as training or matches.
The most recommended and used are:
Silicone: It stands out for keeping the garment in the same place with its gel material, which in addition to providing therapeutic benefits and generating a massage effect, has an extra support that the displacement and sliding of the piece.
Velcro: It is a system that works with two tapes that are joined together to generate the opening or closing of the same. It is widely used in sports elbow braces due to its ease of use, personalised compression and provides good support, so you feel safe and comfortable in every movement.
Hinges: It is a closure mechanism widely used in postoperative processes or that need to immobilize the joint, because it generates a much deeper support. This material can be adjusted to keep the elbow static and at the same time position it for flexion or extension movements.
Size
There are sports elbow sleeves in "one size fits all" formats, but if you need a more exact and adequate compression or support for each person, it is necessary to use elbow braces according to the size of your joint, which can be identified by letters: S, M, L and XL. To know your size, you should measure your elbow with a tape measure, and according to the centimetres obtained, you will have to compare it with the table that will be provided below.
It is important to compare the results with the sizes provided by your supplier, as these may depend on the brand or country where the garment is located and affect the final result. However, having the exact measurement of the elbow will give an easier and simpler vision in the search of the sports elbow brace.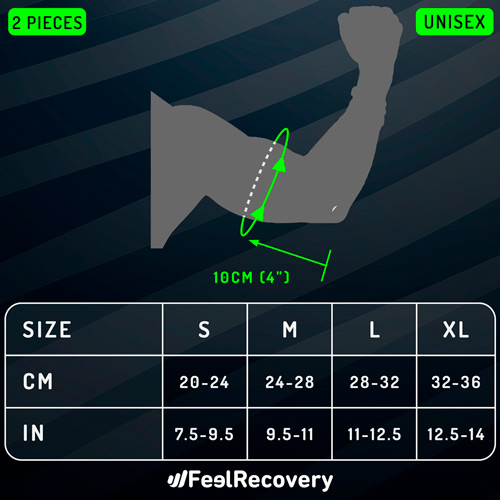 SIZE

S

M

L

XL

CM
20-24
24-28
28-32
32-36
IN
7.5-9.5
9.5-11
11-12.5
12.5-14
WHERE TO MEASURE?
Measure arm circumference just 4 inch/10 cm above the elbow joint (*View image)
*Note: If after measuring you are between two sizes, choose the larger size
Design
Volleyball players, especially professionals, have a style of dress and attitude, very particular to other disciplines, so maintaining this characteristic can be one of their priorities. With sports elbow sleeves it won't be a problem because thanks to their different models (long and short) you can choose designs according to your personality.
The most commonly used colours are: black, pink, red, yellow, green and blue. Generally, these shades are fused with figures and stripes to create a modern design that is pleasing to the eye. Their materials, regardless of their thickness or size, are perfectly adapted to the model of the elbow brace, going completely unnoticed to the eye, and doing the function for which they were acquired. Undoubtedly, an excellent garment to use in every volleyball practice or game, which you can combine with your uniform.
Price
The price may vary depending on their features and functions, as if they have extra materials or fasteners, the cost will be much higher, as well as it may fluctuate by the country of origin of the garment, therefore. Whenever we have the possibility, it is advisable to buy sports elbow braces of medium-high prices, since in this way we ensure that the product meets the quality standards and its function will be correct.
Do compression elbow sleeves really work for volleyball?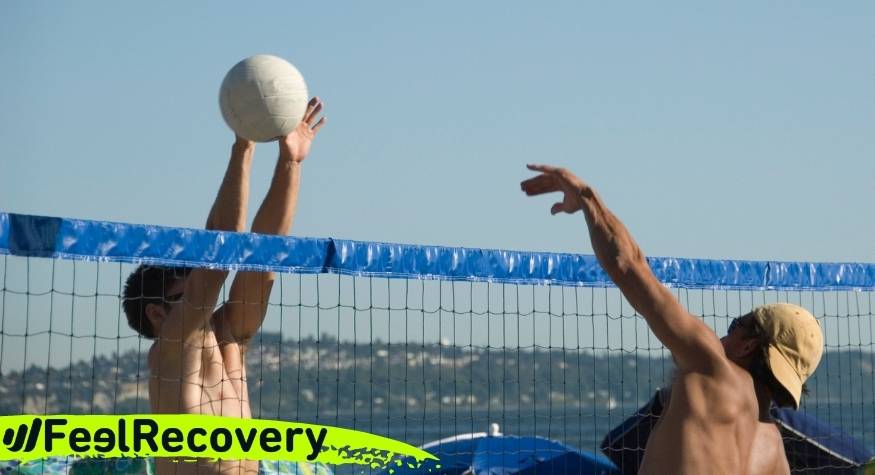 Volleyball, being a discipline that requires continuous mobility of the elbow, needs adequate protection of the same, because if you suffer an injury, even if it is minimal, it would affect your sporting practice and therefore your professional career. To avoid all these situations, compression elbow sleeves have been recommended throughout the article, which have been explained and each of their points of view have been detailed, certifying their functionality in sports such as volleyball.
All the data provided, have been verified in different studies, primarily the usefulness of compressive therapies, which have been of great help to all those people who suffer from arthritis, or any blood condition, because thanks to this device, you can increase blood circulation, hence its benefits of pain relief, reduction of inflammation, heals injuries, accelerates recovery and more.
With the use of compression elbow braces, you can considerably improve your sports performance in volleyball or speed up recovery from an injury, because by preventing and renewing every aspect of your health and especially in the elbow; the only thing you have to worry about is to keep training and give your best with the constant support of the elbow braces.