Muscle recovery is a natural process that occurs not only in athletes, but also in anyone who has been through a physical journey that they have not been used to. It depends a lot on the muscular quality of the person, so a healthy body recovers better, there should be no doubt about that.
Here you will learn about the best products on the market to achieve a quick body recovery after sports training or any physical activity that has left you fatigued or you have suffered some kind of muscle injury.
What is a massage gun and what is it for?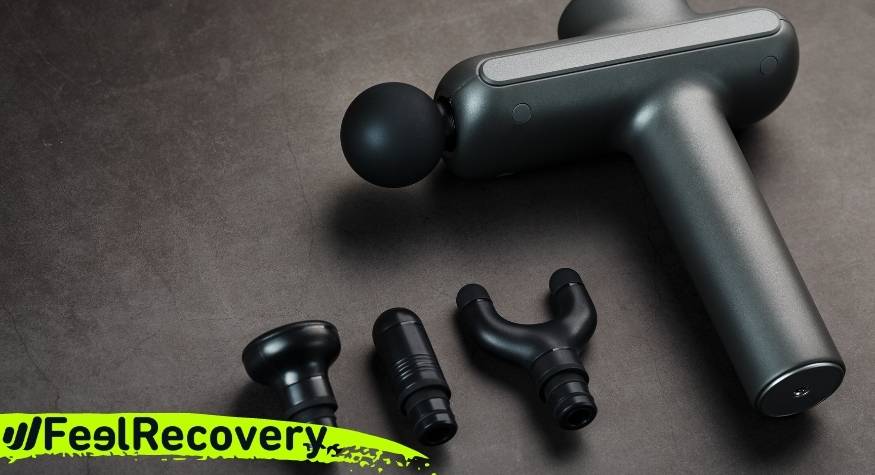 Basically it is a massage machine, this is a portable product, light and easy to use on the body, although it is advisable to have the initial guidance of a physiotherapist who should give you the first practical advice for a safe and effective massage. It is a stimulator that seeks a neuromuscular response in athletes and all types of people with stiffness, trigger point pain and tension in the myofascial tissue.
These are the possible uses of the electric gun:

To eliminate contractures: when muscles are exhausted by training or physical activities, hot spots are created along the musculature, causing pain and difficulty in moving. The gun is ideal for reaching these deep points, with the use of a special pointed head in these cases.
To increase joint mobility: by preventing injuries to the muscles, the tendons and ligaments are also in optimal condition. This means that the joints will have a greater range of mobility, without stiffness or limitations.
To reduce vascular problems: there are mild vascular diseases that can be treated with the massage gun, but you must have the indications of a specialist. Any sports injury prevents more blood and oxygen from reaching the fibres, a situation that is reduced with the use of the percussion massage gun.
To eliminate lactic acid: this is a component that regulates part of the metabolism, a process that is also indispensable if people want a healthy body at all times. This is generated in the muscle cells with an increased amount during physical activities.
To control physical pain: it is important to clarify that not all types of pain can be reduced with this product, which is based on relieving soft tissue sports ailments that are not serious, such as cramps, strains and contractures. The gun blocks pain signals from the sensory receptors in the affected area.
To accelerate lymphatic drainage: with the use of the electric gun, the device works better, thus preventing fluid retention, swelling of the feet and better mobilisation of waste substances generated by daily physical activities, especially during sports training.
To protect the musculature: an excellent way to avoid injuries is to warm up the body with the gun before making any physical effort, this allows the muscles to be better prepared before being subjected to sport, lifting heavy objects and walking for long hours for work reasons.
What are the best alternatives to massage guns for natural pain relief?
If you have already tried the muscle massage gun and noticed excellent results, then you should know about these alternative products with which you will achieve similar benefits.
Roll On Manual Massager
What it is: this is one of the best products you can have at home, it is completely safe and you should use it whenever you notice any physical discomfort in any part of your body. It is a product that fits in your hand and stimulates the muscles superficially.
Advantages: with the massager you can access all areas of your anatomy as long as your arm allows it, perhaps in the back you should have additional help, but if you try to reach it on your own there is no risk of receiving an inadequate massage. You can do as many repetitions as you wish as long as you feel relief in your muscles.
Disadvantages: as it is for more domestic use, for athletes, medical specialists and physiotherapists we have other options with which you can reach deeper tissues, with more specific uses so that there is a better relaxing action on the myofascial tissue.
Vibrating massage ball
What is it: although it has a simple design, it is a professional product because you can do routines as if it were a Lacrosse type ball, but it vibrates and a better stimulation of the fascia is achieved. As with conventional products, the pressure on the product is regulated by body weight, so you can reach deeper into the tissues.
Advantages: as we mentioned, it is a professional product ideal for athletes, physiotherapists and people who usually perform self-massage sessions to relax and avoid sports injuries. The ball is made of highly resistant materials that are easy to clean.
Disadvantages: if you don't know about routines with massage balls like these, you probably won't be able to squeeze all its potential like a professional, but you will surely get a relaxing massage if you place this ball on the points where there is more tension.
Electric foot massager
What is it: if you are one of those people who don't have time for physical activity, then these products are effective in saving time and massaging your feet. They are devices on which you rest your feet and receive friction and heat stimulation. They have various speeds and an intensity in the thermotherapy option.
Advantages: these devices combine massage through friction and increased temperature, both of which increase blood flow, which increases pain relief and improves venous return. It is a device that does not require many indications for a correct use, safe, without major risks.
Disadvantages: as it is a product for exclusive use on the feet, it is not possible to take advantage of its properties on other parts of the body. To offer stimulation in the neck and back, for example, we have new specific products with which you can have a total relaxation in these parts of the body.
Acupressure mat
What is it: it is one of the most requested products by yoga and pilates practitioners because it intensifies the positive effects of these disciplines on the human body. It is a mat with thousands of lotus flowers throughout its structure, strategically placed to increase body temperature, dilate blood vessels and offer deep relaxation to people.
Advantages: It is a perfect complement to perform additional practices and combine benefits as long as there is a proper use of this product. It does not require further indications for proper use, it should only be taken into account that a maximum of 20-25 minutes is required so that there are no side effects.
Disadvantages: great care should be taken in the type of exercises that can be performed on this acupressure mat so as not to damage the skin in sensitive areas. A basic use is to lie down for an average of 15 minutes without making any movements.
Foam Roller
What is it: it is a plastic and foam cylinder that generates myofascial release to relax the musculature and increase body mobility. There are products that have a vibration system that increases the benefits it offers to the musculature. Unlike massage balls, it covers a larger area of the body.
Advantages: this is a special product for myofascial treatment, where trigger points cause pain and discomfort when making movements. It is an option for sports professionals, physiotherapy and sports medicine, although it can also be used by people of all kinds, as long as there is a knowledge of the possible routines.
Disadvantages: it requires basic knowledge about the suggested movements in each part of the body, but this will be a new process in which you will become more aware of muscle care. Even using this product will make you have better habits in your rhythm of life.
Vibrating massage roller
What it is: it is an electric version of the Foam Roller, with which you will have a quick myofascial release. In addition, as it has vibrations, anyone can make a basic use of this product to relax the body when there is too much stress that is affecting muscle health.
Advantages: to make full use of this product, it is suggested that you know the specific routines to correctly massage each part of the body, especially the back, legs and feet, where the roller has been shown to have a greater effect.
Disadvantages: when there is an excess in its use or a bad application technique, there may be additional injuries due to muscle fatigue. So it is always advisable to read basic instructions on how to use the product safely, without unnecessary wear and tear on the body.
Neck & shoulder electric massager
What it is: To improve sleep, relax neck tissues and reduce stress, this is a product that will fit in with your busy lifestyle. It is a device that uses friction and heat to stimulate and provide short-term benefits, without you leaving the house.
Advantages: It has long clamps that you can adjust to massage your neck, upper back and lower back. And although it is designed to stimulate the neck, you can actually apply this product to your arms and legs, as long as you hold it firmly in your hands while the device does its job with subtle, firm movements.
Disadvantages: The massager uses the friction technique to relax, but only allows for a superficial massage. So if you are looking for a trigger point support, there are other options available that will better suit the goals you want to achieve, provided you have some knowledge of how to activate trigger points.
Myofascial massage balls
What it is: you have at hand a pack of balls in various sizes and shapes so that the stimulation is diverse in the different parts of the body. For example, you have Lacrosse balls that are smooth and soft, ideal for starting massages without damage and for when the skin is sensitive. Then you can use the balls with spikes and protrusions, these work to get deeper into the tissues and you also have a ball in the shape of a peanut to better stimulate the back.
Advantages: as this is a professional product, it invites you to train yourself better on the types of routines you can do to get the best benefits from these balls. This is an advantage because you will quickly become a self-massage professional.
Disadvantages: intermediate and in-depth knowledge of the use of the balls is required, as it is very easy to cause tissue damage, such as bruising, when people do not use them properly. But you should see this as a challenge to be a professional massager, and it is your own body that will receive the benefits.