The choice of the most appropriate electric massager for you will depend on the use you are going to make of it and the goals you wish to achieve. It will not be the same product to achieve a quick muscle relaxation as the product you need for a trigger point treatment.
In this guide you will find out what a professional electric massager is, what its main benefits are and what each of the types of massagers you can find on our website are for. Do you know what characteristics a good massager should have? You can find all of this in this article.
What is an electric massager and what are its health benefits?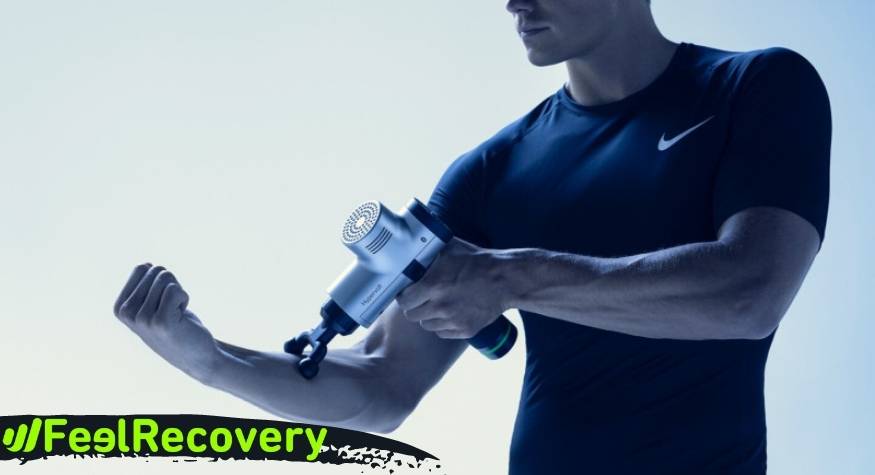 These are devices designed to be used at home, in the gym and anywhere where you can spend a few minutes to stimulate areas where there are muscular ailments and stiffness in the myofascial tissue.
They are based on the fundamentals of conventional massage, with some of the benefits you will see below:

Prevent swelling: this is one of the most recognised benefits, the electric devices use massage therapy techniques to prevent swelling in the lower limbs due to fluid retention.
Improve venous return: the constant massages open up the vessels and veins, which makes the heart pump better and the blood flows better from the feet to the head, also reducing the swelling processes in the feet and legs.
They release tensions in the fascia: these tensions are generated by overwork, due to excessive training and physical activities to which people are not accustomed. A tense fascia generates pain and stiffness in the mobility of people, these signs are solved by stimulating the fascia.
They reduce muscle knots: according to traditional Chinese medicine, these knots are actually accumulated energy in specific areas of the body and cause extra stiffness that is annoying for people. The devices stimulate the muscle fibres until they become flexible again.
Eliminate stress: these electrical devices are great for people who have stressful work environments and who return home with symptoms such as headaches, stiff shoulders and lower back pain, the result of little rest throughout the day.
They prevent muscle injuries: this is an advantage aimed at sportsmen and women who train constantly. The use of electric massagers as a warm-up and cool-down will protect the muscles to better withstand the physical demands.
Prepare the body before training: if you don't have enough time to prepare the body, then massages are a quick solution to stimulate those parts that can suffer the most from the onslaught of training, it is a way to prevent recurrence of old injuries.
Improve range of motion: massaging products make the muscles perform properly, this also benefits the tendons and ligaments by taking care of their integrity, so you will always have a wide range of motion in the joints.
Improve migraines: stimulations in the cervical and shoulders, makes headaches are less, of low intensity, remember that the tissues that connect the neck also connect with the base of the head. This is one of the triggering benefits of electric massagers.
Types of electric massagers: What are all the existing ones and what is each one used for?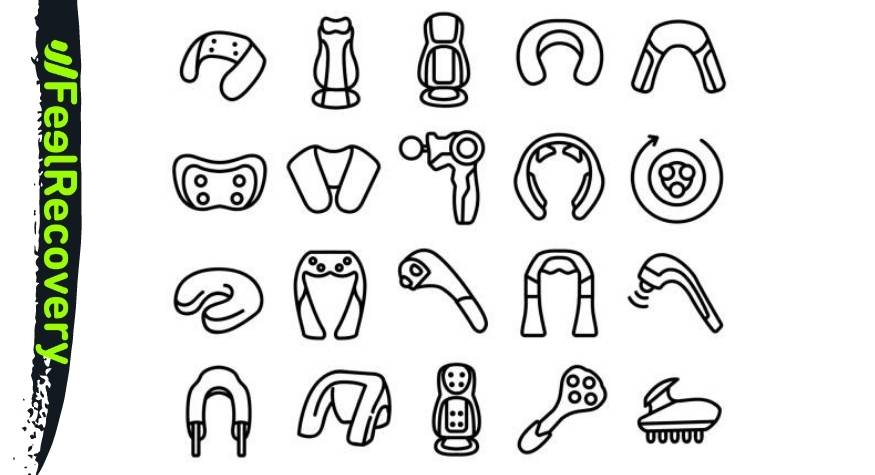 Foot massagers: on this website you will find various types of devices that stimulate, with friction movements and increased temperature, the lower limbs for multiple benefits that radiate to the legs.
Cervical massagers: these are designed to stimulate the neck muscles without affecting the integrity of the cervical vertebrae, which must not be touched by these devices at any time.
Myofascial massagers: are devices that generate an immediate myofascial release, they are an important ally for professional athletes and physiotherapists who require this support in their therapies.
Back and leg massagers: these are a kind of mat that can be used in bed, on the floor and seated at home or in the car. The models on this website are transportable and practical.
Small hand-held massagers: these are the most commonly used by people with no previous experience in self-massage, they do not pose any risk to muscle care and relax the fibres from the first stroke.
Massage chairs: designed to treat back and leg complaints, these products are designed for people with stressful work schedules and reflect the pressure on the lower back and thighs.
Shiatsu massage cushion: these are stimulators that come with special holders so that you can use them on your shoulders, upper back and lower back. This model uses rotating heads and increased temperature to generate relief.
Massage balls: are the size of your hand, so you can massage any part of your body without having to rely on someone else. They provide superficial massages that relax tense tissues after a high level of physical activity.
Electric massage gun: we have two models available, the small model has a single round, soft head and is ideal for providing myofascial relaxation and inhibiting the work of pain receptors. The larger model performs the same function, but has interchangeable heads.
Foam Roller: these are rollers with grooves, bumps and vibration system of various intensities, useful for myofascial release and to reduce pain associated with minor physical injuries.
Massage chair: has been used for many years by people with chronic and degenerative diseases that cause blood circulation problems, people with recurrent inflammation in the lower extremities.
Infrared massagers: they are used to warm up the area where there will later be a more extensive and deeper stimulation. These are devices that people use when they are unable to relieve ailments with conventional treatments.
What characteristics should I take into account when choosing the ideal electric massager for me?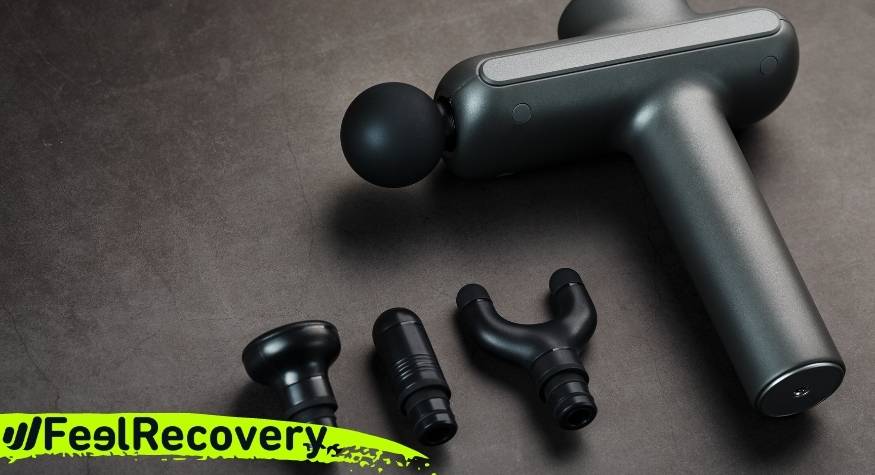 Type of massager
The first thing to be clear about is what you need, i.e. what kind of ailments you want to treat. When you require a device that reduces inflammation in the feet, it is more convenient to opt for specific massagers for these parts of the body.
If you have doubts about which is the best option for you, it is valid that you have the guidance of a medical specialist or a physiotherapist to give you more clarity on your specific case, as it may not be reflected in this buying guide.
Materials
In all cases, you should look for devices that offer hypoallergenic protection to avoid allergic reactions during stimulation with these products. A good massager should last a lifetime, although the batteries do have a lifespan, but they can be replaced.
Some of the materials available are rubber, foam rubber, plastic and synthetic materials that make the massagers light and durable. The most important thing is that the skin does not react to the use of these vibration products.
Cleaning
You should try to purchase a product with materials that are easy to clean so that they are always in optimal conditions, remember that the durability of the products will depend on the care you give them.
In many cases, as in the case of acupressure mats and the Foam Roller, people's sweat causes the products to have bad smells and stains that are sometimes difficult to remove. For this reason, you should always keep the product you wish to use clean.
Uses
The frequency and intensity of use will also define the type of product you want to buy to get relief from recurring ailments. If you want to have a percussion gun, but you know you are going to use it intensively, on one or more people, it may be best for you to buy the larger gun, with the interchangeable heads.
The same is true for massage balls. If you are already adapted to the different uses of these stimulators, it will be more convenient to buy a pack of balls with different sizes, densities and shapes on the outside, so you can vary the type of stimulation.
Power
This power will be defined by the quality and configuration of the vibrations that each product has. A massager that has several vibration modes will definitely be better than a product that offers only one type of stimulation.
When talking about massage guns, we are referring to the depth of the massages. By default, these modern massage guns come with a specific depth of strokes, but it will be the pressure with your hands that will define the depth of stimulation.
Autonomy
What every customer is looking for is a product that has durability when massaging. Most stimulators come with an average usage time of two to three hours, which is more than people will require for each relaxing session.
Another way of defining autonomy is the possibility of using the product without requiring face-to-face support from others. This is relative because there are areas such as the lower back and hamstrings that are difficult to access and also require an additional hand to be attended to.
Accessories
Almost all products, especially those that come in packs of several models, are going to have a bag or sack in which you can make an easy transfer to wherever you want, which is a feature that suits the needs of people who can't stop their work pace for too long.
There are products that come with instruction manuals, boxes that preserve your warranty and additional accessories that will complement the massages that people are looking for, all at an affordable price.
Packaging
And to help preserve the integrity of the product, devices like the Foam Roller and percussion guns come in boxes that you can reuse to keep the devices in top condition.
Believe it or not, storing your massager every night in its protective box will ensure that the product has a long life span and can continue to soothe muscle aches and pains without the risk of damage to these products.
What are the best electric massagers to buy for my needs?
There are benefits shared by all the products you find on this website. However, it is possible to make a classification by equipment and specific advantages.
For pain relief
As we mentioned, all massagers soothe pain, but there are products that specialise in that, since they better inhibit the pain signals that reach the spinal cord.
Electric percussion massage guns.
Mini electric percussion massage guns.
For relaxing massage
These are used to relax the muscles and reduce tension in the soft tissues. They are also used to prepare the fibres for more specific massages.
Vibrating electric massage balls.
Small hand-held electric massagers.
Infrared heat massagers.
Neck and cervical
These products are designed for domestic use, easy to use and with a minimum of risk in terms of the use that people can make of them for their own benefit.
Electric cervical massager for necks and shoulders.
Shiatsu electric massage cushion
For the back
As the back has dense and resistant muscles, these devices are the most ideal for relieving tension, contractures and fatigue in its fibres.
Electric massage roller.
Electric massage chair.
Massage chair.
For arms and legs
Although the lower limbs are not often massaged with these products, it is possible to perform stimulations whenever there are slight muscular complaints and bony structures are not stimulated.
Vibrating foot massagers.
Vibrating Foam Roller.
Vibrating massage balls.