Volleyball is a very popular game played by two teams of 6 players each, facing each other on an indoor sports court or on sand in intense sunshine. It requires great agility and resistance, due to the level of demand, many of its participants get injured and leave the mentioned space.
In this article you will find information of interest that will help you to clarify all your doubts regarding the knee compression sleeves and why it is the best way to avoid and treat volleyball injuries in that joint. You will also find out about the types of injuries, characteristics and whether it really works.
What are the most common knee injuries when we practice volleyball?
Volleyball is a game with repetitive movements that demands the maximum from each participant, the knees are the members of the body most affected by injuries, they bear a lot of pressure in the different parts and sooner or later problems come to light. The most common injuries in this sport are the following:
Meniscus injury
The meniscus is an organic piece composed mainly of fibrocartilage, its function is to cushion sudden shocks, maintain balance in the face of any unexpected turn and contain movement. To carry out its tasks it must be perfectly lubricated, but this is thanks to the synovial fluid.
In volleyball, the knee meniscus, bear weight, tension, excessive use, jumps, repetitive movements and sudden turns causing injuries that can affect in the long term. The first thing you will notice when this happens is a swelling in the affected part, stiffness, pain, difficulty in making movements and possible locking of the affected limbs.
The volleyball player who presents this type of injury may have to withdraw from the game, will have difficulty performing the different movements, will not perform at 100% and possibly put the team at risk, this type of trauma is one of the most common in the sport.
Knee sprain
Sudden and repetitive movements in the knee can stretch the ligaments or tendons, which in turn can affect the meniscus fibrocartilage in that joint and other muscles. The first thing you'll notice is a sharp pain when you step or touch your knee, instability and you won't be able to put your weight on the affected limb, this can happen due to lack of warm-up before starting the match.
If the sprain is mild, you can try to heal in the comfort of your own home, just elevate the affected limb by applying ice, compression and a pain reliever. If it is serious, you may have to undergo surgery and undergo therapy to completely heal the affected muscle.
Injury to the knee ligaments
The knee ligaments support its weight. There are present the internal and external ligaments, both are prone to injury if the physical activity is extreme, in volleyball it is common that such accidents occur. This happens when jumps are made to block balls or when you make changes of direction, you will notice the injury when you feel an imbalance, your knee will swell, it will be difficult to maintain your own weight and you will have excessive pain that will not allow you to make movements.
It is possible that it is only a minor injury, but in case of more complications you will need to undergo surgery and after rehabilitation therapy, the use of the knee brace is recommended to accelerate the healing process. It is possible that you will miss the whole season, but it will be for your health and well-being
Soft tissue injury
We call soft tissues those that lack bone. This type of tissue can also be injured, an example of this is the cartilage that covers the bones and forms part of the joints in the knee, it is essential for balancing the body's weight and giving smoothness to the movements.
There are many reasons why this joint is injured, mainly because of overweight, followed by repetitive jerky movements and sudden turns. In some cases the trauma can be mild and treated in the comfort of your home, you just have to lift your leg and put ice.
Tendinitis in the knee
Volleyball has similar movements to other sports, jumps are performed to block like basketball, but the complication in this case is the fall in bad position, to this must be added the overweight and pre-warming, this can cause tendinitis in the knee. You'll notice how the affected muscle swells, you'll have discomfort walking and balancing, you may not be able to put your own weight on your knee, the best thing is to withdraw from the game for the good of the team.
It is advisable that you go to the specialist doctor so that they can carry out the relevant studies and tell you what you should do. Tendinitis can be treated at home, the recommendation in this case is total rest to heal completely, you must follow all the indications to the letter to avoid other inconveniences. To speed up the healing process, it is advisable to use a pressure band for the affected muscle.
Bestseller
What type of knee braces and patellar straps are best for volleyball player injuries?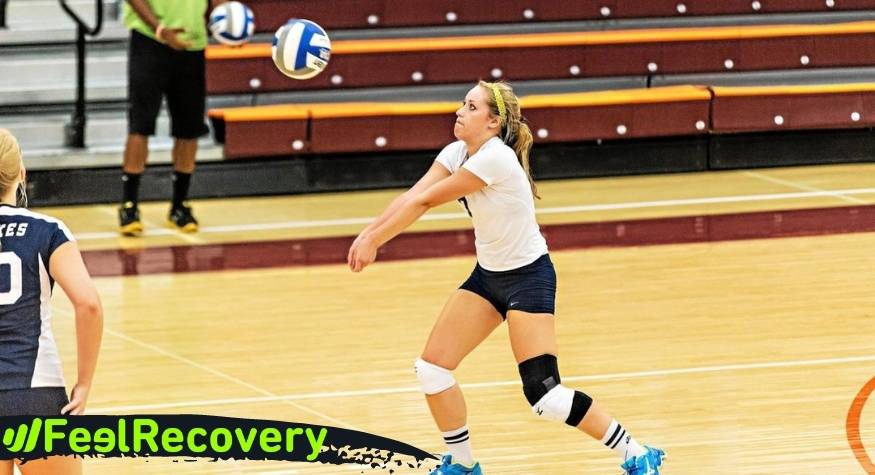 Sports knee braces and compression straps are still the best alternative for treating all types of injuries caused by physical effort in volleyball matches. They are used to relieve pain, tension or discomfort in the affected muscles, and can be included as support material in therapy or to speed up the healing process of injuries.
It is widely recommended by medical professionals and volleyball athletes who at some point have had to use this product and are amazed at the results obtained. You can purchase it with complete confidence or, depending on the recommendation of your treating physician, once you use it you will love it and include it in your sports routine
The following garments explained, are the most used options by the professionals of this sport, due to their results and price/quality ratio:
Knee compression sleeves
This device performs a compression distributed over the muscle, it is a perfect complement for therapy and different injuries, it will help you reduce pain, tension, discomfort and any other discomfort caused by physical effort, use it on the affected muscle, adjust the pressure according to your taste and you will immediately notice the difference. It is an incredible product that you will love.
Patellar tendonitis strap
It is a very precise tape that must be installed under the affected kneecap, then you must adjust it with the help of the straps to distribute the pressure according to your taste and you will notice how the tension, pain and discomfort disappear little by little. It is specially designed to treat cases of tendinitis, kneecap problems and other conditions.
Patellar tendon strap
It is a knee brace with certain benefits with respect to the traditional product, it improves the distribution of pressure in the affected area and prevents it from sliding, you will notice how the pain, discomfort and all the tension on the affected knee disappears. It is a great alternative to recover your condition and play again.
Chondromalacia patellar straps
Its incredible design in non-slip silicone adapts to the surface of the knee and prevents it from sliding out of place; and for greater safety, it uses straps to hold and make constant and uniform pressure on the affected area. If you feel discomfort, pain or tension this is definitely the product you need.
What features should you consider before choosing the best sports knee brace for volleyball?
The best sports knee brace for volleyball is one that fulfills its purpose according to the case that is presented, are frequently used in therapy and injuries, will help you reduce considerably the pain, tension, stress and any other specific inconvenience.
Each of the above mentioned items has well-defined characteristics to fulfill a specific purpose and can serve as a reference for choosing the best sports knee brace for playing volleyball.
According to their function
The function of the knee brace is very simple, to relieve pain, stress, treat injuries and any other discomfort on and off the sports field. But it also fulfils other functions that few people ever notice, protecting you from shocks, keeping muscles and joints warm so that you can carry out your activities 100% without risk of injury. In short, it's an indispensable item for any volleyball player.
Here are some of them:
Knee braces to treat pain: Sports knee braces are the preferred choice of sports professionals and health professionals to treat and considerably reduce muscular pain. If you feel any pain that prevents you from carrying out your activities normally, the best thing to do is to go immediately to check on your condition and indicate what steps you need to take to recover.
Post-operative knee supports: Some knee supports are exclusively for use after surgical operations when rehabilitation therapy is started. It is important that their acquisition is under medical authorization, otherwise, you could damage the situation even more.
Knee protectors: The knee protectors include silicone pads, are comfortable and flexible, are strategically placed to protect against any blow and best of all do not detract from the athlete's mobility.
Knee braces to improve sports performance: Some knee braces perform a uniform compression process in certain areas, helping to reduce tension, pain and any other discomfort of the affected muscle and ligaments so that you can perform at 100% in each of your sports presentations.
Open knee braces: They have an exclusive design with an opening that leaves the kneecap open and depending on the case or its use can help you avoid a surgical intervention, they are very used for kneecap injuries, osteoarthritis and other related problems.
Closed knee braces: As their name indicates, these are closed design knee braces made of elastic materials to maintain heat and improve blood circulation. Very much used in the sports area as they cover much more of the knee area and therefore they feel more confident with their use.
Manufacturing material
Sports knee supports for volleyball vary in their manufacturing process compared to other sports. In this case, a product is required that provides agility and protection to the muscles and tissues against shocks and injuries. Many of the versions of these implements for this discipline are manufactured with neoprene, non-slip silicone, alloys, Velcro, silicone gel pads and other materials depending on the use and decision of each manufacturer. Among the most used fibres are spandex, rubber and nylon, this is due to their outstanding characteristics, such as: elasticity, resistance, moisture absorption, lightness and comfort.
Type of support
It is important to feel confident with the garment that will be used for both training and matches. Although compression knee braces stick to your body, there is a chance that they will fall off or move around a bit. To avoid these uncomfortable moments and also, harmful for this type of activities, we leave you several options of materials that will be useful and practical for you to exercise your discipline comfortably.
Velcro: This is a very practical and easy to use bi-directional opening and closing system. It is widely used in volleyball due to the pressure it exerts on the affected muscle without deforming it and at the same time it offers the necessary support so as not to mobilise it.
Anti-slip silicone: It is a very elastic element and it deforms easily without being damaged. Due to this, it adapts perfectly to the knee and keeps it established in the same place.
Neoprene: It is a material widely used in the manufacture of knee supports, among other things, because it adheres or remains firm in the joint. It is light and comfortable; very useful and safe for training but, for games, the previously recommended ones are preferable.
Size
Before purchasing any product it is important to know the size of the knee brace we require, so that we are comfortable and safe. The process of measuring these items is done with a tape measure, so we know exactly what is the measure we require. The sports knee braces that you will find on the market range from size XS to XXL and you can adjust it according to your taste, if you already know how to make the measurement, then you can buy with total confidence.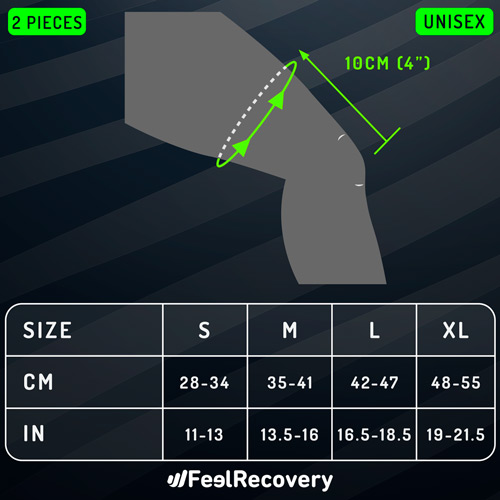 SIZE

S

M

L

XL

CM
28-34
35-41
42-47
48-55
IN
11-13
13.5-16
16.5-18.5
19-21.5
WHERE TO MEASURE?
Measure the circumference of the thigh, 4 inch/10 cm up from the center of the kneecap (*View image)
*Note: If after measuring you are between two sizes, choose the larger size
Design
When you go to any sporting event you can see a great diversity of products with excellent designs and colours, it is something like a sports catwalk where the best models of knee braces compete. This is why manufacturers not only offer their public a quality product capable of protecting them from knocks, injuries, agility to make movements and improve performance in sport, but also offer a beautiful but elegant product, with excellent colour combinations to show off to the public. All the above products meet all these requirements, i.e. protection, comfort and beauty.
Price
The cost of these sporting goods depends on the technology, material, design and manufacture that they have had, it is not recommended to buy very cheap knee compression sleeves as these are usually of low quality and in the long run can do more harm than good. In products and materials for health better invest some more money to buy a quality product.
Do knee compression slleves for volleyball really work?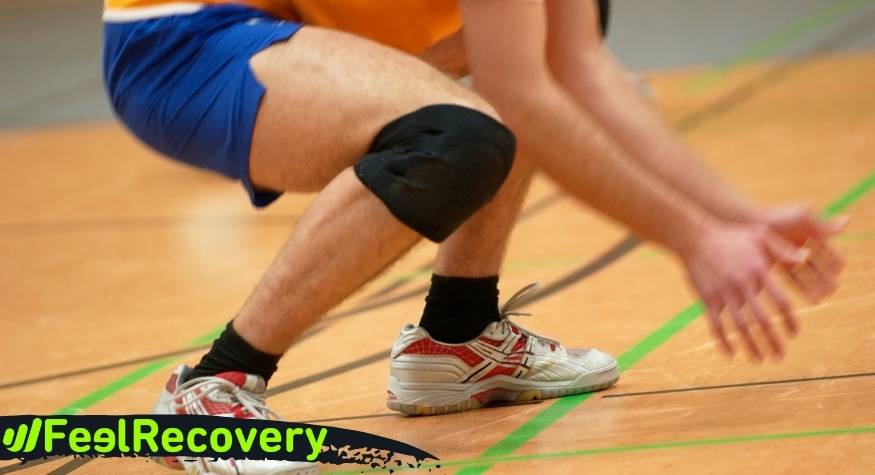 The compression knee braces for volleyball work perfectly. It has been years of continuous progress in research and studies of various materials and new alloys to find the perfect balance for the manufacture of the best products on the market.
They are not the favourite garments of sportsmen and women just for aesthetic reasons, but their protection goes far beyond manufacture with pads. The compression it exerts on the knee helps to improve blood circulation, to prevent and improve serious conditions such as oedema or venous insufficiency. Therefore, beyond the aesthetic issue, it is an indispensable factor for the well-being of our health.
So, don't think about it too much and acquire with total confidence your sports volleyball knee brace, because not only will it help you to have a better performance or a quick recovery, you will also be able to avoid delicate conditions and assure your condition and lifestyle.