The legs are a part of the body that, although it may not seem so, require a lot of care that includes exercising to have better circulation. From the thigh area to the ankles and feet can be easily injured, especially if you practice a sport where you run these risks.
To be able to act in the event of an incident or prevent it, we will explain everything you need to know about thigh braces, for example: when they should be worn, the benefits of compression products and even how to take care of the garment so that when you buy the choice is much quicker, more practical and safer.
In what type of injuries are sports compression sleeves upper leg recommended?
Before knowing when to use this garment, you should consider what it is. It is defined as a compression orthotic that can be worn for sports and when there is a problem of this range in the area. It can be used for muscle tears, hamstring distension, varicose veins, tension in the tendons, among other discomforts or incidents caused by various reasons:
Muscle tears: This is a tissue injury where a haemorrhage develops due to the breakage of blood vessels.
Hamstring strain: This is when the muscles are stretched or stretched too much and begin to tear. They can be mild, with slight pain and rapid recovery. The treatment consists of applying ice and using the garment to compress and hold it in place.
Muscle cramps: Beyond acting on the symptom, it can also be used to prevent them because they are involuntary contractions or spasms. They could be caused after exercise, are annoying and painful, but tend to be short-lived.
Breakage of muscle fibres: This is usually caused by the practice of sport, but also when the person makes a sudden effort and leads a sedentary life.
Muscle contractures: This is a common complaint among sportsmen and women, which can prevent them from moving every day.
Edemas: This is described as an accumulation of liquid that generates a feeling of heaviness, swelling and inflammation.
Sprains: These can be identified because in the majority of cases there is inflammation, the area becomes sensitive to touch and depending on the severity you can also have a haematoma.
Varicose veins: They can be painful when there is fatigue from exercise or spending long hours standing, but also aesthetically speaking they displease many people. They are basically swollen veins or weak and damaged valves.
Tendon strains: Sports compression sleeves upper leg also serve to prevent them. It can be described as the stiffness caused by a continuous contraction of one or more muscles and, depending on the gravity, it can even prevent activities such as sports or work.
Avoiding muscle fatigue: If there is one use for the garment it is this, due to the exhaustion of large levels of muscle fibres, where the symptoms can be pain in the joints, muscle discomfort in the spine, legs, cramps or general weakness.
Bestseller
What are the health benefits of compression thighs supports for men and women?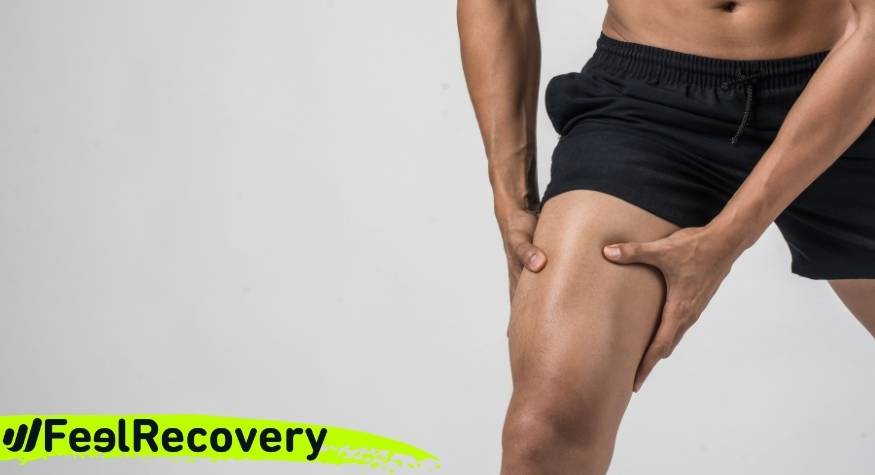 While it serves to improve and avoid ailments and bruises, it is also the perfect ally for improving health regardless of gender or age. These are some of the benefits:
Pain Relief: Thanks to the material and functions such as the heating of the muscle, the sensation of pain disappears.
Reduction of inflammation: The compression offered by the product will help the circulation enter and relief begins.
Improved blood circulation: The garment gives support by compression and this, in turn, promotes circulation because they receive a better supply of oxygen for optimal performance.
Warms the muscle: The area heats up quickly and this acts as a protection against injury to generate a faster recovery.
Relaxation: When the affected area is no longer tense, the relief aspect begins and with it, healing.
Supports sports: By acting as a thigh protector it helps while the person exercises and prevents bruising in the process. In this way it brings two health benefits at the same time, exercising and caring for the muscle.
Eliminates lactic acid: When there is a lot of this chemical compound in the body, one feels a loss of energy and an inability to contract the muscles.
Prevents tiredness of the area: This helps for better performance.
They make it easier for the blood to return to the veins: Thanks to the compression that is exercised, it is easier for the blood to return to the veins, delaying muscle fatigue in the athlete.
Comfort: As this element exists, stress is put to one side, which is essential when it comes to healing so that the muscles are not kept tense.
What characteristics should you take into account before choosing the best thigh braces for your legs?
Before choosing, the needs must be evaluated and above all what it will be used for. The importance lies in that no matter what the situation, comfort stands out. Having prior knowledge of the garment's functions will provide security for the final decision.
Depending on the use
Before starting to explain the function of the thigh braces according to the use for which they are required. The benefits of compression on each thigh will be described. Compression garments fit the body like a second skin. The pressure is so beneficial that it helps with circulation, deflates if necessary and even regenerates. It adapts to the body, but despite this you must ensure that the garment feels comfortable. In addition, it prevents overloading and muscular discomfort, as well as the appearance of ramps and cramps.
Having a brief knowledge of the advantages of compression on our body, we will detail each of the forms for which it can be used and some of the types that exist.
Sports thighs braces: These are those which work for activities such as basketball and athletics or also for runners, which require a certain amount of muscular effort. They are recommended when practising for long sessions or when the athlete is about to travel long distances. Outside these cases, it is ideal to take it with you after sport to recover. Thanks to the compression it exerts, it facilitates the return of blood to the veins, delaying muscle fatigue in the athlete.
Thighs braces for running: They are usually used by runners due to the compression and support that they provide together with the feeling of strength that they provide. They delay muscle fatigue, oxygenate, improve performance and reduce risks. When Trail Running is practiced the body demands a lot of energy and it is when sweating, which cannot be avoided, appears as part of a natural process of the body, but it becomes uncomfortable and can even interrupt the exercise. It is at this point that the function of the thigh muscle and its power to cover the area comes into play.
Thigh supports for work: For those who need to make use of the garment during working hours, they are also available. In this way, the muscle will be subjected to compression while carrying out daily activities. People who spend practically the whole day working do not take into account that sitting for a long time, in one position, brings about damage to the body; even if it is not seen immediately, it takes its toll in the long run. The product is also designed for these occasions when you have a job that causes sedentary work and leg problems.
Orthopaedic thigh supports: These are specially made for quadriceps and abductor muscle tears, fibrillary rupture and rotator cuff injuries at groin level. They are characterised by being elastic for better adaptation, adjustment and positioning without limiting mobility and, in addition, they provide therapeutic heat that works as an analgesic and muscle relaxant. After an injury it can be used to apply compression to the affected area, in order to stop a haemorrhage or the spread of a haematoma.
Elastic thigh braces: It works both for sports and work activities due to its material and practicality. They are breathable and avoid friction which takes away mobility. It prevents muscular tears, both in quadriceps and abductors as well as in hamstrings and approximating muscles. They act as a protector of the muscles and joints against possible overloads, they promote blood circulation, which is good for health in general, and they enhance levels of proprioception, which is equal to better sporting performance. They are specially manufactured for maximum breathability, absorbing and quickly expelling moisture to the outside, allowing the continuous flow of air.
Material
When buying, quality is very important. This is why protective clothing is generally made of flexible and elastic neoprene, because these materials help to compress the muscles but at the same time guarantee comfort.
To make it easier to understand, neoprene is a polymer derived from rubber from which some of its properties and characteristics are obtained. When combined with other chemical components, the result is an insulating garment made of different elements. Other materials are nylon or spandex for comfort and better breathability.
Spandex or elastane has a very special peculiarity, and that is that it can expand more than 500% without breaking and returns to its regular state as if nothing had happened, it is simply fantastic to use this material in the thighs supports. Nylon also has many benefits such as: perspiration, resistance and stability. This combination allows the product to adapt to the shape of your body. The important thing is that before you choose it, you should get advice so that you buy the one that best suits your needs.
Size
Choosing the right size is one of the most important actions, as it could cause the opposite effect to the one you want to achieve by using the wrong size. Even though the garment fits the skin, it must not be loose on any side of the area. You can obtain the size of the sports thigh braces by measuring the circumference of the thigh. There are 2 easy measurements to obtain: the perimeter of the thigh at the top and then at the bottom.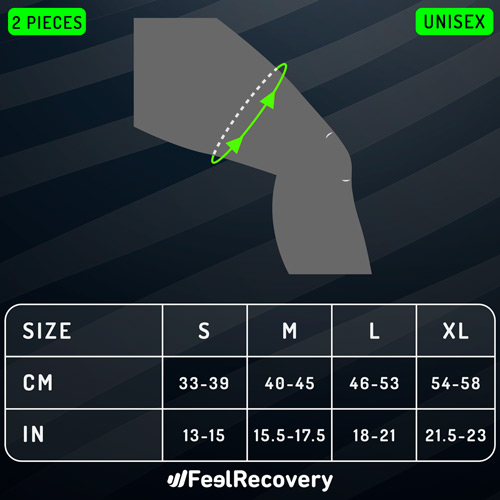 SIZE

S

M

L

XL

CM
33-39
40-45
46-53
54-58
IN
13-15
15.5-17.5
18-21
21.5-23
WHERE TO MEASURE?
The circumference of the thigh is measured right in the middle of the thigh (*See image)
*Note: If after measuring you are between two sizes, choose the larger size
Design
In different colours and in various sizes, the product is unisex, so the models only vary in colour. The thighs braces, which come in a sporty design, are sold as a pair and are durable, breathable and fit securely. Touching the breathable design point is important because it is precisely what generates comfort when wearing it.
The ergonomic design is an advantage because it guarantees mobility at any time and for all physical activities, as well as providing warmth and support to the thigh area. It provides a secure fit that wraps around the muscle and is comfortable thanks to the Velcro for greater support.
Price
The cost of the garments always has a great influence on the quality and durability. If you buy clothes, accessories or other products, it will not have any major relevance. However, when it comes to articles specialized in people's health, the perspective changes, since it is a very delicate subject and area that should not be taken lightly.
This is why compression sports thighs braces are the favourite among users, due to the efficiency and quality of this garment, which has completely changed the lives of many people. There's nothing better than feeling healthy, so invest well in your health.
How to use sports thighs braces to relieve quadriceps or ischiotibial pain?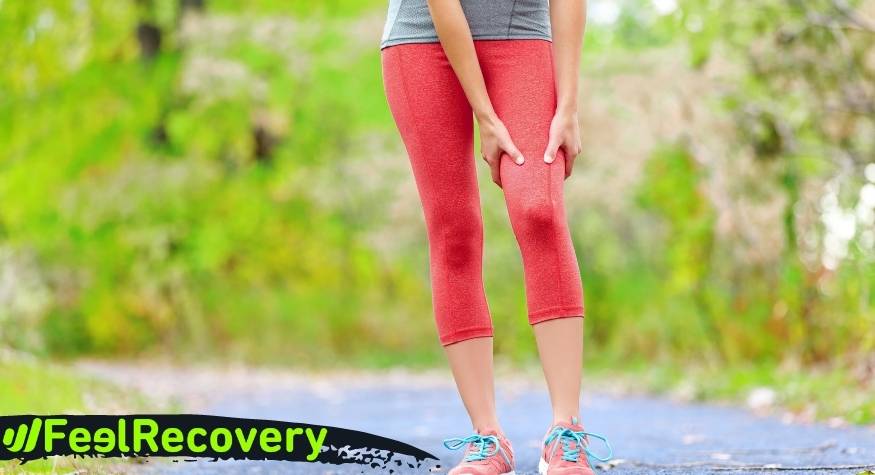 To achieve a sense of relief, the garment must be worn in the correct manner. If you practice high-impact sports, you can use it during your practice. Others prefer to leave them until the end, seeking to rest the muscle. They can also be used in cold temperatures to help with pain while reducing swelling after injuries.
The time of use will depend on the pain situation of each individual but, there is no problem in using it every day, all day, whether there is discomfort in the area or not. It is not recommended to use it at night or while you are in bed. Its advantages are a complete health benefit and provide well-being to those who use them.