Golf is a sport that requires a lot of technique. It is made up of a series of repetitive movements and turns, which if not done in the right way can cause a series of injuries, with the ankles being one of the most affected parts of the body.
To avoid and improve this type of accidents, the best thing to do is to use sports ankle braces, so here we will explain their types, characteristics and even the traumas that usually occur during the practice of golf.
What are the most common ankle injuries when playing golf?
Golf is generally associated as a sport that does not require greater physical effort, but the reality is different, directly affecting the ankle. In order for you to better understand what we are referring to, we have made a summary of the most common injuries to this joint when playing golf.
Sprained ankle
The sprain usually occurs when the ankle is accidentally bent, twisted or turned sharply, tearing the ligaments that give balance to the bones of the ankle. The severity of this injury is determined by the degree of the injury.
It can occur during golf practice, if the player bends or twists the foot when moving from one hole to another. It should be remembered that golf courses are geographically rugged terrain, and this increases the likelihood of sprains occurring during play. It is therefore advisable for players to have adequate protection.
Achilles tendon tendonitis
Achilles tendon tendonitis is an injury that occurs in the Achilles tendon, the tissue that connects the muscle that covers the calf to the heel bone, affecting the ankle considerably. In sport, it occurs because of the conditions in which we train, such as running on uneven terrain and with unsuitable shoes.
Golfers are more susceptible to tendonitis as they have some risk factors such as, for example, the terrain where they play the sport, which is generally mountainous and quite uneven. Also, having incorrect postures in the swing, which can make them ideal candidates for the appearance of this pathology.
Plantar fasciitis
It is characterised by a constant and stabbing pain in the heel, reaching up to the ankle. The reason is that the tissue that joins the heel bone to the toes becomes severely inflamed. Among the causes, we can mention: age, the exercise you do (if it consists of putting pressure on the heel) and doing activities that keep you on your feet for a long time, as is the case of golf players; as this sport requires the same position for a long time, affecting the heel and therefore, the ankle.
Fractures of the ankle
They are caused when the foot is subjected to sudden and forced movements. At the time of a fracture, where only one bone is broken or splintered, the complication does not become serious; the problem becomes more acute if more than one is affected, causing immobility of the foot and increasing the complications, which in some cases may require surgery.
It is not as common in golfers, but it can occur. Incorrect movements during play can lead to a twisting injury that develops into a fracture, which can occur to varying degrees.
Ankle dislocation
Occurs after a strong impact to the foot, which displaces the joint. It occurs when the talus separates from the rest of the tibia and fibula, rupturing the ligaments, allowing the bones to move out of place. The dislocation is excruciatingly painful, causing the patient to pass out and lose consciousness.
The most common cause of dislocation in this joint is trauma, caused by sporting activities or severe accidents that allow the two joint surfaces to separate.  In golf, there is also a risk of dislocation, either from a sprained foot or from a sudden movement when moving around the course while moving from one place to another.
Bestseller
What type of sports ankle braces are best for golfers' injuries?
Because ankle injuries are so common, it is best to always have the right protective equipment to avoid accidents that can interfere with the proper development of golf. The best option is an ankle brace, it can become an excellent ally to prevent trauma, recover your ankle, relieve pain and more.
The following are the best sports ankle supports for golf injuries:
Ankle compression sleeves
These are suitable when there is pain and discomfort in the foot. It is the ideal treatment for different injuries such as plantar fasciitis, Achilles tendon tendonitis, among others. The compression in the ankle sleeve stabilises the ankle, allowing a good balance. At the same time, it activates blood circulation, which helps to reduce swelling.
They support the ankle in such a way that it serves as a support, and can be moved without losing mobility. This type of garment fulfils a double function, as it can help you prevent possible injuries or provide the stability and security that your ankle needs to recover.
Ankle braces
It was designed with the particular needs of each athlete in mind. The laces provide good tension, which allows a custom fit according to what you need. They are indicated for use in the treatment of sprains or strains, and as prevention in sporting activities. You can also perform any activity, including playing golf, without major difficulty. You can maintain excellent performance and at the same time have peace of mind that your ankle is safe from any accident.
Post-injury ankle support
Widely used after an injury, they feature a plastic-based support on each side, allowing the foot to be stabilised. Some models have a hinge, which allows the foot to move backwards and forwards. It is created in such a way that, despite its rigidity, it fits the foot comfortably, giving the ankle full support, which favours early recovery from trauma. As they are quite hard, they are not the most suitable for use in routine activities other than rehabilitation of the condition.
What features should you consider before choosing the best sports ankle brace for golf?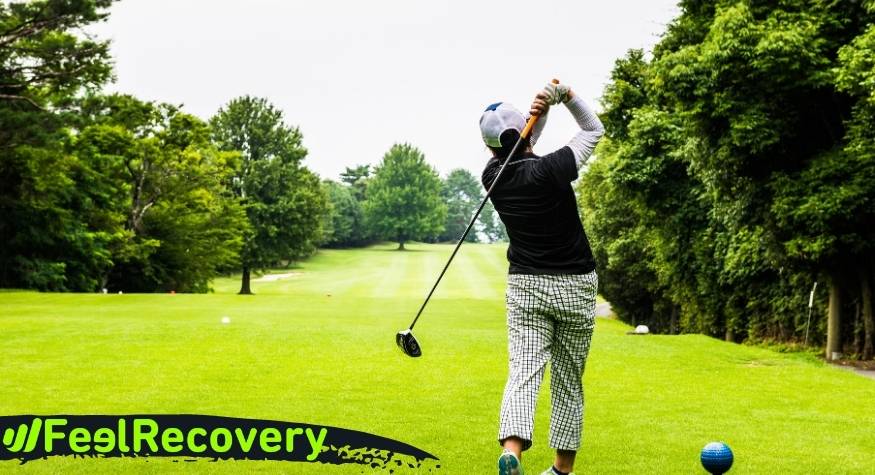 When choosing, it is valid that you take into account a series of characteristics that will allow you to decide on the best sports compression ankle braces for golf. You should evaluate, among other things: the design, which adapts to your preference; the size, it must be the right one; the material it was made of and much more, which will be explained in detail below.
According to their function
Ankle sleeves to relieve pain: If you suffered an ankle injury while playing golf, it is very likely to feel discomfort, therefore it is recommended to use sports ankle braces, because it greatly reduces pain, thanks to its design and compression that allow to improve circulation, achieving to reduce swelling and inflammation.
Ankle braces for protection: These ankle rbaces were created with the right materials that allow the correct protection of the ankle, preventing you from suffering any trauma, while playing golf. Giving you the security to move around the course without worrying about hurting your foot, and at the same time moving without any setback.
Ankle braces: There are many types of garments that provide the stability the ankle needs to recover from an accident. But, sports ankle braces will always keep the joint in a stable and adequate way to avoid all kinds of injuries while you play golf safely and comfortably.
Ankle support: Golf is a sport that requires continuous movement and, if you don't have the right protection, you could have serious consequences. Therefore, ankle supports have become an important factor for the firmness and support of the joint. This is due to the design and material they are made of, which also adapts perfectly to the foot, without major complications.
Manufacturing material
The material from which the ankle braces are made will affect their use. For this reason, you should be very careful on this point so that you can determine the one that best suits your needs. One of the most important aspects is breathability, softness and flexibility such as nylon and spandex.
We suggest you avoid latex products or any other material that could cause an allergic reaction. Neoprene is also highly recommended for its resistance, stability and flexibility, allowing you to make any movement without any complications, but its disadvantage is that it is not breathable, so they are always made with different percentages of the fibres mentioned above (nylon and spandex).
Type of support
Golf is a sport that requires a lot of movement of the ankle, whether it is being in an exact position to make the shot or continuously moving around the course. Therefore, it is of utmost importance to be sure that the garment will not slip or roll out of place.
To avoid such accidents, there are items such as these:
Velcro: This is a fastening system that allows the ankle brace to be fastened quickly and properly. There are many models such as crossed, linear at the top and more. This not only keeps the garment in a stable place, but also allows you to have a personalised compression.
Hinges: It is a mechanism widely used in different products that require a precise, reliable and not too flashy closure. With this material you will be able to have the stability you need to play golf, without the need to use other extravagant implements.
Neoprene: It is a type of synthetic rubber, widely used in the manufacture of ankle braces as it provides support and compression in a natural way.
Size
Whether online or in person, it is necessary to know the size of your ankles in order to choose the right garment. If you buy one that is too tight, it could affect blood circulation, and if it is too loose, it will not have the expected effects.
It is also important to note that there are one size fits all, but if you need to treat a specific condition and therefore a more personalised compression, these types may not be of much help. However, to find out your size of sportswear, you will need to make use of a tape measure.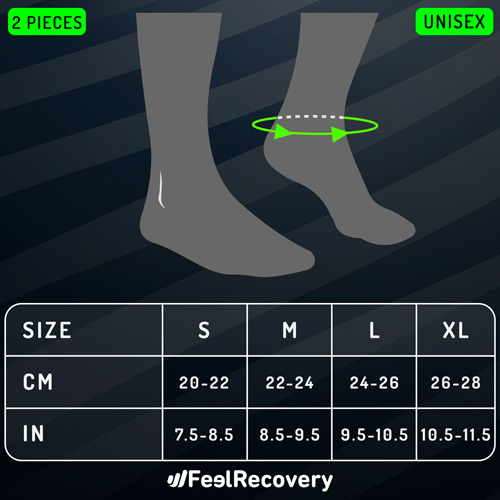 SIZE

S

M

L

XL

CM
20-22
22-24
24-26
26-28
IN
7.5-8.5
8.5-9.5
9.5-10.5
10.5-11.5
WHERE TO MEASURE?
The circumference is measured right at the ankle bone (*See image)
*Note: If after measuring you are between two sizes, choose the larger size
Design
Before getting to know the features and functions of ankle braces, the first thing that comes to mind is their design. Due to the expansion that exists today in the market, you can get completely different models and colours, which will make this experience unique and pleasant, since one of the most important things to acquire a garment is to feel comfortable and in contrast with your personality.
The ankle sleeves are made in a great diversity of shades. They range from soft pastels to greys and blacks. They are also designed with different colourful and fun motifs. In short, you can get this garment not only for health reasons, but also for aesthetic purposes as you will be able to look more original and fashionable on the golf courses.
Price
The sports compression ankle brace is the most recommended garment by therapists and sports trainers, as they ensure compression, support, high quality materials and durability, as well as a variety of designs available to suit the taste of each person.
So, the important thing is not the price, since in the market there are a lot of cheap products, which do not perform the benefits for which they were acquired, being a total waste of money. What is recommended is to make an investment that will ensure the protection and care of your ankle, without estimating the price, such as sports ankle braces.
Do compression ankle braces really work for golf?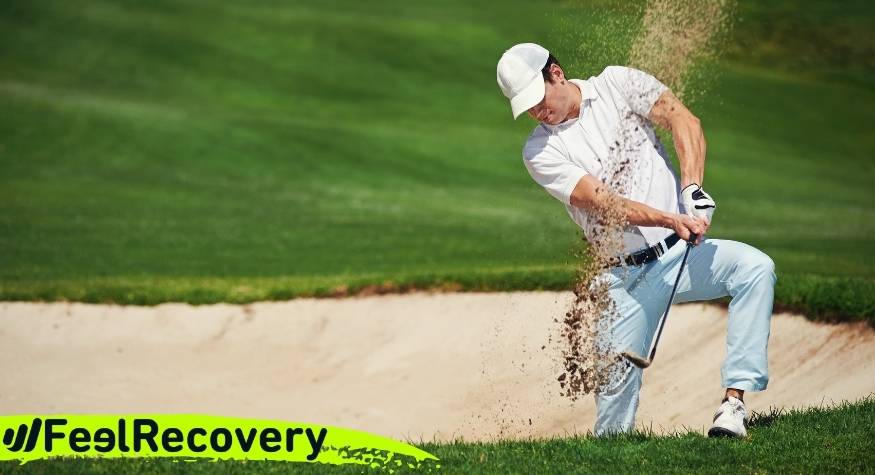 Golf is a sport that, despite being low impact, presents certain risks that can cause a series of injuries, the most common of which are to the ankles. One way to protect them is with the use of compression ankle braces, which perform a dual function; both preventive and corrective.
This compression garment helps to avoid injuries without reducing mobility, providing stability to the joint, which is essential to perform adequately in the practice of this sport. Compression also facilitates blood circulation, avoiding more serious conditions such as lymphedema, varicose veins and other problems related to poor circulation.
There is no doubt about the good functioning of compression ankle braces for golf, as they represent a benefit for those who practice this discipline because, as mentioned, the time they spend on their feet and the sudden movements they have to exert are harmful to the joint and the correct performance of this sport.