Compression clothing can be worn every day and as long as you need it (except at night, as it is not necessary) to increase circulation, reduce muscle pain, create physical resistance and more. As it is such an important garment for health and sport, special care must be taken in its use and hygiene so that compression can be carried out effectively.
In addition, it makes the clothing last longer. In this article we explain all the steps you must follow to wash and care for compression garments correctly and we will answer the most frequent doubts that exist about this subject.
What material are our compression garments made of?
Each piece has specific characteristics and objectives for particular areas of the body. Our products are designed with high-end materials such as nylon and spandex, which are incorporated into the clothing in different percentages and adapt to each part of the body. To demonstrate the quality of our products, we will explain what they are and the characteristics of the materials we use to make the compressive clothing.
Nylon is a synthetic-type polymer material. Among its great characteristics are durability, it does not wear out, it can withstand high temperatures, it is soft, it is lightweight, it is resistant to perspiration and any kind of wear and tear and much more.
Spandex is also made of synthetic polymer and has exceptional stretch properties. It is a strong, durable, lightweight, flexible and comfortable material.
Without a doubt, our materials are the perfect combination to offer high quality compressive clothing, with a variety of designs and models that you need for your health or sports training. Our tights, stockings, girdles, elbow pads and other garments will not only help you recover from injuries, illnesses or have greater physical resistance, as you will also be able to feel comfortable, light and very soft thanks to the combination of our materials.
Bestseller
How to wash our clothes, socks and compression sleeves correctly?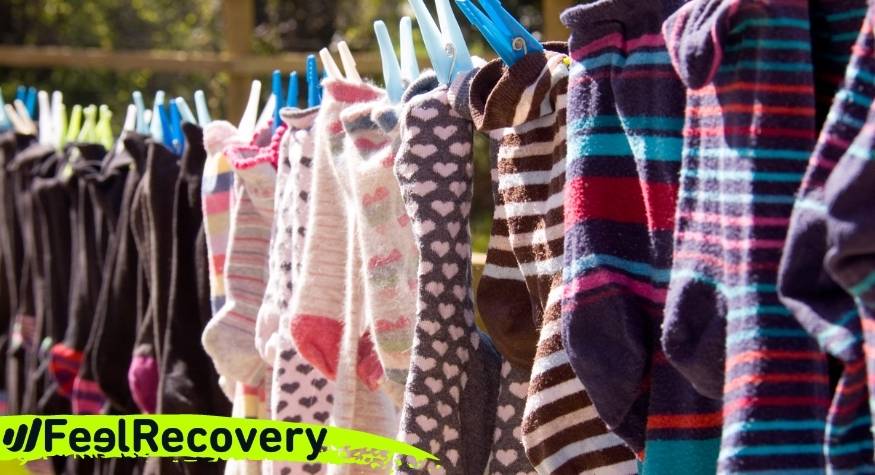 Compression sleeves are our great ally in diseases and physical activities. But, misuse or washing will cause irreversible damage to the material, which may cause the socks, ankle bracelets or any of the pieces not to meet the desired objectives. If you are a person who trains daily or suffers from an illness that requires daily compression, you cannot allow bad cleaning to damage your health or sporting activity.
Therefore, we will explain step by step the correct way to wash compressive clothes and thus preserve and extend the life of our garments for much longer:
The first thing you should do is set the washing machine on a gentle cycle with cold water.
If you are going to wash the compression clothing with other types of clothes, make sure they are of similar colours.
Place the garment in a mesh lingerie bag. This will prevent them from getting caught in other clothes or losing small parts.
Apply a neutral detergent in the washing machine. Using chlorine or strong detergents could cause damage.
Do not squeeze the product by hand, do not put it in the machine to dry and do not use drying towels. It is best to wrap the garment in a dry towel to create a gentle drying process.
Spread out in the open air. However, do not expose the clothes directly to the sun's rays. This will maintain the elasticity of the compression.
It is recommended to place a towel on the clothesline and on top of the clothing. In this way you avoid the material stretching due to the weight of the water.
F.A.Q: Frequently Asked Questions
We decided to answer the most frequent questions you have about the correct washing of any compression garment. Also, we will explain the reasons and consequences of not following our recommendations.