Cycling is done with the help of a bicycle, being known in all corners of the world and for many people it is more than a sport. Some people use this tool to go to work, for a walk or for high-performance sports activities, but regardless of its use it can cause serious injuries to the ankle.
If you are in search of the best compression sports ankle brace for cycling, this article is ideal for you. It will explain in detail everything you need to know about these garments such as: features, types, whether they really work for cycling and more.
What are the most common ankle injuries when cycling?
Cycling injuries are mostly attributed to poor seating position, axles, position or lack of warm-up exercise, most of the injuries occur in the ankle and if not treated in time can affect other areas of the body or become chronic.
These are the most common ankle injuries in cycling:
Ankle tendonitis
It is the inflammation of the tendons located behind the ankle, which are responsible for connecting the bones of that joint with the muscles, help us to stabilise the body and prevent sprains during sporting activity. In the case of cyclists, it usually happens after a bad movement, twisting the foot and affecting the ankle.
The first thing you will notice is intense pain, instability and inability to put your own weight on the foot. There are several reasons why this type of injury occurs, but they are mainly associated with poor posture, lack of warming up before sports activities, incorrect seat height or modification of axes.
Ankle sprain
This is a soft tissue injury. The level of damage ranges from grade I to grade III, the mildest is a sprain that is easily treated, but in the worst case you would have to resort to surgery. Common symptoms are pain and swelling, but it all depends on the severity of the situation.
Sprains can occur in anyone, but are more common in activities such as cycling due to the pedalling motion, directly affecting the ankle.
Bursitis
The bursa is a fluid-filled sac between bones and other moving parts. It functions as a kind of cushion that prevents collision and wear and tear between the different bones of the ankle. This type of injury occurs when you pedal continuously and force the tendon, the next thing you notice is a deep pain that will make it impossible to continue pedalling and you will have to withdraw from sporting activities.
Cartilage injury
This is the inflammation of the cartilage located in the ankle. In cycling, it usually originates after repetitive and intense movements with this joint, which, due to the purpose of the sport, is caused by the mobility of pedalling.
It can also occur if the cyclist suffers an accident and its impact is directed directly to the cartilage. This injury would then become more serious, causing cracks, osteoarthritis or other consequences. It may even require surgical intervention.
Dislocations
One of the most common injuries in professional cycling is dislocation or dislocation. This is when the bones near the ankle move out of their normal place, causing intense pain, deformity and instability.
It occurs due to a bad movement when pedalling, when it is exercised more quickly, intensely and abruptly without being aware of the consequences. In this case, the bone must be brought back to its original place and in the worst case, an operation is necessary.
Bestseller
What type of sports ankle braces are best for cycling injuries?
Today's sports ankle compression sleeves are indispensable garments for the cyclist, due to all the benefits they produce either for protection or recovery. There are several models, with different characteristics, here we will explain the best ones.
Ankle compression sleeves
It is a product manufactured mostly in polyester, nylon and spandex, its design adapts perfectly to the shape of the ankle and offers uniform compression over the entire affected area, retains body heat and improves blood circulation. It is ideal for treating sprains, stress or weak ankles. It can help you prevent or reduce injury and improve your sports performance
Neoprene ankle brace
The base material for the manufacture of this ankle brace is neoprene, it adapts perfectly to the surface of the ankle and the best thing is that it exerts a compression distributed along the joint. It has a thermocompressive and stabilizing effect ideal for treating sprains, preventing and treating injuries, for recovery after long training, and more.
Ankle brace with adjustable elastic strap
It is an ankle brace with bi-directional micro-velcro tape for grip and pressure combined with breathable fabric for rapid absorption of sweat, provides stability to the tendons, muscles and joints, can be used to prevent and reduce the risk of sprain.
What features should you consider before choosing the best sports ankle brace for cycling?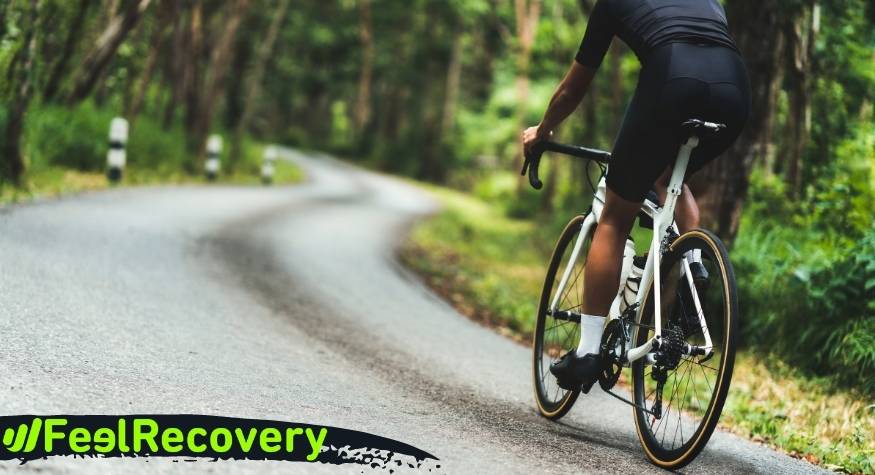 The sports ankle braces are really effective and are a favourite among users. However, it is important to take into account certain aspects in order to make the best choice of the compression garment according to your particular case.
In order to make your search easier, we have listed the most important features before making your purchase:
According to its function
Ankle braces to treat injuries: Sports ankle sleeves help treat, prevent or minimize the risk of injury during cycling. This is because of the compression and stabilisation they provide to the joint, placing it in a state of rest and accelerating recovery.
Ankle braces to relieve pain: When having ankle pain after many pedalling movements, the best thing to do is to use a garment, this is due to its thermo-compression benefits that drastically reduce any discomfort.
Ankle braces protectors: Athletes in general will always be exposed to knocks, scratches or scrapes and for this reason it is important to use elastic compression ankle protectors. These help to protect the ankle, especially in the case of weak feet, thus avoiding sprains, tendinitis, etc.
Ankle support: Cyclists make many movements during their activities, in this case firmness and support of the ankle is required. This is possible with the use of ankle supports, with fine and anatomical designs, providing support, containment, easily adapting to the foot.
Stabilising ankle supports: The stabilising benefit is not only for cases of fractures or injuries, they are also of great benefit to prevent minor traumas such as sprains, as they do not allow sudden movement and keep the joint in a good position.
Material of manufacture
Over the years, technology has made great strides with the study and discovery of new ways of making ankle braces, an example of this are the alloys of materials with incredible properties of great utility for different areas.
In the case of cycling, different types of materials and alloys are used that are capable of stretching, bending and protecting without damage or tearing, some of them are:
Absorbent fabric: This is a very thin and incredibly strong fabric capable of absorbing large amounts of liquid without losing its original shape or becoming damaged, is pleasant to the touch and can stretch to a certain extent without detracting from the movement of the ankle.
Non-slip silicone: Can be bent without damage or tearing, adapts perfectly to the shape of the ankle, compresses, keeps muscles and joints warm and keeps the garment stable.
Neoprene: Neoprene plays a very important role in the cycling discipline, it can insulate you from humidity, low temperatures, it is resistant and flexible.
Type of support
Support straps add stability and support to the muscles and joints in the ankle, they are adjustable, reliable and if used in sporting activities, can help prevent injury.
The following straps can be very useful in ankle braces:
Velcro straps: These are straps that can be fastened in the direction the person chooses by putting pressure on the ankle without fear of detachment, they have incredible quality, strength and are easy to use.
Nylon straps: The elastic nylon straps stretch and adjust to the ankle perfectly, working in combination with the velcro fasteners for greater precision. They are comfortable, strong and durable.
Hook and loop strap: This is a bi-directional strap design that combines neoprene, breathable fabric and custom loop hook and loop closures for optimal ankle pressure adjustment.
Sizing
Finding the right size of any garment to wear is of great importance, especially for cyclists, as they must use the ideal size of ankle braces and other apparel in order to generate comfort in sport and safety. To find the right size, the process is made easy with a tape measure, which you should place around your ankle to check your exact size.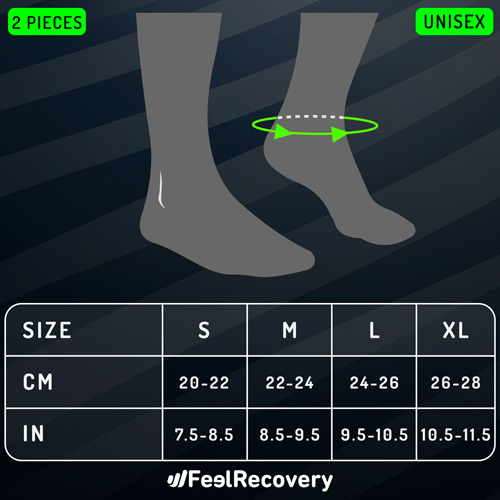 SIZE

S

M

L

XL

CM
20-22
22-24
24-26
26-28
IN
7.5-8.5
8.5-9.5
9.5-10.5
10.5-11.5
WHERE TO MEASURE?
The circumference is measured right at the ankle bone (*See image)
*Note: If after measuring you are between two sizes, choose the larger size
Design
It is amazing how many sporting goods are on the market, many manufacturers focus their efforts on offering a functional product, but neglect their design and end up offering something boring and out of place, but this is not the case with the garments mentioned here.
The sports ankle braces are totally functional and effective, they are different from the rest of the competition thanks to their unique and daring design, texture with variations in their fabrics and pleasant feel to the touch and great variety of colours for the taste of all sportsmen and women. The result is simple, a functional and fashionable product.
Price
The costs of the ankle braces can be seen according to their characteristics. Since, it is not the same a garment with simple materials and without fastenings that, in general, its utility is reduced and with very economic prices that capture the attention of the client but, they leave in bad reputation, the benefits of the ankle braces, originating a bad expense of the money.
The best thing to do is to buy certified products recommended by specialists in the area, such as compression ankle braces, which are fully functional, with highly qualified materials that will not cause allergies or irritation to your skin. Of course, these garments are more expensive than the rest, but remember that the health of your ankle may depend on this product.
Do compression ankle braces for cycling really work?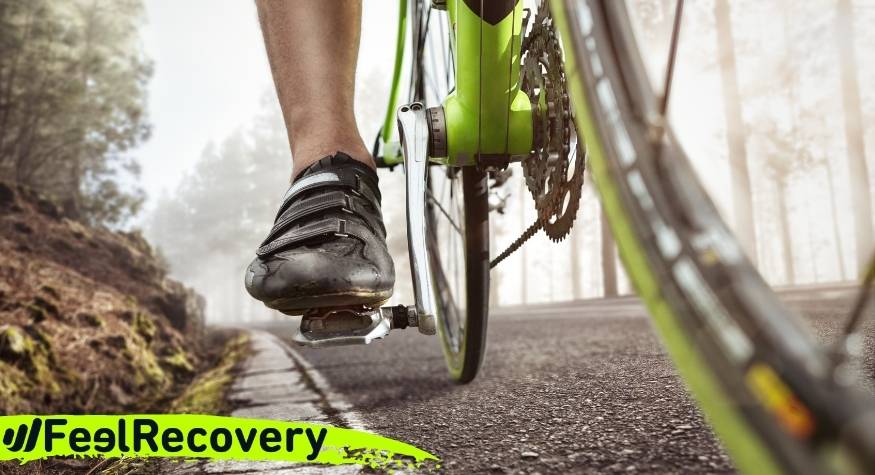 Ankle compression sleeves for cyclists have been used for a long time, the manufacturing process begins with the study of the materials and alloys required for each product and of course, continuous changes and tests to determine the effectiveness of the garment, all this is a long and tedious process, but it is worth it.
The ankle braces will help you reduce, prevent and treat injuries, as well as reduce muscle fatigue, cramps and improve blood circulation, but we must also highlight its unique and daring designs with variable texture and pleasant to the touch, variety of colours to suit everyone's taste.
To this day, sports ankle supports have stood out for their functionality and excellent results, being recommended by therapists, sports trainers and even professional cyclists who have used them. In short, it is the ideal complement for 100% compliance with the activities in this sport discipline.