Ankle injuries or pains are much more common than you might think. It can occur during sport, routine walking or any type of activity. As this is one of the joints that suffers the most, we must take special care and always be prepared.
The most effective option for these ailments is the ankle brace, which is placed around the ankle to immobilise and protect it. Knowing the benefits, characteristics and injuries that you can treat with this garment, could help you prevent serious future illnesses; so, in this article we will explain everything you should know about ankle braces for sport use.
In what type of injuries are sports ankle braces recommended?
The ankle is the area where we support our whole body. We must therefore be very careful that it does not suffer any kind of injury, otherwise it can make it difficult to move around regularly.
Below we explain the ailments or contusions in which we can use this compressive garment and thus improve our health:
Injuries: The ankle brace is the most recommended and effective piece for all types of injuries in that area. The most common of all is sprains. This affects the ligaments caused by a sudden movement of the joint, either by a tear, breakage or a minor to major complication.
Ankle fractures: These can be caused by a simple fall, car accidents, the practice of some sport and many other factors.
Injuries and fractures are the most regular medical complications of the ankle but, there are many more pains and contusions in which ankle braces can be used.
Here we explain the most frequent ones:
Pain in the feet: These discomforts are very common in the population either because of: overweight, trauma, aging, injuries or sports activities. The pain affects several areas of the foot such as: the arch, heel, sole, instep and toes.
Achilles tendon: Also known as the calcaneal tendon. It connects the back of the calf, specifically its two muscles with the heel bone and is so important because without it, you cannot do any activity such as: running, walking or jumping.
Tendinitis of the tibialis anterior: This is found in the lower leg. Tendinitis exists when the muscle of the tibialis anterior becomes inflamed. This occurs mostly in runners, handball players and high-performance athletes.
Tendinitis of the peroneum: This injury occurs mostly in runners. There must be a history of sprains or the morphology of the person's foot for the instability to occur. Tendinitis of the peroneum is caused by the alteration of the foot, as it overloads the foot, causing it to be bruised.
Tarsal tunnel syndrome: These are signs and symptoms that occur due to compression of the plantar nerves in the tarsal tunnel, which is located on the medial side of the ankle. One of its causes may be due to existing injuries such as: varicose veins, cysts, etc.
Arthritis: There are many forms of arthritis, including that of the foot and ankle. This becomes inflamed and causes great pain in the joints of the aforementioned areas. There is no cure, but with the compression clothing you can reduce the pain and have a normal life.
Bursitis: It is found in the back of the ankle and the tendon. It occurs when the bursa is inflamed. It is mostly suffered by individuals who run, walk or do some physical activity that requires constant movement of the ankle.
Plantar fasciitis: This is produced by an inflammation that surrounds the muscles of the foot, from the heel to the toes. The causes vary, it can be due to over-pressure, the use of inadequate footwear or fractures in different degrees. These injuries are also very common in runners.
Chronic ankle pain: Occurs when there is a sprain, fracture or any poorly healed injury. This pain can be evident on the outside of the ankle. Among its treatments are physiotherapy, ankle braces and in the most serious case, surgery.
Bestseller
What are the health benefits of elastic compression ankle supports for men and women?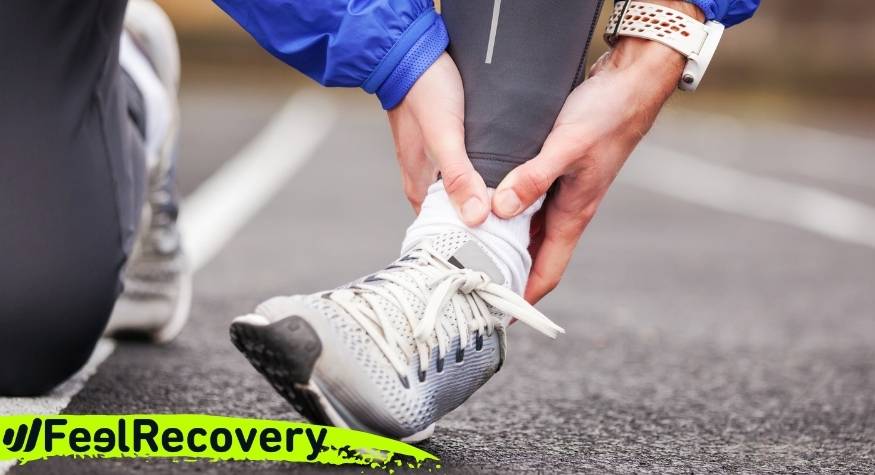 Elastic ankle braces are the best way we have to care for, prevent and improve any type of injury not only in that area, it is also possible to cover a large part of the foot with a single product.
We will now explain the health benefits of compression ankle supports for both genders:
Pain relief: There are times when we feel pain in the lower part of the foot and we do not know the reason or the specific place. Compression clothing will protect the entire ankle area at any time or place.
You will be able to recover from injuries: It reduces the levels of lactate in the blood causing a rapid recovery.
The most common reason for their use is to relieve or prevent pain. This is possible, as the garment protects the muscle from severe pain and also speeds up the restoration process.
Our ankles support are made of an elastic fabric that absorbs sweat, i.e. it is breathable. Generating more comfort and protection to the feet.
Reduces inflammation: Compression garments are the most commonly used treatment for this type of complication.
Stabilizes injured joints: Achieving a rapid recovery.
Prevents and relieves cramps: People who exercise frequently often suffer from this discomfort. With the compression it exerts, they can avoid them.
The ankle is a very delicate area of our body: With the garment you will be able to have the security and confidence to make your movements without suffering injuries.
Our ankle bracelets have a knitted fabric that has a massaging effect which helps the blood circulation.
As they are elastic, they guarantee the comfort of the person.
What features should you consider before choosing the best sports ankle brace?
Ankle bracelets have many health and sports performance benefits. Using them will undoubtedly bring about a radical change in your life, so making the right choice of garment will be of paramount importance to its usefulness. The first thing is to define the use you want to give it, and then move on to other more physical aspects such as materials and design.
Here we will explain and analyze each of its characteristics, so you have a better and clearer picture of it, before making your purchase:
Depending on the use
Sports ankle sleeve: Protects the entire ankle area and a large part of the foot from injuries that may occur during training, competition or physical activity. In addition, thanks to its compression, you will improve your performance and have the right temperature in your joints.
Ankle brace for work: Used in work jordan that requires constant mobility to avoid any pain or contusion in that area and generate greater productivity.
Orthopaedic ankle support: Usually used after sprains, twists or other problems affecting the ankles. It controls sudden movements, gives stability and quickly improves the injury.
Ankle brace to relieve pain: It is very common for people to use it for this purpose. Whether they are athletes, older adults, pregnant women or simply because they are in pain and do not know why. Ankle bracelets are the best option, regardless of age or circumstances.
Material
Knowing which implements or fibers the ankle bracelets are made with can make your search easier, since the use you want to give to them depends on it. Below are some of the most commonly used materials for the manufacture of these garments:
Nylon: It is a synthetic polymer that is very breathable, light, can withstand high temperatures, does not wear out, is a hard and resistant material, but at the same time very soft, so it will be very comfortable and safe to use.
Lycra: Also known as spandex. It is light, breathable, soft, smooth, more durable than rubber, but its most outstanding benefit, is the ability to stretch as much as you can, without this affecting its natural state. It is the most used to mix with other materials.
Neoprene: It is a type of synthetic rubber. Breathable, flexible, it generates good stability, it resists twisting and bending, it is resistant to any type of temperature, whether cold or hot, so it will always provide a good temperature. Widely used in the manufacture of ankle bracelets, but shares its percentage of manufacture with nylon or lycra, because it is not breathable.
A lot of attention has been paid to the importance of the materials being breathable, otherwise it would be very uncomfortable to use them because of the humidity or sweat generated in the ankles by the use of the garment. So, to have a good experience with positive results, it is best to always be attentive to this point.
With or without silicone support
There is a wide variety of gel supported garments, some are smaller than others. The appropriate size will depend on the severity of the injury. Silicone creates a great stability in the ankles causing the contusion to heal faster but you will have less mobility. It fits quickly and you can wear it with the footwear of your choice.
With or without Velcro tape
Velcro tapes are two fabric fibres that are joined together and act as hook-and-loop or contact fasteners. Today they are widely used in all kinds of products, whether in footwear, clothing, carts and more. Their use in ankle bracelets consists in their great capacity of holding, that is, they can keep the garment in the same place, being able to carry out any activity without risk of it moving. Also, you can use the Velcro, a personalized compression, according to your needs.
Without a doubt, it is a very useful and versatile material used in almost all products in the world, incorporating its benefits also in the ankle braces with which you can make many extra adjustments to the common advantages of the compression clothing. Using it with or without velcro tape is up to each person, depending on the objectives and functions they require with it.
Size
Having the right size is important, because the ankle brace should be a little tight but not too tight. Each manufacturer has slightly different standards, so before making the purchase you should consult with the seller (either on a website or in person) to provide you with their sizes. But, here we bring you a table with the respective measures that can help you choose the right one.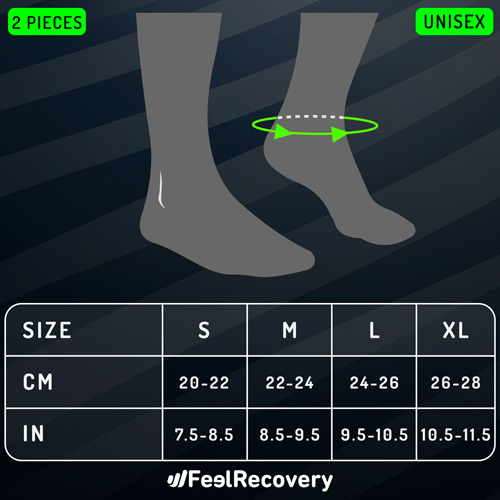 SIZE

S

M

L

XL

CM
20-22
22-24
24-26
26-28
IN
7.5-8.5
8.5-9.5
9.5-10.5
10.5-11.5
WHERE TO MEASURE?
The circumference is measured right at the ankle bone (*See image)
*Note: If after measuring you are between two sizes, choose the larger size
Design
Design has to do with many factors such as: material, price and even functionality. It is not the same as an orthopaedic ankle brace, which are made with neutral colours and extra articles to generate a good support and stability to the patient; that the sports ones, these are more colourful, with a variety of designs and shapes, much more pleasant to the eye, so they have become a fashion in many sports disciplines because of the good physical aspect that it provides.
It is also important to note that you can find stabilising sports clothing with medium compression, i.e. covering only the ankle and part of the calf. You can also find garments that cover from one area of the calf to a part of the foot. This way you can cover more ligaments and areas of this lower body area.
Price
The cost may vary according to the quality of the product. As mentioned above, a sports ankle brace is not the same as an orthopaedic one due to the materials it requires, therefore its prices are much higher. Similarly, there are anklets braces with a compression, adjustments, and material much more durable which of course, raises the figure.
How to use ankle braces to relieve ankle pain from sports injuries?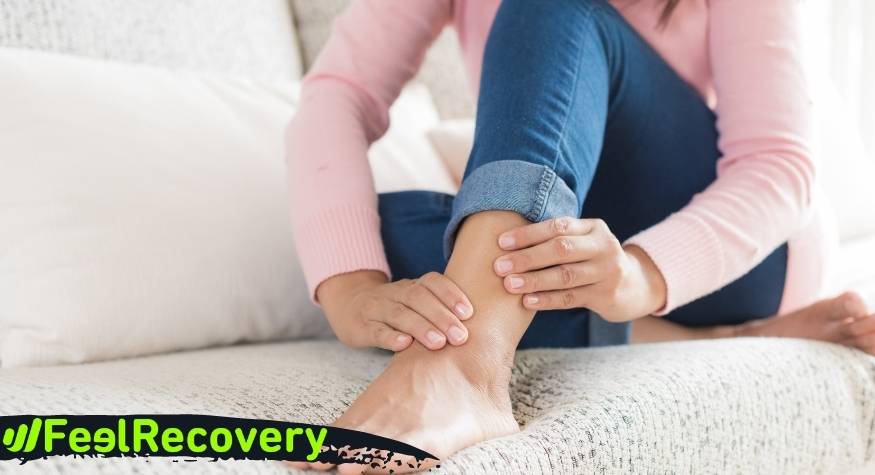 This garment is used by people who practice sports such as: basketball, football, running, volleyball and other disciplines to stabilize and care for the ankle from any injury. Because it contains so many benefits, its use was expanded to many other ankle injuries.
You can wear this sports garment with or without socks, depending on your preference and comfort. It is very easy to put on, take the ankle brace from the tip of your foot and drag it towards you until it reaches a little above the ankle. The duration with the piece can vary. For example, if they are not breathable, then it is not recommended to wear them for more than 6 hours. But, except for that point, it can be used throughout the day and with any activity.
It is impossible to know how long it takes to start seeing improvements, because every situation is different. If you have a minor sprain, recovery will be much faster than people with fractures. It is important to know the type of injury you have, so that you can take the appropriate precautions and help the compression ankle sleeve with rest and the respective exercises for the affected area.