66% of mountain, hiking and climbing athletes have suffered a sprained ankle at some point, due to the commonness of injuries to this joint. Indeed, an acute muscle tear can deform the foot and create instability and great pain.
Ankle discomfort means taking a painful step. You can take control of this trauma and avoid it by protecting yourself with sports compression ankle sleeves, which will explain in detail their types, characteristics, function and even the injuries that mountain sportsmen and women might face during their outings in the field.
What are the most common ankle injuries in mountain sports?
When we practice mountain sports, the joints of the foot are subjected to a lot of work and stress. In the case of an ankle injury, the soft ligaments that join the bones of the tibia, fibula and talus, suffer a crack and even a fracture of the foot. Some of these conditions paralyse the athlete, forcing them to stop their activities for a prolonged period of time. Here we show you, the most frequent injuries that they could face during their practice of hiking.
Sprained ankle
The ankle ligament is a long, fibrous and very resistant strip that serves as a joint between the bones, facilitates the natural and anatomical movement of the ankle joint, avoids excess movement and serves as a stabilising mechanism, and can also help prevent other injuries.
An ankle sprain consists of a stretched, torn or ruptured ligament. In the first case it is enough to use a compression ankle sleeve and in the worst case, you will have to use an orthopaedic garment depending on the medical indications. In the case of mountain sports, which are carried out on uneven terrain, athletes can make involuntary or sudden movements on the limb, affecting the ankle ligaments.
Tendonitis
The tendons that connect the muscle to the bone in the ankle can be easily injured in unstable terrain such as the mountains. Tendonitis is an injury that can occur while playing any sport in mountainous areas. It can be caused by repetitive movements, muscle weakness or unbalanced terrain. Before starting any activity associated with these practices, it is recommended to warm up and take all the time in order to strengthen the muscles and ligaments.
There are 4 phases or degrees of ankle tendinitis. In the first two you will have a sharp, stabbing pain while doing the activity. In stage 3, difficulty in performing any movement, and in stage 4, total loss of movement in the affected limb. In any of these cases, it is advisable to carry out these activities in the company of experienced people.
Dislocation
This consists of the dislocation of the bones near the ankle, i.e. the bone moves out of its natural place. If it is serious, it can detach pieces of cartilage and cause a series of other complications. To give you an idea, imagine you are walking in the mountains and you have to take a jump and fall with your foot in a bad position, causing a dislocation, these are events that can not be prevented, even the most experienced could go through this situation.
The symptoms are as follows: pain, swelling, deformity of the joint, tingling and possible loss of sensitivity and mobility of the foot, depending on the degree of complication you will have to use an ankle brace to stabilize it.
Fracture
In the fracture there can be two cases, the fissure of one of the bones of the ankle as a consequence of a sudden impact, or the breakage of the bone until it goes through the skin, suffering the following symptoms: intense pain, loss of sensitivity, inflammation of the joint, deformation, bruising, loss of mobility of the foot, among others.
This condition is common in all mountain sports. The condition of the terrain in these areas can vary, reaching the point where you must make jumps and falls to reach firm ground, you may fall badly on the foot or abruptly, in any of the cases can generate a mild or moderate fracture as explained above.
Bursitis
Bursitis is a small sac that is completely filled with synovial fluid, located between the bones and the moving parts of the ankle. Its function is simple, it prevents friction and wear and tear of the joints in the ankle, thus avoiding further injuries.
If you practice hiking, mountaineering or canyoning, you will walk or ride a bike for a long time around a mountain, this means that the joints will get tired and you will begin to feel stiffness, a lot of pain and when you least expect it, the ankle will become inflamed generating bursitis, and if you insist on the activity, it could lead to other complications. For these cases there is nothing better than a compression ankle sleeve.
Bestseller
What types of sports ankle braces are best for injuries in hikers and mountaineers?
Walking is one of the healthiest and easiest physical exercises to do. Walking along marked paths and enjoying nature becomes a frequent and pleasant practice. However, walking on narrow or rocky paths can lead to accidents to the ankles, as it is the joint that supports the whole body and is therefore the most susceptible to trauma. The most practical and safe solution to prevent and improve injuries is with the use of sports ankle sleeves, but depending on the level of injury you can choose the most appropriate for your case.
Below we present the most recommended ankle braces for hikers, climbers, mountaineers or other mountain activities in case of any injury:
Ankle compression sleeve
It is designed for a high compression in the ankle, this performs beneficial functions for all kinds of people such as: relieves pain caused by impacts, prevents bad biomechanical acts in the feet, improves blood circulation, prevents and heals considerably injuries, among others.
Its use in mountain sportsmen is generally to treat sprains, dislocations or dislocations produced during their practice. Although its advantages are much more extensive, as it maintains body temperature, reduces risk tensions, immobilises the joint if it is affected, as well as speeding up recovery. It is ideal for all those individuals who like hiking, mountaineering, climbing and other related sports, because they will be able to perform it without any fear of suffering accidents and in case of having it, its improvement will be fast without the need of chemicals.
Neoprene ankle brace
Neoprene is one of the favourite materials in sportswear, especially in ankle braces, due to its heat retention technology, increased blood flow which minimises swelling and to help maintain flexibility.
It can be noted that it maintains body temperature and can help to strengthen joints, it adapts easily to the surface of the ankle. It is definitely a product that will help prevent many injuries so frequent in mountainous areas.
Ankle brace with stabilisation system
Designed with stabilising and adjustable straps that help increase stability and support for quick recovery. This type of ankle brace provides compression to treat sprained ankle injuries, tendonitis, post-operative ligament injuries. However, movement is limited to avoid prolonging joint damage.
This product combines neoprene, non-slip silicone, Velcro and absorbent fabric among others. Their combination helps to achieve the effects mentioned above, as well as keeping the joint warm, reducing recovery time.
Strap ankle brace
It is made of breathable and very flexible materials, it will keep the foot clean and dry at all times. It is recommended for trekking, hiking, climbing and more sports. You can wear it like a sock and you will not be hindered in your movements. Therapeutic effects include: pain relief, improved blood circulation, reduced tension, muscle strengthening.
What features should you consider before choosing the best sports ankle brace for hiking?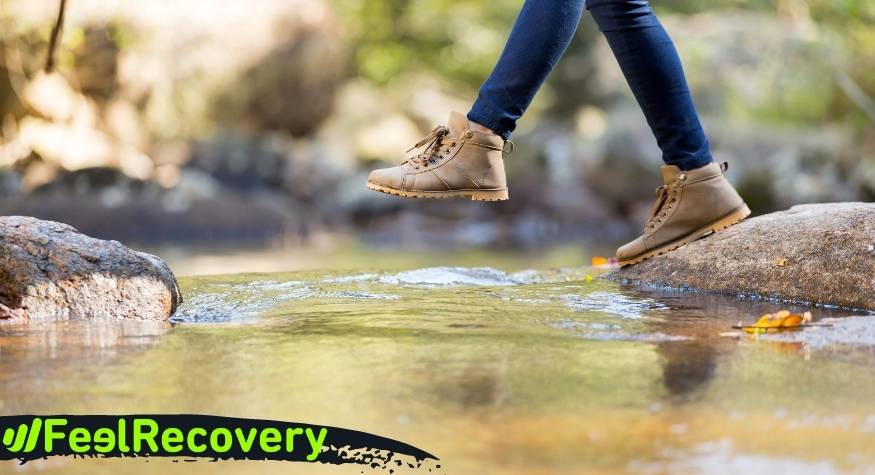 Once you know the different injuries you face in each physical activity, choosing the most suitable ankle braces is not so complicated. The material that allows stability and compression, the size or design that best suits your needs, are characteristics that will guide you before making the right choice, which we will explain below.
According to their function
Support: Elastic ankle sleeves provide great support to the joint, greater mobility and compression to the ankle. They are suitable for hikers or those who engage in outdoor activity; minimising the risk of injury while walking or training. The support is useful for soothing the pain of injured muscles and tendons and protecting against chronic ankle strain.
Protection: Mountain sports, often have a high risk of suffering some kind of ankle accident. This can be avoided with the use of compression garments, which protect the joint from sudden movements, jumps, falls, bad footsteps and more, due to the support and stabilisation they provide.
Pain relief: These disciplines often last a long time and are far from any medical attention. With sports ankle braces, you will not have to worry about these common ailments that can be suffered during mountain sports, whether due to overuse, excess weight or any other reason that may cause it, can be reduced with the compressive therapy provided by this garment.
Stabilisation: As already mentioned. Sports ankle braces have adequate stability to keep the joint in one place without the possibility of making bad movements that can lead to sprains or fractures, as a serious case. So, you will be able to execute your favourite sports without having this kind of worries during your run or climbs in the mountain.
Material of manufacture
The material is one of the most important points to consider before purchasing an ankle brace. This is because it is an important factor in order to realise the expected benefits on the ankles. They must have certain aspects in order to achieve the compression, stability and even the comfort that is so longed for and which are of utmost importance during mountain running in any discipline.
The first thing to analyse is their fabrics, the most used and recommended are nylon and spandex. Both offer elasticity, adequate pressure, softness, comfort, lightness and a very important factor, they are moisture wicking. This last point should be taken into account because, otherwise, your feet could be wet from sweat, causing discomfort.
They also use other types of materials for their manufacture such as: straps, neoprene, gel with hot and cold effect. In short, you should make sure that the ankle braces have at least a percentage of the above mentioned fibres to achieve a good and satisfactory experience.
Type of support
Elastic compression ankle supports have easy-to-manipulate fasteners for uncomplicated use, allowing the hiking athlete greater freedom of movement without worrying about any slippage or rotation of the garment. These are the most recommended materials for the best support.
Stabilising straps: This is a cross strap that completely covers the instep and heel to protect the joint and minimise impacts or sprains, as well as providing high compression on the ankle and avoiding any displacement of the garment due to bad movements.
Velcro: An easy and secure opening system. Allowing an ergonomic design and good elasticity with a precise fit that keeps the ankle firm, with good support.
Neoprene: A type of synthetic rubber widely used in the manufacture of ankle braces. It allows a stable temperature, is lightweight and supportive, which is held comfortably around the joint, preventing any slippage.
Size
To know the size of your ankle, you should measure the contour of the ankle joint just above the instep and then check what size you need according to the diameter that you should consult in the table below.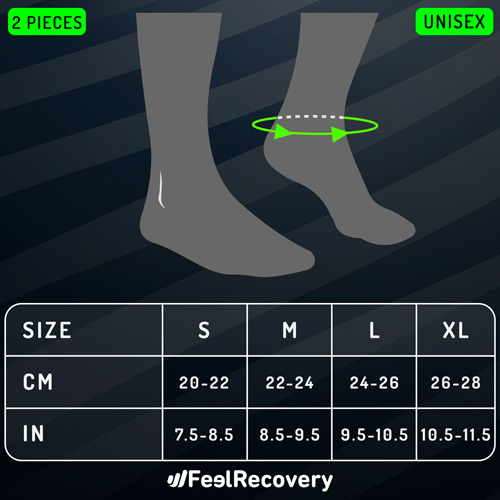 SIZE

S

M

L

XL

CM
20-22
22-24
24-26
26-28
IN
7.5-8.5
8.5-9.5
9.5-10.5
10.5-11.5
WHERE TO MEASURE?
The circumference is measured right at the ankle bone (*See image)
*Note: If after measuring you are between two sizes, choose the larger size
Design
It is important to make a good choice, because if it is too small, you could have problems with circulation and if it is too big, it will not have the expected effects. So check the size with the supplier of the garments, either online or in person.
A very important feature for those athletes who want to preserve their image or style. This garment has a variety of designs so you can choose according to the colour, shape and model you like and at the same time have the compressive, supportive and stabilising effect expected from the product.
Since they are breathable, you will be able to use them all day long without any inconvenience and with the footwear you like the most to practice climbing, trekking, hiking or any other type of mountain exercise, with the same safety and comfort that is always guaranteed. It is also worth mentioning that most of the designs are manufactured in unisex formats, so you won't have to carry out a long search depending on your gender.
Price
The cost of ankle braces will depend on the type and material they are made of. As mentioned throughout the article, you should be attentive to the characteristics of the garment so that it can perform the therapeutic effect on the joint, according to the needs of each person. It is not advisable to buy very cheap compression ankle sleeves, as these do not have the compression or quality materials required for correct use.
Do compression ankle sleeves for mountain sports really work?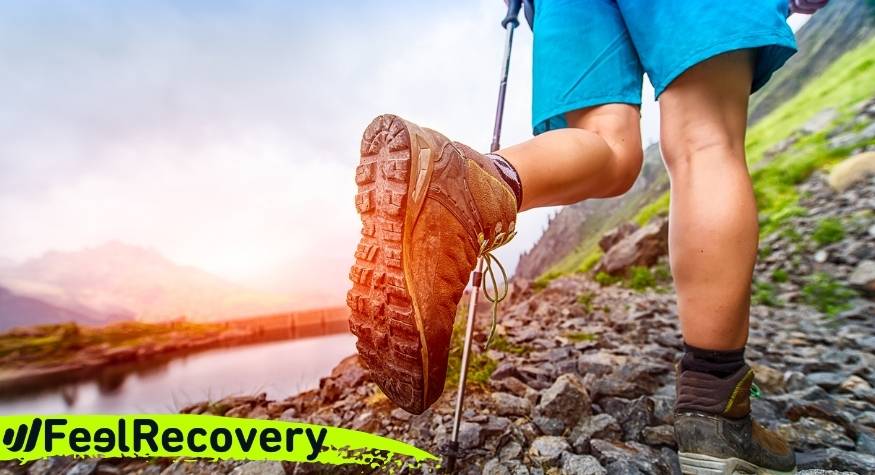 Whether you are climbing, hiking, mountaineering or any other mountain discipline, compression therapy is undoubtedly the most efficient injury recovery technique that every athlete should know. However, ankle braces that use compression technology favour the mountain athlete, preventing accidents in that area and aiding recovery. At the same time it offers a pleasant and safe experience.
With compression therapy, oxygenation of the tissues is improved. In effect, it optimises oxygen consumption to the body and, specifically the joints or parts where there is energy overload, leading to increased performance. If there is heat loss during training or recovery, these ankle braces have the function of storing heat, thus allowing a stable blood flow.
One mistake you should not make is to think that because you have done sport and have not suffered injury, you imagine that it is not necessary to protect the foot. However, having the right protection helps to minimise a negative effect on your health and provide adequate prevention.