When it comes to injury, choosing the best sports back brace is a task that doesn't have to be complicated if you start to know all the options available to you. Making the right choice will guarantee you comfort and even a good cost of the product.
Lumbar braces are those that function as an orthotic type support, that is, they are used to modify the functional or structural aspects of the neuromusculoskeletal system. In the following article we will indicate when it is necessary to use this garment according to your ailment or injury, the types of braces and also their benefits.
In what type of injuries are back braces recommended for back pain?
It is advisable to use a lumbar compression brace for back pain when suffering from low back pain, for a herniated disc or some type of chronic pain in the low back area, among others.
The following list of ailments and injuries will help you to define the cases in which its use is recommended:
Cervicalgias: This is a pain towards the arm area, but can also be felt in the head causing headaches (intense and persistent headache that is accompanied by a feeling of heaviness).
Dorsalgias: It is a discomfort that can be felt on only one side of the back, as well as bilaterally. The pain is usually present in the upper back area (between the shoulder blades).
Sciatica: This is basically a pain that goes from the lower back through the hips and buttocks and down each leg.
Muscle contractures: A simple way to conceptualise this is by explaining that it is a strong constant tension where the muscle contracts involuntarily.
Inguinal hernia: The symptoms of this can be very painful, so it will be easy to recognise. It is a tissue that protrudes through a weak point in the abdominal muscles. This protruding lump is painful for everyday activities such as lifting a heavy object, although it does not always represent a risk.
Low back pain: This is a pain that tends to bother the lower part of the back.
Herniated discs: This is a problem in the cartilaginous disc that is between the bones of the spinal column. In simple words, this disc can come out of its place (herniate) or break due to an injury. What these discs allow is bending and stretching.
Discopathy: This refers to the wear and tear of the spinal discs and is linked to ageing. The symptoms are pain in the lower back.
Osteoporosis: This is a disease in which there is a decrease in bone mass. Bones become weaker, more fragile and less able to resist blows or falls.
Osteomalacia: This is another condition, but in this case there are intermittent and painful contractions of the muscles, tremors and painful muscle spasms.
Lumbar osteoarthritis: This usually causes pain and loss of mobility. This is when cartilage (a layer of tissue softer than bone that covers the surface of the joint) is worn away.
Bestseller
What are the health benefits of lumbar support for men and women?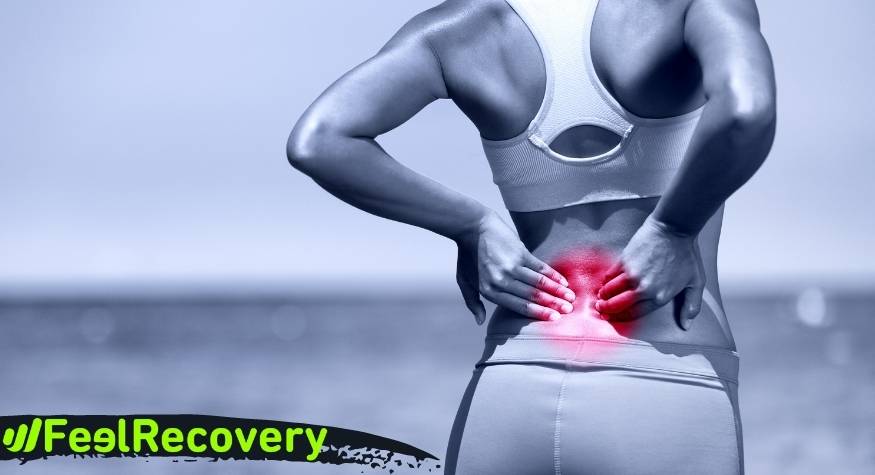 The good thing about lumbar supports is that they have multiple health benefits. Using them can help relieve pain, increase mobility, correct body posture and prevent future lower back injuries.
Some of the most important health benefits for both men and women are:
Prevention: They help prevent certain types of injury from occurring when you are doing exercise, if used for sport.
Improved postural hygiene: They serve as a reminder to avoid adopting incorrect postures, which is not only an advantage, but also beneficial to health. By preventing the body from getting used to a form that is not the natural one of the body, and which is very common due to the amount of people who are constantly at a computer, or spend long periods of time with their head down looking at the mobile phone.
Protection: If there is an injury, the orthopaedic back brace helps the person to move without making the injury worse.
Thermotherapy: They offer heat and this will help if there is an injury to have a quick recovery.
Compression: They help to compress the abdomen, in the case of wanting to lose weight. This accompanied by a balanced diet and exercise will be the perfect combination.
Relief of pain: It does not allow the affected muscles to make any effort, which relieves the pain almost immediately.
Improved sports performance: Helps people who lift weight and work their muscles with sports training.
For pregnant women: Pregnant women can also use lumbar support. This helps them with back pain due to the weight of the belly and that they can maintain a correct posture during the process.
For occupational injuries: Long working hours and stress cause back problems, which can become worse as time goes by. The back brace helps them to maintain a good posture during working hours and, on the contrary, not to develop a bad position that leads to an injury.
Help with inflammation: They are beneficial because the heat acts on the area and the strength of the band helps to counteract.
What characteristics should you take into account before choosing the best sports lower back brace?
Lumbar supports are not just any garment, for this reason each element must be evaluated before making the purchase, starting with what type of discomfort you are going for or for what activity. After knowing their use, you will have to think about the size, design or cost. But don't stress, because here we have the answers to all your questions.
Depending on your use
It should be noted that there are different types of belts, so it is important to think about the employment you will be given.
Pain Relief Braces: Back pain is one of the worst afflictions that we can feel in our body, managing to stop completely the daily activities, whether sports, work or any area. Lumbar belts are the best solution for these problems.
Reinforced supports: They work for moderate or severe lumbar pain, post-operative and even for sciatica. They support and contain the lumbar area and the sacral region, help to improve functionality and reduce back pain. They can be used in recoveries from surgery in that area, thanks to the fact that they help to maintain a proper position, provide security in movement and keep the area compressed.
Classic lumbar support: Used for rheumatism, lumbago, hernias and other acute back pain, because the objective is to contain the lumbar and sacral region. They help to recover mobility and relieve pain.
Splinted braces: These are recognisable because they have rods in the back area. The garment exerts greater pressure and support in the area. The good thing about this type is that you can choose between hard or soft rods, depending on the extent of the pain. These are responsible for pushing on the spine.
Sports braces: They support the lower back, are breathable due to the excess of sweat when exercising. Although they are used for sports activities related to bodybuilding and weight lifting, they are the most efficient for herniated discs. They help to prevent some injuries from occurring, offering restrictions of movement while performing sports activities. They also serve as a reminder to avoid adopting incorrect postures. They are made of breathable materials and also include a support brace. They are beneficial for those who lift large amounts of weight because they help to contain the area and avoid the risk of injury.
Postpartum supports: They cover the whole abdominal area to give firmness to the area. They are used when the lady has just given birth and the changes in the body need support. This garment should not be worn immediately after a birth, you should let the body rest and then take advantage of its benefits. A belt created for the aesthetic aspect, to look better, will never be the same as those designed for recovery from injury or health problems.
Material
Lumbar belts can be made of different materials depending on the use. Some are made of soft materials and others are hard.
The soft braces are those made of elastic materials, which are adjusted to the lower back and abdomen for greater comfort and the activities to be performed. They are adjusted by means of straps or velcro strips to provide better compression.
Hard ones are designed with robust material that usually limits movement. It is important that we feel comfortable with the garment we buy. We should check that the fabric is breathable and the material is elastic so that the body can be moved freely.
Ideally, the garment should be seamless, so as to avoid injuries or chafing in the abdominal area.
With or without support rods
The support rods add to the variations when choosing a back brace. They are available with and without them. Models with reinforcements are more recommended for people who have suffered some kind of vertebral fracture; that is, who have limitations in performing certain movements. In the case of a sports back support, you should evaluate how you will feel according to the exercise you do. The material should be inspected.
Size
Assess the size that fits the body and don't lie to yourself. Checking that there is comfort in wearing it is indispensable. To choose the sports lumbar support without failing, you should measure the contour of the widest part of your waist with a tape measure. This will indicate the results in centimetres (cm) and you can compare them with the table below.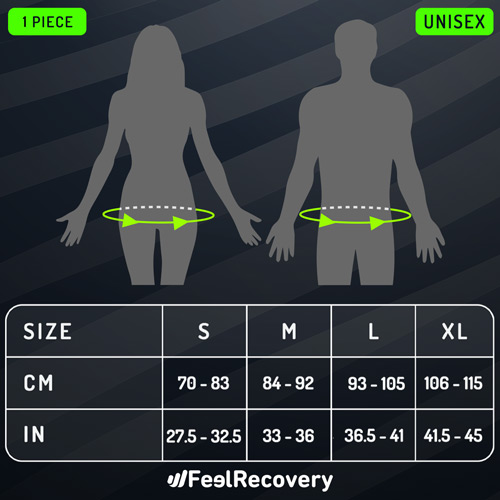 SIZE

S

M

L

XL

CM
70-83
84-92
93-105
106-115
IN
27.5-32.5
33-36
36.5-41
41.5-45
WHERE TO MEASURE?
The circumference of the widest area is measured: (*See image)
Men: Waist
Women: Hips
*Note: If after measuring you are between two sizes, choose the larger size
Design
The good thing about belts is that they come in different colours and models, but also in different materials. Evaluate what you need it for and if, for example, it's for exercise, make sure it's a material that's beneficial with perspiration because sweat isn't the best friend of training, on the contrary, it can hinder but it's essential and natural.
If it will be used for going out, it is convenient that it is a design that is not noticed in the clothes so that you can go unnoticed, feel comfortable and safe. It depends on the comfort of each person. There are also models of sashes that are of the t-shirt type. They adapt to the back to avoid injuries and are a good option for shaping the abdomen. They are comfortable and when you improve your posture you get a better position and you will look different.
Without a doubt, thanks to the versatility, variety of colours and designs that are available on the market, we can use the lumbar braces without any kind of "aesthetic" excuse and improve our health considerably.
Price
The amounts that you can get in the market of the back supports are very fluctuating. But it all depends on the quality of the product, because the more money you invest in these clothes, the better the results and the duration will be much more prolonged than others of very low costs. Being the compression lumbar braces, the most requested and with the best recommendation in terms of specialists and experts in the area is concerned.
How to use the sports back braces for relieve lower back pain?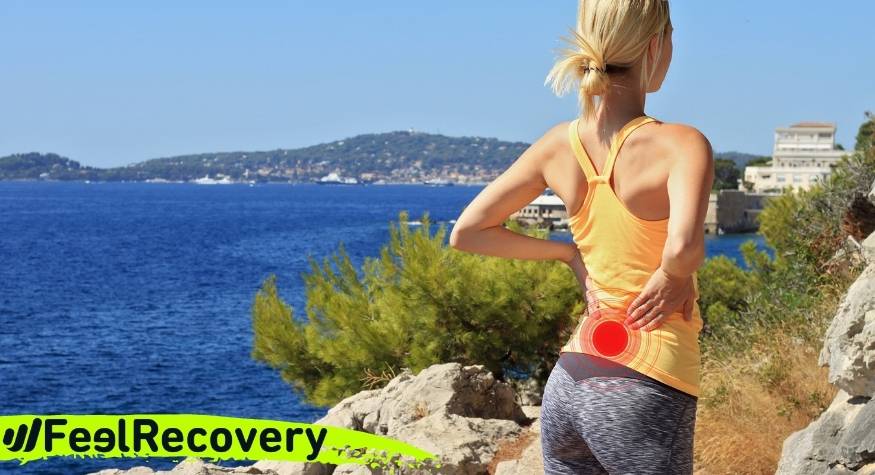 If it is an extreme pain or you think it could be a worse case, it is best to go first to the specialist to recommend the appropriate back brace, especially if it is a recovery after a fracture or surgery.
On the other hand, if it is due to common ailments, whether due to bad positions or hard training, the best thing to do is to use the lumbar brace for a maximum of 4 hours a day. In none of the situations is it recommended to use them for a long time, that is, for years. This can change under previous medical prescription.
These garments are useful for many situations, whether they are for sports, injuries or postpartum, among others. Also, it is a great support for elderly people because of their constant ailments or any kind of common problem they may have in that area. Sportspeople, pregnant women, children, for blows and bruises and even different illnesses can rely on the lower back support to improve their day-to-day life.