Weightlifting is a sport that consists of maximum weight lifting, distributed in weightlifters that support discs of a certain amount of weight on both sides. This discipline demands a lot from each athlete, therefore the chances of injury are higher, especially in the ankles, because it is the joint where the whole body rests.
To prevent and heal injuries, the best option is with the use of sports ankle braces, so in the following article we will share all the relevant information such as: characteristics, types, function and even the most frequent traumatisms in this practice.
What are the most common ankle injuries when weightlifting and fitness?
In the practice of high endurance sports, which demand a lot from each athlete, one is prone to suffer certain injuries, generally due to overtraining or movements that were not performed with the proper technique. Among the most common types of injuries are those that are caused to the ankles, as they bear much of the weight.
Below is a detailed list of the most common injuries that can happen to the ankles when weightlifting and powerlifting:
Ankle Tendonitis
Ankle tendonitis occurs due to inflammation usually caused by a direct or indirect blow to a hard surface, or simply when the ankle is subjected to excessive weight that it was not prepared for. This type of trauma is common in weightlifting due to constant weight lifting, when the joint is not warmed up, or the weight of the weightlifters is being increased, and yet the ankle is not prepared for it.
Ankle sprain
Ankle sprains are based on the tearing of some of the ligaments that make up this joint. These usually occur when performing a movement or sudden turns, also running, walking, among others. This traumatism is the most common in any sport. In weightlifting, it occurs at the moment, or after weightlifting after flexing incorrectly or making any other movement abruptly. It is one of the mildest injuries, but still causes pain and swelling.
Ankle fractures
The most common type of fracture treated by orthopaedic orthopaedic surgeons, they occur in any of the following movements: adduction, abduction, pronation, supination, combined, twisting, vertical impact. Any of these executed with force can result in partial or total separation of the bone, causing complete immobility of the leg and paralysing pain. In weightlifting or high-risk sports in general, they can occur if precautions are not taken.
Achilles tendon tendonitis
This injury usually occurs when there is excessive overloading of the triceps, affecting the tendon cells, the extracellular matrix or both including when weight lifting or simply when the tendons are strained in this kind of sport. This can also be caused by factors such as impaired vascularisation, frictional thermal injury that impairs the tendon's ability to regenerate, or biomechanical irritation.
Chronic tendonitis
It is produced by a disproportionate injury to the tendon, causing a serious imbalance in the joint itself, preventing its functionality. It is caused by an abrupt movement, but with the addition of an inappropriate weight load, or when a movement is too forced and the tendon is inevitably forced to change shape and direction. Although it is not common in all sports, it is frequent in weightlifting and gymnastics, but not because of the normal movements of these disciplines, but because of those that are performed with an inadequate technique.
Bestseller
What kind of sports ankle braces are best for strength sports injuries?
The use of sports ankle braces plays a key role in weightlifting and strength sports due to the stability and protection they offer to the ankles and joints themselves. It is important to know the different types that we can find on the market, and thus determine which one is best suited to our needs.
Ankle compression sleeves
This type of ankle brace focuses primarily on maintaining compression for proper blood flow. The type of support offered by the elastic material ensures that the ankle is safe from all kinds of sprains. They are ergonomically designed and therapeutic, offering the athlete not only prevention and safety, but also a wide range of benefits such as relief of muscle pain, greater stability and are suitable for the treatment of injuries. Undoubtedly, one of the most recommended for people who want to practice this kind of discipline of high physical performance where the joints must be well protected.
Neoprene ankle supports
Although many ankle braces include neoprene in their manufacture, these are specifically designed with a greater amount of neoprene because of the natural support it provides, without the need for additional fasteners or clasps, it generates a lot of stability to the joint. It is recommended for mild sprains, tendonitis or any partial tendon injury. This type of garment offers thermo compression, a property that relieves pain, allows better blood flow, providing a quick recovery. Importantly, it is lightweight, allowing flexibility, and through its bands it is possible to control much of the tension.
Ankle strapping
A multifunctional and practical ankle brace as it can be used with footwear and everyday wear. They are made of stitched elastic bands or straps that can be adjusted to the foot. They are used to prevent injuries, inflammation of muscles and for the treatment of lateral ligament sprains. These bandages are in great demand in all aspects of weight-bearing sports because of their comfort and discretion, although they should only be used in training routines that are not more physically demanding than usual.
Ankle supports with cross-stabilisation systems
This product treats sprains and ligament injuries in general. They have a wrap-around design, constructing a criss-cross closure system similar to an 8 but adjustable for the heel. They are quite comfortable and are not only used to treat injuries, but also to provide good support and stability, especially for those with muscle weakness or insufficiency.
What features should you consider before choosing the best sports ankle brace for fitness or weightlifting?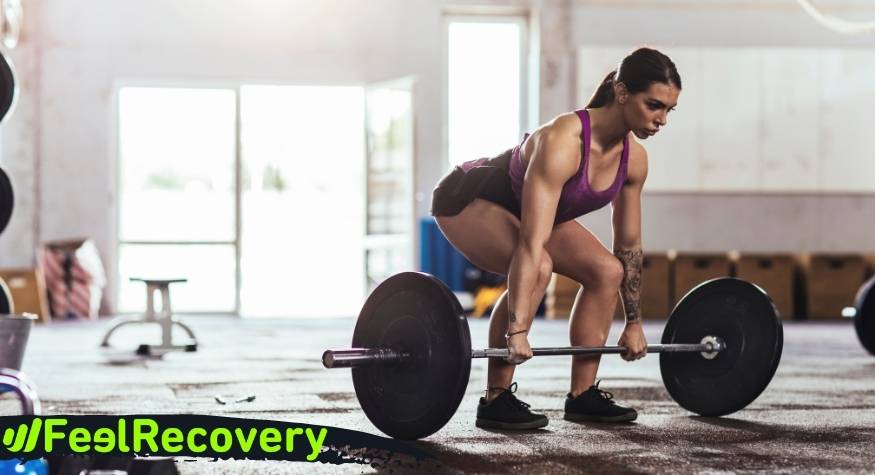 When practising strength sports such as weightlifting, joints are exposed to physically demanding routines, but it is also true that each athlete has different requirements. Therefore, in the following section we will give you a list of the main considerations or characteristics to choose your ideal ankle brace.
According to their function
Ankle braces for pain relief: With sports ankle braces you will be able to train and maintain your fitness body without having the common aches and pains of these practices. Thanks to the compressive materials with which they are designed, which may include gel, being of great benefit because it manages the soft parts of the joint, and thus prevent inflammation and discomfort derived in intensive training sessions.
Protective ankle braces: Sports ankle braces are the most requested in weightlifting as they are almost indispensable safety equipment, because they provide greater care and are designed to protect the ankle at all times during use.
Stabilising ankle braces: They exert greater pressure and distribute weight better, thus offering not only support but also balance and better use of strength when weightlifting. In addition, they allow the foot, ankle and the whole joint in general to have the right support and stability during the characteristic flexions of this kind of sport.
Safety ankle braces: Sports ankle braces fulfil a fundamental function for athletes and that is to offer safety in every movement, whether it is a flexion, support, jumping or resistance movement; these garments allow the joint and muscles to avoid undue stress or strain that could cause injury. They give the athlete the confidence to perform all movements inherent to the sport without risk thanks to proper support.
Material of construction
The materials of the ankle brace are of utmost importance, as they will enable the garment to fulfil specific functions, such as flexibility, support, compression, stability or even pain-relieving sensations. Therefore, athletes should choose carefully according to the benefits they provide.
Here are some of the most recommended ankle braces for use:
Made of elastic fabric: Approved for sports use, as they do not burn, pink, irritate or generate uncomfortable sensations. On the contrary, it provides a fairly comfortable fit for athletes who play heavy sports and need a garment that is lightweight.  It offers stability and strength in the ankle to execute training sessions correctly.
Neoprene: It is a very common material in the design of ankle braces. It generates support when it comes to weight bearing, which is extremely important for weightlifting. It is resistant, strong, elastic, but, its great weakness is the little breathability, so it is recommended to wash frequently or buy them with a percentage of other materials.
Gel: It is often incorporated into the ankle brace itself, and provides a massage with the movements of the joint, relieving pain, while reducing the chances of muscle swelling or fluid retention.
Thermal material: This is incorporated into some ankle braces in order to retain cold or heat, thus contributing to muscle rehabilitation and pain relief in the ankle joint. These are very useful after a weight training session where the muscle has been pushed to the limit and there are signs of inflammation.
Type of support
In sports such as weightlifting, it is important to use an ankle brace that provides adequate stability and compression to ensure optimal use of the brace and can meet your needs. The type of support that is needed varies according to the intensity, frequency and level of weight lifting that is practiced, but in all cases it is necessary to have ankle braces that remain stable, do not open or roll because this could be an obstacle during practice.
Velcro fastening: This is one or more hooks, mostly made of velvet. It has a great advantage when it comes to fastening or closing the garment to the person's liking, it is very comfortable and almost undetectable according to the design. It is highly recommended for heavy sports because of its soft but resistant material.
Metal or plastic fastener: Some garments have small adjustable fasteners that allow a better fit to the foot and in general to the ankle, an ally when we need extra support. It also has the advantage of significantly reducing the chances of the ankle brace coming loose or moving out of place, they can be designed in metal or even plastic.
Click fastener: It is a type of fastening that is added to some open type ankle braces, it is recommended for weightlifting for its versatility but for medium to moderate intensity days, because it has less resistance than those mentioned above.
Sizing
It is important to choose the right size of ankle brace, as this will allow a comfortable and confident mobility in the foot, the sizes are usually referred to according to standard measures expressed in letters. To find out your ankle size, you should measure the circumference above the ankle joint with the help of a tape measure. Sizing is important for a perfect fit, too loose would impede its function and too tight can cause problems such as difficulty moving and circulation problems.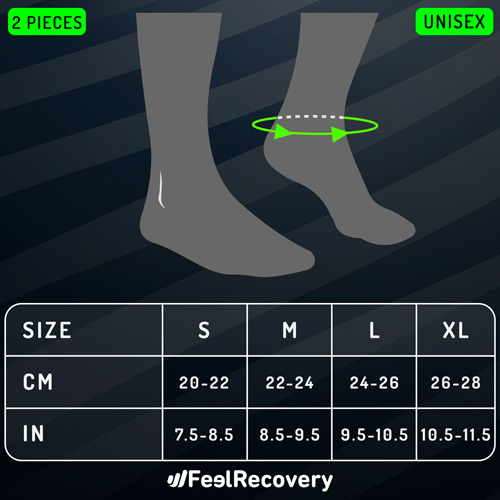 SIZE

S

M

L

XL

CM
20-22
22-24
24-26
26-28
IN
7.5-8.5
8.5-9.5
9.5-10.5
10.5-11.5
WHERE TO MEASURE?
The circumference is measured right at the ankle bone (*See image)
*Note: If after measuring you are between two sizes, choose the larger size
Design
Sports ankle braces have the advantage that they can be found in many designs, according to the need and taste of the individual. When evaluating which one to buy, it is advisable that one of the first aspects to take into account regarding the model is the shape, because some are adjustable through elastic bands, others are more rigid according to the type of material.
This point is important because you should feel comfortable with it, since in weightlifting or to maintain a fitness lifestyle, it is essential that your feet have free mobility. If you want something more aesthetic for occasions where you can stand out, there are many modern versions, and they can be customised to suit your taste. But remember, ankle braces are a tool that can help prevent and recover from injuries, so it's important to value functionality over beauty.
Price
When you are going to buy the ankle brace, it is necessary to make an evaluation that responds to which is the best according to the sporting needs and the expectations that you have of them, to make an intelligent investment according to all aspects considered. So, the price is an important characteristic since you will not be able to acquire a cheap product, because it will not provide the expected benefits for the ankles, there is no possibility of that being possible.
Our recommendation is always to go for what is safe and the most requested which are the sports compression ankle braces, their functions are fully tested and certified by specialists in the area, using the most outstanding materials to perform the thermo-compressor effect and other benefits in the joint, its cost is higher, but the quality has a value.
Do compression ankle braces for gym sports really work?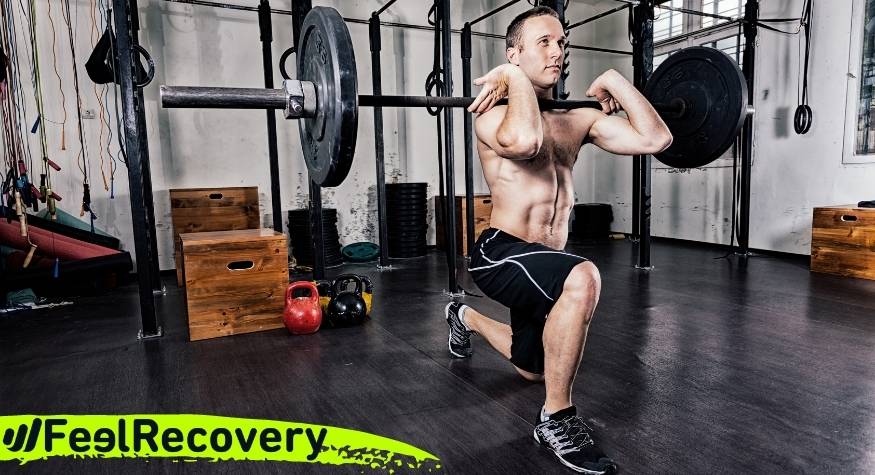 Safety and prevention are aspects that should always be kept in mind when practising weightlifting and gym sports, and it has been proven that sports compression ankle braces fulfil this function perfectly.
The benefits of these garments are based on compression therapy, which generates better blood circulation, heals injuries, reduces inflammation, relieves pain, treats any kind of blood problems and more. This is also relevant to the type of product you buy.
Therefore, choosing a good ankle brace that suits your sporting needs and requirements drastically reduces the chances of any kind of ankle trauma and improves physical performance by providing extra support to the joints.
In addition, the use of these garments reduces the chances of cumulative damage while learning proper lifting techniques. No doubt, your feet and ankles will appreciate the use of ankle compression sleeves when practising these disciplines.