Running is one of the most popular sports, sharing its place of honour with the various forms of athletics. You may think of it as an uncomplicated discipline, but regular running can cause unwanted impact on the back.
One way to protect your back is to wear a compression running back brace. Here we will explain which ones are suitable for your particular needs, starting with the types, features and whether they work for running. We will also detail the most common injuries that are likely to occur when running.
What are the most common back injuries when running?
The back is one of the areas most prone to injury. In the case of people who practice running, the reasons that cause discomfort in this area are due to different factors, among which we can mention: poor body posture when running, inadequate footwear, overuse, among others.
So, this sport is not as simple as we thought, it has a series of risks that can directly affect the back, bringing with it consequences in the practice of running. Below we present the most common back injuries in this sport and how they could occur during a training session or race.
Lower back pain
When we talk about lumbago, we are referring to severe pain located in the lower back. Among the symptoms of this pathology we can mention: acute pain that radiates from the back and extends to the hips, thighs, groin and buttocks, affecting mobility and therefore daily activities.
Low back pain is one of the most common pains among runners, especially those who are just starting out in running, as poor posture and lack of technique can cause the lower back to be affected. Other factors, footwear that lacks cushioning, allowing an impact on the lower back, resulting in this type of injury.
Muscle contractures
A muscle contracture occurs when the muscle performs an activity for which it was not prepared; at that moment its fibre is shortened and enters into a constant tension. The symptoms of this condition are a knot that is palpable to the touch, accompanied by pain and muscular fragility, limiting the affected part.  It can be caused by a range of strenuous activities, but also by repetitive movements.
This condition is common among runners, as they are usually subjected to prolonged sporting activities that require strenuous physical activity. It can also occur when the runner starts his or her routine without warm-up exercises, which leads to muscle contracture.
Cervical pain
This is a pathology that manifests itself with a stabbing pain in the neck, which radiates towards the arms and upper back. Some of the most representative symptoms of this condition are headaches, accompanied by dizziness and constant urge to vomit. Generally, the causes of this type of discomfort are due to poor posture during daily activities.
This sport is based on running, so the impact generated by jogging is reflected in the body, and can injure the cervical area, as this could be sensitive due to a bad posture adopted at the time of practice or training.
Back pain
This is the well-known back pain, which can be felt between the lumbar and cervical areas. Dorsalgia is a discomfort that affects a good number of people in the adult population. The causes of this pathology are related to daily and repetitive activities: such as lifting heavy objects, poor sitting and walking posture, among others, but also due to overtraining.
Runners have a higher probability of presenting this type of injury, as they are subjected to rigorous exercise routines, sometimes accompanied by the stress of competition. And in other cases, by assuming incorrect running postures, such as slouching or hunched shoulders, giving the sensation of being tired, affecting the dorsal part of the back.
Muscle strain in the back
This is a pain located in the lower back. This injury appears unexpectedly and is accompanied by muscle spasms. It is usually caused by lifting heavy objects, falls, falls from sporting activities that involve rapid movements and impact, causing the back muscles to stretch or tear.
Running has a margin of probability of suffering from this strain. Either from a fall during a run or a sudden movement in a competition, causing damage to the fibres of the back muscles. This type of injury can be prevented by taking preventive care.
Bestseller
What type of sports braces are best for injuries in runners and athletes?
Sports back braces have become an excellent ally when it comes to safely performing all kinds of physical activities. They protect, support and help to maintain proper posture. In the case of runners and athletes, it allows them to prevent injuries, such as muscle contractures, back pain and more.
If you already have some trauma, it is advisable in those cases to use a compression sports brace, which will allow you to move without complicating the injury. This will help you not to paralyse your routine activities and will speed up recovery. Some of the most recommended supports are.
Sports back brace
If you have a sprain injury, muscle strain or sciatica, this is the sports brace for you. It features a lumbar support, which helps to relieve discomfort in the lower spine. It was designed in such a way that it provides stability, accelerating the recovery process and progressive pain relief.
It is a very beneficial brace for runners, firstly because it gives freedom of movement, allowing the athlete to continue to carry out their routine without major complications. A second benefit is that it has supports at the waist, which ensures that your lower back rests securely, facilitating the healing of the injury. Those made of neoprene allow for proper temperature distribution, minimising the pain and discomfort caused by the condition.
Sports training back brace
If you practice running, this support is ideal as it adapts to the body anatomically. It is elastic and supports the body while running. It can be worn all day long without causing discomfort as it does not restrict movement for sporting activities.
It is excellent when running because it supports the abdomen, preventing a sudden movement or the impact of the ground and the foot from causing any type of injury, and at the same time it allows you to burn the fat accumulated in that area of the body, thanks to the fact that it contains soft rods that hold the abdomen, helping you to obtain the desired silhouette.
Orthopaedic back support
This type of article is recommended by experts in the treatment of back injuries and spinal conditions. The use of this back brace is more corrective than preventive. Its frequent use allows considerable relief of the pain caused by the injury and at the same time provides stability that supports the lumbar and abdominal area.
The orthopaedic back support has been designed in such a way that it can be worn under clothing, as it is not noticeable. They are made of materials such as neoprene which is flexible, strong and comfortable. They help to keep the back upright, aligning the spine. They have adjustable straps that allow the patient to customise them according to their needs. In the event that a runner suffers an injury to the shoulder, back or spine, this product will help them to have a postural correction.
What features should you consider before choosing the best sports lumbar support for running?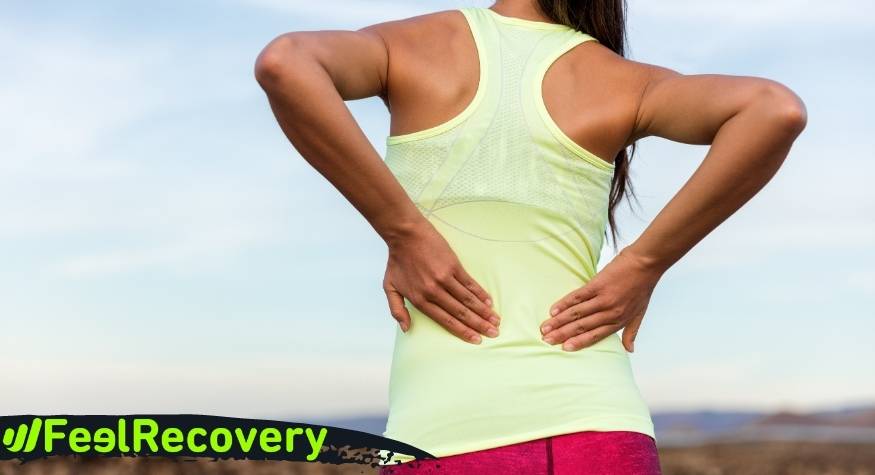 There are certain characteristics that should be evaluated when buying a sports lumbar support for running, whether in a physical or online shop. The first and most important thing is to answer the reason why you need it, and what functions you want it to perform on your back.
You can find answers to all these questions in the following list, which explains all the features in detail, so that you can choose the best lumbar support for you.
According to its function
Back brace to relieve pain: If you have an injury in the lumbar area, it is advisable to use a sports lumbar support as it will provide stability and compression to the lower back, which will help to counteract the tension in the affected area and minimise pain and discomfort due to trauma. You will be able to quickly return to your sporting activities.
Protective back support: This type of back bracewas created with the purpose of offering the protection you need to avoid future injuries in the lumbar area when running. This is due to its manufacturing materials, which allow good support and stability that the joint needs to create the protective bar.
Safety lumbar brace: This garment allows you to move without fear of feeling those stabbing pains in the lower back. Thanks to the materials used in its manufacture, such as the anatomical padding, which relieves muscle tension and at the same time provides peace of mind that you can move without major complications.
Compression sport back brace: One of the greatest advantages of sports lumbar brace is their compression. Due to its therapeutic benefits, as it exerts the right pressure on the back promoting better blood circulation, generating anti-inflammatory benefits, reduction of aches and pains, quick recovery and more.
Fabrication material
When choosing a sports lumbar brace, it is a good idea to pay special attention to the type of material it is made of, as this has a direct impact on the comfort and effectiveness of the brace. It is recommended that the material is breathable and does not cause allergic reactions. The most commonly used materials for the manufacture of this type of lumbar support are neoprene, polyester, latex, nylon and cotton.
Neoprene is the most in demand, thanks to its elasticity and resistance. However, because it is a material that limits perspiration, it is always combined with other fibres such as polyester and nylon. The blends are in different percentages, so that they can meet the requirements needed.
Type of support
Running is a sport that requires constant movement, therefore it is of utmost importance to have a good bra to prevent the garment from slipping and not fulfilling the function for which it was created.
Neoprene: It is one of the most recommended for its adaptability, which allows it to adjust naturally to the body, without running the risk of slipping and the garment ceasing to be in the right place, ceasing to fulfil the function for which it was designed.
Velcro: We find them as strong fasteners and firm straps, both of which fit perfectly to the body, providing the security that the belt will remain in place. Allowing each person, according to their needs, to adjust it to their size. This type of bra is recommended for running or physical activities, as its customised compression provides the security that the garment will be in place.
Elastic straps: These are flexible but firm elastic straps that allow the right fit for your body. Thanks to the compression and support they provide, they make it easier to carry out sports activities without running the risk of the back brace rolling or slipping out of place.
Size
When shopping online, it is advisable to consult with your supplier who will be able to indicate the sizes they work with. They will also provide a table with the sizes presented in letters (XS, S, M, L, XL, 2XL, 3XL, 4XL, 5XL, 6XL). These data can be obtained with a tape measure, measuring the part of the body indicated, either at the back, waist or hip.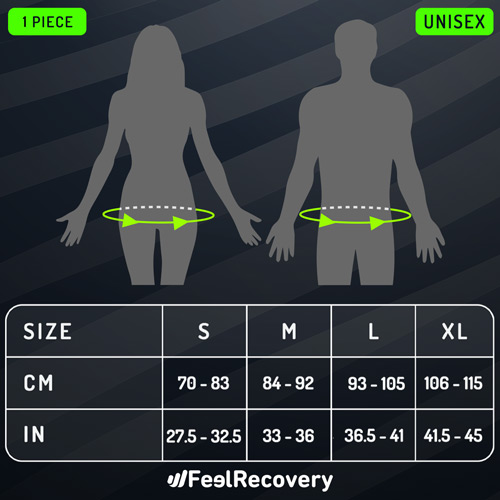 SIZE

S

M

L

XL

CM
70-83
84-92
93-105
106-115
IN
27.5-32.5
33-36
36.5-41
41.5-45
WHERE TO MEASURE?
The circumference of the widest area is measured: (*See image)
Men: Waist
Women: Hips
*Note: If after measuring you are between two sizes, choose the larger size
Design
Design is not only about aesthetics or how pleasing it is to the eye. Design also encompasses other characteristics such as comfort and how it adapts to tastes and preferences. It is becoming increasingly difficult to make a purchase, due to the large number of models on the market.
When it comes to buying a lumbar sports brace at cheap prices, you will find a wide range of models with different tones and colours, ranging from the classics such as black, white, red and grey, to striking and contemporary ones such as blue, green, purple, red and yellow. This garment will not only help to protect your body or improve an injury, but will also allow you to look fashionable while running.
Price
One of the factors that every buyer evaluates is the price. In the market you can find very cheap back braces and other exaggeratedly expensive ones. When choosing which lumbar support brace to buy, it is good to evaluate the price/quality ratio; that way you will make a decision according to what you need and what you can afford. Although there are very low-cost products, they do not meet the required quality and compression standards and therefore, in the long run, they can be harmful.
Do sports back braces for runners and athletes really work?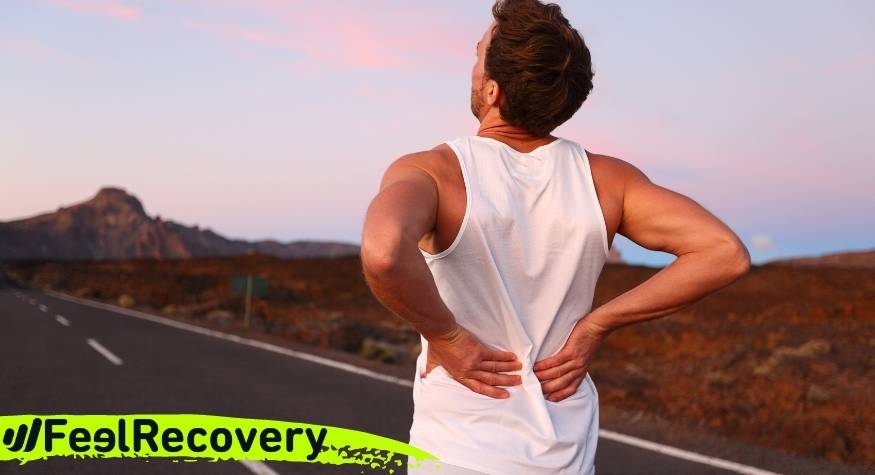 Running, along with the different athletic disciplines, presents a series of risks that can cause certain back injuries. An effective way to protect the spine is with the use of sports back braces that not only provide stability to this area, but also allow you to maintain a correct posture, minimising the possibility of suffering accidents or injuries.
This compression garment provides better performance and the security that running needs to perform each of the movements, allowing you to continue with your sporting activities. In addition, if you have an injury, the back brace will be able to heal it, based on the compression therapy and improved blood flow which speeds up recovery, and at the same time prevents any pain and reduces inflammation.
Without a doubt, the sports back brace is the best ally for every runner. Studies in the area have confirmed that they work well, which is why there is not a physical training space in which you do not see them. They are supportive both in sport and in the prevention and recovery of back injuries.