Overloading the joints in the elbow area can lead to serious injuries, which is why there are sports elbow braces. They are a fabric and compression product that protects against shocks and scratches, or immobilizes you. They are padded garments that help with certain disciplines in which falls can be frequent.
When it is advisable to use elbow supports, their benefits, types, how they are used, are part of the questions we are going to answer below so that you can have knowledge and choose the most suitable one according to your needs.
In what type of injuries are compression sports elbow braces recommended?
There are various types of injuries and discomfort in which elbow braces are necessary for a rapid and safe recovery.
Tennis elbow (lateral epicondylitis): This can be described as a pain on the outside of the elbow caused by the tension of the arm muscles. The discomfort can be due to small tears in the tendons or inflammation of muscles from excessive movements. Some of its symptoms can be swelling and tenderness.
Post-operative recovery: During this process the elbow brace will help to relieve or eliminate the pain on the outside of the elbow.
Sports injuries: It is common for many sportsmen and women to suffer injuries throughout their career, so elbow supports are not a foreign or alien element to their lives. The garment will help you to heal any trauma and you will choose it depending on the discomfort caused by a bad movement, warm up, blow, among other circumstances present and common in the sport life.
Work injuries: These are usually suffered by people who spend long hours in an office using a computer. The position of the arm can cause daily discomfort and compromise your health.
Rheumatism: In basic terms, it is a medical condition that affects the bones, joints, cartilage, muscles, ligaments, tendons and even connective tissue.
Elbow osteoarthritis: This is a degenerative disease where the loss of articular cartilage and a hardening of the bone surfaces with the formation of osteophytes is generated.
Arthritis: Is the inflammation of the joints. It affects bones, muscles and tissues.
Contusions: The term is considered to apply when there is a blow, a fall or an impact on the skin without breaking or causing open wounds.
Osteoarthritis: It is caused by strong and repetitive movements. It is generally diagnosed in sportsmen and women who play games such as ping-pong and tennis, among others.
Tendinitis: Is the inflammation of a tendon and is caused by the overuse of these. The discomfort is usually pain and increased sensitivity around the joints.
Sprains: It is defined as a ligament injury around a joint.
Strains: It is the tearing of muscle fibres that break in a great or lesser proportion depending on the movement and force that caused the injury.
Bestseller
What are the health benefits of compression elbow supports for men and women?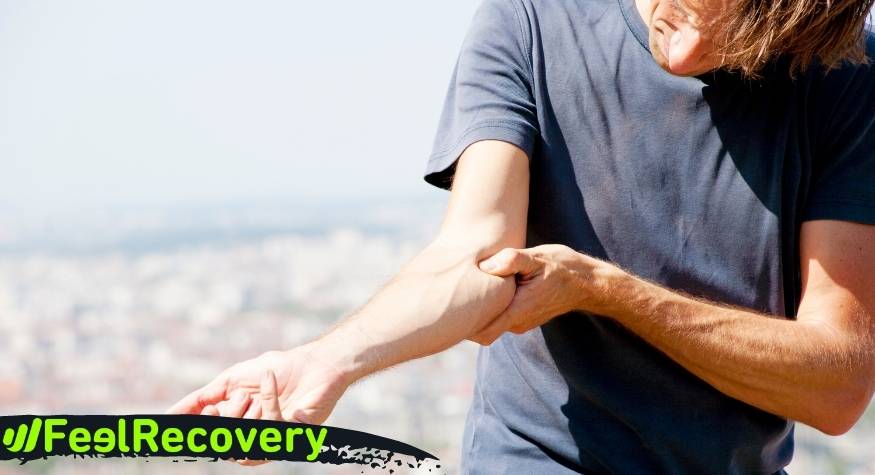 Knowing the benefits that orthopaedic elbow braces bring to our health, could achieve a radical change in our lifestyle. Here are some of them:
Pain relief: Orthopaedic elbow braces serve as a support, which will relax and therefore relieve discomfort.
Reduction of inflammation: The pressure exerted by the elbow brace maintains compression and this helps blood circulation to be more efficient.
Prevents chronic injuries: They can be caused by daily and repetitive practice of an activity or very strong blows that triggered major problems.
Elbow protection: They act as a shield in the mentioned area of the body, which protects from blows and even bad movements.
They provide warmth to the injured forearm: The temperature allows circulation to be maintained and recovery to be faster.
They are lightweight: Elbow supports are usually lightweight garments, which is beneficial for the injured person, who cannot exert greater force so as not to worsen the damage.
They allow for a rapid recovery: This is the preferred method for those who suffer an injury. Above all, because most of them are athletes who want to heal in order to return to their activities.
Allows safe movements: The external support of the joint or area will allow movement to occur with complete confidence or fear of injury.
Prevention: They are not only used when you have an injury but also to prevent it. Elbow supports are different from other therapeutic garments because they cannot be used only after an injury, but invite you to prevention.
Elbow pressure ulcers: These are injuries to the skin and lower tissue caused by prolonged pressure on the skin.
What features should you consider before choosing the best sports elbow brace for elbow pain?
There is a great diversity of elbow braces, with different materials, designs and colours. Here we will explain some characteristics so that when it comes to choosing, the decision is not so complicated and is completely adapted to your needs.
Depending on the use
Every day it seems that less attention is paid to safety when doing sport, so this product seeks precisely to avoid injuries to the joints and elbows. More about its use in other areas will be explained in detail below.
Sports elbow supports: Generally, this product is used by people who do some kind of physical training or practice sports. One advantage of the garment is that it is lightweight and can also be worn under clothing. It allows you to recover from injuries because it supports the joint and encourages sports practice. Some of the disciplines that require its use are Tennis, ping pong, cycling, among others.
Orthopaedic elbow braces: These are especially for elbow contusions. Their aim is to relieve, deflate and heal, provide strength and support. Within sports orthoses, these are one of the most demanded by the boom in racket sports, such as tennis and paddle. They work to prevent and improve bursitis, swelling of the muscular fascia, epicondylitis or "tennis elbow" and epitrochleitis or "golfer's elbow".
Elbow supports for prevention: No one has to wait to get hurt before they start to foresee. Wearing these garments to protect against incidents will prevent the person from being unnecessarily injured. They are ideal for resuming sport when the person has been out of training for a long time, because they put pressure on the joint and the brain interprets the position of the joint to keep it alert to risk situations.
Professional elbow braces: These are more than a method of curing injuries or protection, they are a basic necessity for the practice of some sports where there is a risk of suffering high impact blows to the elbows. They have a wide safety area to take care of more than the point of impact. They are widely used in disciplines such as: hockey or skateboarding. They guarantee a wide protection and some have straps to allow a better support to the user.
Elbow supports for all types of pain: Elbow supports are essential to relieve discomfort in this area. Due to their compression and also the heat they generate, they give a feeling of calm. This garment is not only for those who practice sports, but also for any type of injuries that occur in everyday life, even for occupational injuries.
Stabilizing elbow braces: The comfort it provides, gives security to the movements of those who use it. If something is needed at the moment of some contusion in the elbow, it is a sensation of stability to give movement to the arm, without exaggerating them not to get worse, but with firmness.
Flexible elbow brace: It is the one that provides more support, due to the fact that the compression is stronger due to the adjustment system. If the person tends to sweat excessively, this is the perfect product. Its design makes the movements more breathable.
Compression elbow brace: It is the one indicated to heal injuries and to alleviate pain due to compression. Its knitted fabric and specially shaped supports calm the tension. One of its advantages, and the one that pleases the buyer the most, is that the recovery levels are usually high and therefore the person can return to his/her daily activities. They fit the area, are soft, comfortable, relieve the transition tendon-muscle irritation, reduce inflammation and swelling.
Epicondylitis tape: It is a tape that is placed on the arm so that the muscles relax and thus avoid trauma. It is used for inflammation of the tendon of the extensor muscles of the hand and fingers. This tendon is inserted into the epicondyle of the humerus, which in simpler terms is the external part of the elbow.
Basic protective elbow braces: These are made to protect against impacts, blows and falls. They are lightweight compared to professional ones. They basically serve to protect against partial impacts and are made to allow maximum comfort through air flow and offer a high range of movement.
Post-Surgery Elbows: After hurting the elbow area and in case the contusion rises to surgery, wearing the garment will allow a progressive healing; it will be a support and heat and cold treatments are ideal.
Material
They are designed in neoprene material, elastic, padded, anti-vibration, nylon or spandex for comfort and better transpiration.
Neoprene, for example, is a fabric that is very fashionable, especially in this time of pandemic for the use of mouthpieces. Designed in an elastic way, because they are a fabric that stretches and not transparent.
Padded for comfort of the injury. Anti-vibration to prevent a bad movement from worsening the condition. Nylon or spandex that guarantee the quality of the product due to its resistance. And finally, breathable so that sweating does not interfere.
The elastic material adjusts to the arm to make it easier to bend. It does not cause any discomfort and keeps the tendons in constant recovery due to the design of the silicone strip.
With or without Velcro tape
Velcro tape is a fastening system, i.e. two strips of fabric are joined together in order to close or secure something. By using them, you'll have more pressure at the epicondyle level and you can easily set the range you need. Widely used in all types of compression garments as the fit it provides does not allow the product to move in any way.  It is also a practical and simple way to open and close the elbow brace. Basically, the Velcro tape guarantees more stability and safety, which are very important factors when using the garments for any activity or injury.
Size
When choosing elbow supports there are two basic elements: it must be attached to the joint and not slip. This is the case with compression elbow braces, because thanks to the excellence of their materials, they have been able to guarantee support, protection and compression to always have a healthier elbow.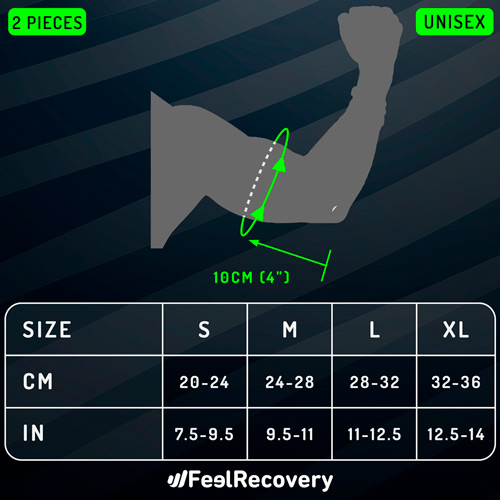 SIZE

S

M

L

XL

CM
20-24
24-28
28-32
32-36
IN
7.5-9.5
9.5-11
11-12.5
12.5-14
WHERE TO MEASURE?
Measure arm circumference just 4 inch/10 cm above the elbow joint (*View image)
*Note: If after measuring you are between two sizes, choose the larger size
Design
Coloured, in different sizes as mentioned above and also in various materials. Most of them are unisex except for special cases where they can be manufactured with printing. They are lightweight, breathable, thin, modern for sports activities and some even have double springs. Some have sleeves and others are shorter.
Thanks to the mixed fabric of spandex and polyester they provide breathability and elasticity. Most have no visible seams so that rubbing is not a problem. For greater precision and safety, they are generally designed with anti-slip technology to prevent accidents and are all-rounder.
Price
The cost of elbow supports varies greatly. You can find such cheap prices in the market, but their time of use is short, they do not have good materials and therefore, a bad protection of the elbow, besides that they are usually uncomfortable because of their way of making.
This is not the case with compression elbow braces, as they are the most reliable and quality garments on the market, as well as being the most recommended by therapists. It has a higher cost, but each of its materials is worth it. Because when it comes to products for the improvement or care of health, you should always buy the best, so as not to have contraindications, which could result in higher costs.
How to use sports elbow braces to relieve elbow pain in tennis players or golfers?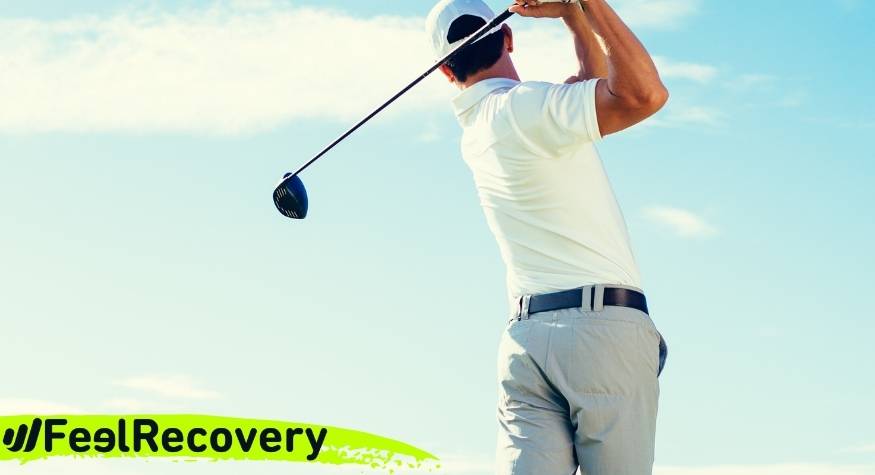 Sports elbow braces focus their usability on providing relief from injury, protection to the elbows and also provide warmth to the injured area to make way for healing. If the elbow support is of good quality and design, it will be a good complement in addition to medical indications.
It is important to note that its time of use will depend on the context. If the person practises sport on a daily basis, this should be the amount of time the garment is worn to avoid accidents.
Pressure should not be exceeded when wearing them so that they do not abruptly interrupt circulation. It should be washed after each use by hand or machine (if you do it correctly) and do not use chlorine or softeners. Elbow braces are very important because of the level of protection they provide. Using them not only helps to heal but also to prevent any trauma.