Yoga is a sports exercise that makes a connection with the mind and body, and although it may seem harmless, the misuse of postures could lead to serious injuries. Today, many people adopt these techniques to reduce stress and help with the body's flexibility.
For this reason, it is important to know in depth about this branch of sport, developing its characteristics, its function, the types of injuries that occur, and even the sizes that we should study, which we will explain in the following article.
What are the most common knee injuries when practicing Yoga?
Most injuries in yoga are consequences of its postures, if we make a correct use of them, they help us to create environments that generate positive energies, helping us to strengthen the mind and body, as well as facilitating the circulation of the blood. Although their practice is so positive, they also have serious dangers that can result, not only in abandoning their training, but also have repercussions in a short or long time on your health.
These are the most common injuries:
Tendinitis
It refers to inflammation of the tendons, which causes pain in the muscles and bones. Tendons are made of collagen fibres and are therefore weak and exposed to frequent injury. Although this type of trauma does not appear to be serious, it is necessary to rest for the first few weeks, otherwise it can transform into chronic tendinitis, which will cause the tendon to rupture. One of the main causes is excessive exercise and in the case of yoga, bad postures with continuity and unexpected shocks.
Muscle ruptures
In this discipline, breaks often come after an injury, as well as, can be caused by blows or postures that demand a high physical commitment. In yoga, they can occur in the knees as well as in other joints. The breaks are a detachment in any part of the body, either of muscles, ligaments or tendons.
Muscle strains
They are defined as exaggerated stretching and occur mostly in athletes, who abuse training. In the case of yoga, this type is very common, as it consists of multiple muscle pulls which can cause injury to the muscles and ligaments.
On the other hand, strains are recognised by the improper use of physical activity, which is why physiotherapists recommend that you warm up slightly before doing any kind of flexibility if you want to avoid injuries, especially to your knees.
Ligaments of the knee
Considered the support of the joint, as it is a band that joins the bones allowing excellent movement. At the same time, they are responsible for providing strength and stability to the knee, therefore it is necessary to avoid this type of injury.
The practice of yoga can affect the ligaments in such a way that it causes them to tear due to the excessive force used in this sport, causing a sensation of pain in the knee, and poor blood circulation. These ligaments are responsible for maintaining the balance and strength of our bones, and in turn represent the centre of the functioning of the knee system.
In other words, if these are broken, the bones become loose and facilitate falls and imbalances; they also paralyse the normal sliding of the elbow, ankle and knee flexion.
Knee dislocation
Also known as dislocation. It occurs when the knee comes out of its natural position, due to a strong blow, fall or accidents in this joint. It causes pain, swelling, deformity, inability to move this part of the body and in some cases, you may see blood.
In yoga, it usually occurs when you do not have the right protective equipment for your performance, that is, both a knee brace and a mat so that the joint does not come into contact with the ground, which could cause a dislocation after a movement that causes a direct impact with the ground.
Bestseller
What kind of knee braces and patellar straps are best for injuries in Yoga?
This discipline requires a lot of flexibility, muscular strength and unusual postures involving several parts of the body, so it is important to use protection to avoid any kind of long-term trauma. Knee braces and patellar straps will help strengthen your bones and joints so that you can perform your sports and physical activities safely.
Therefore we think about you and offer you a list of the best ones of the moment:
Knee compression sleeves
If you are looking for protection and comfort this knee brace is the one for you. It is made with the purpose of giving pressure and adjustment to the knee, covering it completely to facilitate movements and uncomfortable postures, thus creating a perfect harmony between the joints and ligaments, completely avoiding dislocation or breakage of them.
In addition to prevention, they are perfect to help improve any trauma you have in that area. This is due to the pressure it exerts on the knee, achieving better blood circulation and therefore, deflation and causing a rapid recovery.
Knee pads
This discipline requires the body to be firm, flexible and in balance. This requires flexible postures that our body often does not adopt in good shape.
This is why knee braces with pads are essential and much sought after, because they offer security, support when you are tuning in to the ground without exposing you to it too much.  Leaving aside the possibility of injury.
Patellar tendonitis strap
This tape offers protection and flexibility aid for the kneecap, it is placed just under it, making pressure with the joints and tendons, in order to reduce the overload of force, caused by the excess of exercise and inadequate postures.
You can limit your movements to the extent that your body accepts normal stretching, posture and movement, which is why the tendon tape serves its purpose in protecting the tendons, helping you to maintain the normal functioning of your knees.
Another important fact is that it is for temporary use, which is essential because tendinitis is common in our daily lives, and can affect us when we exercise.
What characteristics should you take into account before choosing the best sports knee brace to practice Yoga?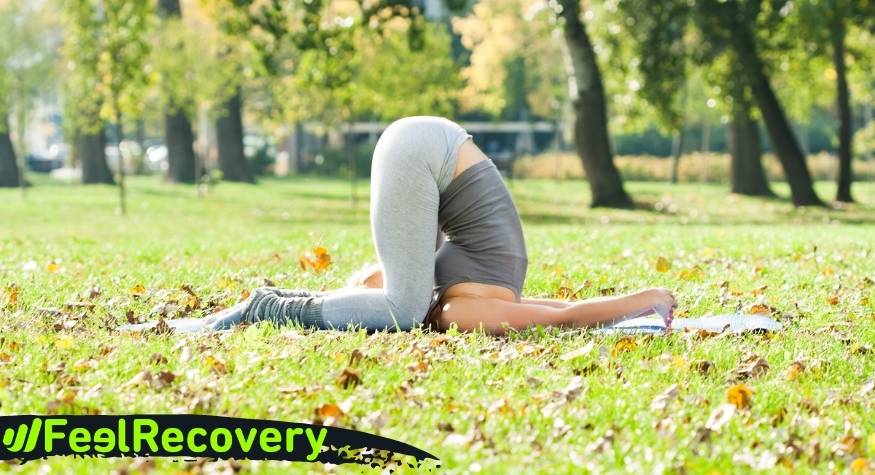 Each knee brace has a special function, therefore we must know its characteristics such as: functions, materials, sizes and more; in order to choose the one that best suits you and your needs regarding the practice of yoga.
According to its function
Pain relief knee braces: Pain in the muscles is very common, and more so in yoga because the demands of regular postures and exercises can cause overwhelming discomfort. In this case, there is an easy and practical solution, which is the use of compression knee sleeves, which make this joint maintain a balanced pressure to give it strength, thus avoiding injuries and dislocations when performing this activity.
Protective knee supports: Protecting our muscles and joints will help us to prevent the consequences of injuries that could lead to the suspension of the practice of yoga. Compression sports knee sleeves fulfil this function of protecting and keeping the knee safe from any direct or indirect impact that could lead to injury or breakage. This creates an atmosphere of comfort and safety, giving space to any type of movement and, at the same time, generating stability in the joint.
Open knee braces: Their function lies especially in controlling the movements of the kneecap without it being affected. One of the aspects that characterise them is that they leave the area of the kneecap exposed, leaving space for free movement and entry into the air. They are also widely used in orthopaedic surgery, to avoid surgery.
Closed knee braces: These are characterised by not leaving the knee uncovered, generally long, protecting more areas of this joint, which is very useful when posturing and stretching. In addition, they are known for the heat they generate in the area, also for their prolonged use, that is; you can use them for any physical activity to avoid sprains, tendinitis, inflammation in the knee or for improvement in post-operative cases.
Manufacturing material
When choosing a knee brace, its materials must be taken into account. Each knee brace has a different material which performs a different job, offering variety in colours, fabrics, fashion and quality. Making sure of the manufacturing characteristics, will give a clearer concept of the objective we want, usually the knee braces are made with quality materials such as neoprene and nylon, which exerts its function in perfect combination.
There are many knee braces on the market, but the compression sports type will help you perform your physical activities without any inconvenience with quality materials that will make your performance easier and more comfortable.
Type of support
Keeping the knee brace in place, and much more in the yoga practices that require stability and concentration, is of utmost importance. For this reason, it is best to prevent and have materials that provide the support needed for moments of more movement.
Knee braces with Velcro: This is a type of support that is used to open and close easily, which is very useful in knee braces because it adheres easily and strongly, which helps us to measure the pressure we want or need.
Knee supports with protective strips: These bars are made of padded fabric that are placed by reinforcing the sides of the knee to provide stability and prevent dislocation of ligaments. They are generally used for recovery, but also serve as protection while performing regular yoga postures. In addition, the side bars make a compression on the knee that manages to keep all the joints and nervous system connected without any problem.
Size
The size is as important as its characteristics, as it will determine the correct functioning of the knees. Furthermore, if you choose the wrong size it could further affect the injury, therefore you must take this responsibility seriously, so that it is perfect, and thus avoid much more serious injuries.
If you still don't know your size, we'll show you how to find out. With a simple symmetrical tape measure your knee by passing it around and, if you require a long model, you should also do the same with the thigh, so you will have an exact measure to get the right size of your joint.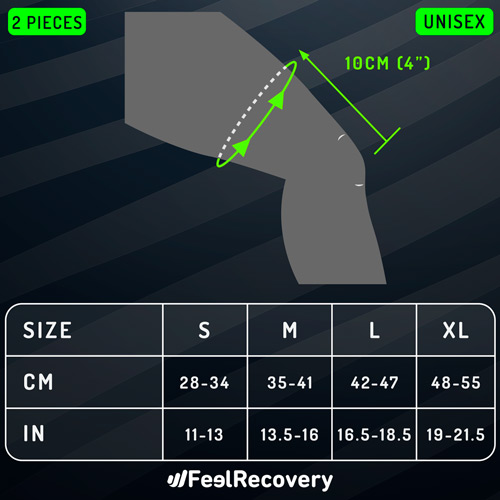 SIZE

S

M

L

XL

CM
28-34
35-41
42-47
48-55
IN
11-13
13.5-16
16.5-18.5
19-21.5
WHERE TO MEASURE?
Measure the circumference of the thigh, 4 inch/10 cm up from the center of the kneecap (*View image)
*Note: If after measuring you are between two sizes, choose the larger size
Design
Design is one of the first things you look for when choosing a garment, because this is what people see. So, if you don't want to lose your style, you can continue to do so and at the same time set a fashion, as many sportsmen have done with this product.
So, if you want to be presentable in your yoga practices, you should evaluate your options and differentiate them until you choose a knee brace that creates a perfect contrast between design and function. These days, it's important to stay ahead of the game in every way; and if the outward aspects are concerned, it's ideal to look for the best models of compression sportswear, to look safe and comfortable.
Price
The prices of any garment vary according to the quality, functionality, and the different characteristics mentioned above. That is why you should think about your needs first. Because, beyond a price, it is about the health and wellbeing that your knee requires to be able to perform the practice of yoga and also, any activity that involves mobility.
The compression sports knee sleeves are the best on the market today, as their therapeutic functions are contrasted with the variety of models and designs. They are the most demanded product in terms of compression garments, with higher prices than the rest, but with the benefits you are looking for.
Do the compression knee braces really work for Yoga?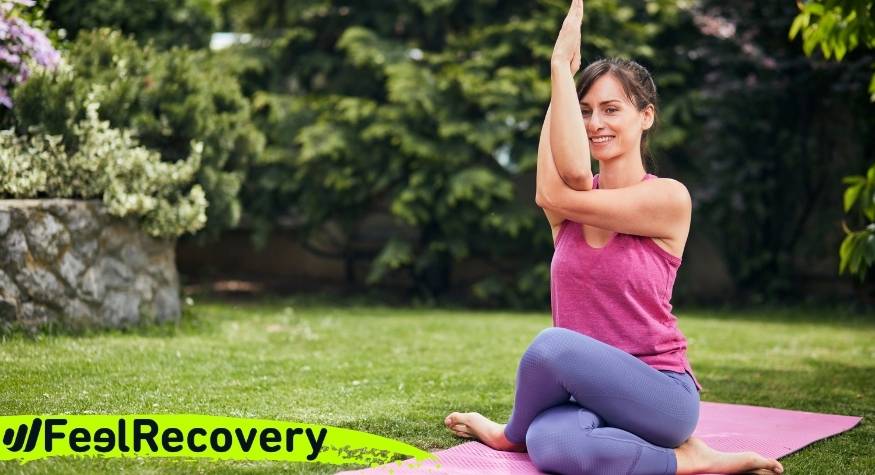 Compression therapy is really effective, since they perform their function based on the pressure and force they exert on the required area. In yoga it is essential because the postures in this sport compromise the muscles in a very risky way. Physiotherapy specialists recommend compression knee braces because they work directly and provide the heat needed to maintain perfect blood circulation.
On the other hand, these garments are multifaceted and are capable of playing different roles, because thanks to their pressure they facilitate many recovery processes. For this reason they are temporarily recommended for post-operative treatments and for daily use in physical activities because they form all the protective units we need.