Ankle compression sleeves were created to provide protection, safety and support in case of any ailment for many sports disciplines and people who require their use. Today, they are used in almost all types of games, especially those involving racket sports, due to overuse and/or to prevent or treat injuries, which can be so frequent in the ankle.
In the following article we will explain the most frequent injuries in tennis or badminton, design, price, functions, types of ankle braces and much more, so that you can choose the most suitable for you.
What are the most common ankle injuries when playing tennis or badminton?
Tennis or badminton are popular sports in the world. Practicing or dedicating ourselves to this activity has advantages as well as disadvantages, some are directly due to suffering injuries during training or play, many times due to overloading, sudden movements, bad posture and more.
Here we summarize the most frequent injuries in these disciplines:
Rupture of the Achilles tendon
It is an injury that affects the tendon that supports most of the leg muscles. When this ligament is torn, there is swelling, bruising, pain, and it prevents us from walking, among other things. The Achilles tendon facilitates support and strength in any activity we do, and therefore runs the risk of a fissure, as we spend so many days training without rest.
This type of condition occurs more frequently in people who play tennis because it is a sport that involves constant running and jumping. It happens when the athlete jumps exaggeratedly, falling into a bad position, making a sudden elongation of the tendon causing it to break.
Sprained ankle
This is when there is a very strong stretch in the ligaments in the lower part of the foot. It occurs because of a sprain or a bad exercise. Normally the damage is minor or in other cases serious, where it requires surgical attention and rehabilitation. The sprain presents with: pain, inflammation, difficulty in walking or in correctly adjusting the heel, among others. Sprains are very common when practising racket sports, these occur due to inadequate turns, or badly performed flexions, this type of movement is common in this sport.
Bone fracture
It is an injury directly to the bone. It is due to two reasons, either an accident or a fatal fall causing a fracture or breakage. The level of damage can vary, if it perforates the skin surgery is required and in others, it is corrected using a compression garment. There are many athletes who do not correctly use the posture and footwear that should be used to avoid tripping or slipping, causing a fracture due to sudden jumps.
Fibre breakage
It consists of the tear in the following muscles: twins, soleus, hamstrings, adductors. This injury is due to a long elongation where the fibrous tissue contracts abruptly. The symptoms presented are: pain, haematomas, dizziness, constant sweating and immobilisation of the legs.
Badminton is a sport that combines different lateral movements, lunges, speed or jumps, which are often abrupt and cause elongation. Also the lack of warm-up produces this injury, mostly by people who only practice it for fun and do not know its risks.
Bursitis
It is caused by inflammation of the bursa in the ankle, which is located between the mobile bones of this joint. Its most frequent symptoms are: pain, stiffness, reddened skin and swelling that can be seen on the outside of the body.
It can occur in badminton, although mostly in tennis, because it is a sport that must be played for hours, in addition to continuous practice if you are a professional. This overuse of the ankle is the main cause of bursitis, which if not treated in time could become chronic, causing limitation of movement.
Bestseller
What kind of sports ankle braces are the best for tennis injuries?
Improves performance, prevents and recovers from injuries, relieves pain and more. Without a doubt, there are many advantages to wearing these garments, but there are several models that work for specific needs. If you want to know more about these incredible products, keep reading because the following section will explain in detail the types of sports ankle braces.
Ankle compression sleeves
It provides better support, obtaining an optimum degree of compression with the aim of generating pressure and heat, improving blood circulation, treating sprains, and at the same time allowing free movement or flexion. It was created especially for tennis players, made with a soft edge to obtain a fuller comfort while training hours, restricting the abrupt direction of the ankle, relieving pain, improving injuries and constant punctures.
Ankle brace with adjustable support
The support is placed on the straps or bands with a closure to improve and correct the posture, avoiding the deformity of the fibre when healing. It is recommended not to press too hard on the bands, as this can hinder circulation and lead to other additional problems. The adjustment offered by this garment generates the stability that the joint needs to speed up the recovery process as the muscles are at rest thanks to the ankle brace. It also helps racquet sportsmen to avoid being affected by sudden movements or overuse.
Ankle brace with a cross-stabilisation system
Widely used to treat mild sprains and all types of ligament injuries to the ankles. The fastening system is based on micro-velcroids which create an adequate support and also a good compression so that the joint can have a much faster recovery process, thanks to the stability it provides. Its design is completely comfortable and adaptable to any person. Therefore, it can also be used by all those who practice racket sports so that they can have greater protection.
Neoprene ankle brace
Its thermo-compressing and stabilizing properties are the ideal complement to realize different therapeutic benefits such as a fast recovery after an injury, sprains and pain relief. Its design fits perfectly to all parts of the ankle, so you can also control the tension.  It can be used in tennis practice without discomfort, as they are also lightweight, allowing you to make quick movements without causing accidents or trauma to the ankles.
What features should you consider before choosing the best ankle brace for racket sports?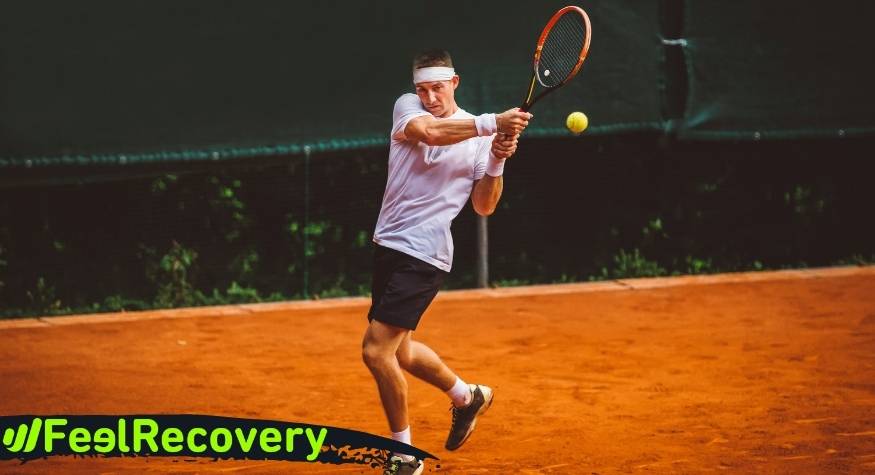 Athletes who play tennis, badminton, basketball, paddle or racket must keep their bodies in perfect condition, and must use compression garments to protect themselves from possible mishaps. To ensure that you choose the right garment, here we explain all its features such as: function, price, sizes, design and more.
Depending on its function
Ankle braces to relieve pain: Thanks to its compression it provides heat to the ankles to reduce the punctures or intense pain that are so frequent in racket sports, due to the constant and continuous mobilization that they must perform for the performance of this practice.
Ankle braces to improve circulation: The sports ankle braces exert a compressive therapy on this joint that improves blood circulation and provides many benefits to the health of the ankle both for the athlete, as well as for anyone suffering from inflammation, blood conditions, contusions and much more.
Ankle braces for protection: These compressive garments protect the ankle from accidents, either during training or during sport. This is due to their compressing and immobilising properties which keep the whole joint stable, without being affected by sudden movements, and reducing the shock-absorbing work which the ankle has to do.
Ankle braces to increase sports performance: Tennis requires effort and speed to execute every movement on the court. Ankle braces considerably improve performance while you train and do physical and sports activities, due to the oxygenation of the tissues which optimizes air consumption and generates such a benefit.
Manufacturing material
The compression ankle is used for many reasons, and for this reason they are made with the highest range and care for our skin avoiding rosettes, mistreatment and/or blisters. The materials described below are suitable for the care, correction and progressive improvement of our affected area.
Nylon: This is an elastic, breathable, resistant and comfortable fibre. Widely used in the manufacture of ankle sleeves.
Lycra: It is breathable, retains heat, does not produce bad odours, easy to put on and take off, it adjusts to the skin. Its most outstanding advantage is its elasticity, you can stretch it as much as you like and it will return to its natural state.
Type of support
Racket sports require a lot of mobility to perform these disciplines. Therefore, it is important to be sure that you can move around without affecting the correct position of the garment. Here we recommend two materials to avoid possible discomfort.
Velcro: This is an adhesive that consists of two bands that are joined together to provide compression. Very easy to use and comfortable, its bands can be adjusted to the sportsman's taste, not slipping or causing discomfort during sports practices.
Neoprene: It is a very flexible material that can be folded, try to wrinkle it, stretch it and it will never lose its size or shape. Neoprene is comfortable for tennis, badminton and paddle tennis players because it adheres and holds to the skin without sliding despite its sharp turns.
Size
This is a feature that lends itself to many doubts: How do I know which size is right for me? Is it normal for it to be too tight? Will it be totally comfortable?
When we use a compression ankle brace we must make sure that the size is right so that it does not hinder blood circulation, cause pain, tingling and discomfort. The measurement process is carried out by means of a tape measure, which you must take to your ankle and obtain the results. When you have the right size of your joint, the garment will be completely comfortable and you can use it at any time during sport.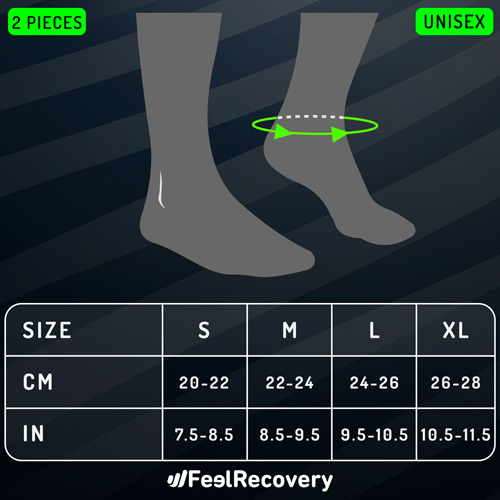 SIZE

S

M

L

XL

CM
20-22
22-24
24-26
26-28
IN
7.5-8.5
8.5-9.5
9.5-10.5
10.5-11.5
WHERE TO MEASURE?
The circumference is measured right at the ankle bone (*See image)
*Note: If after measuring you are between two sizes, choose the larger size
Design
The sports ankle sleeves are comfortable and versatile, made with the highest quality for skin care and to avoid skin wear. It has a long duration, so you can train for long hours and avoid any ailment. They are generally unisex, absorb moisture and do not release bad odors. These compressive garments are ideal for the racket sportsman, as you can wear them at all times without discomfort and with the protection that the joint needs in every movement. Moreover, you will be able to have all these advantages with a garment that adapts to your personal tastes due to its variety of models.
Price
Having the ideal ankle brace is not based on price, but on the needs you have for it, and that you acquire one that can meet them fully. The sports ankle braces are the most recognized and requested in the current market, due to the manufacture of high quality garments, guaranteed by its durability and fast effects.
These are aspects that a low-cost compressive garment cannot offer since its materials are not suitable for these characteristics, and could generate contraindications. Therefore, it is better to acquire a higher value product, which will be of benefit to the health of your ankle.
Do compression ankle braces for tennis and badminton really work?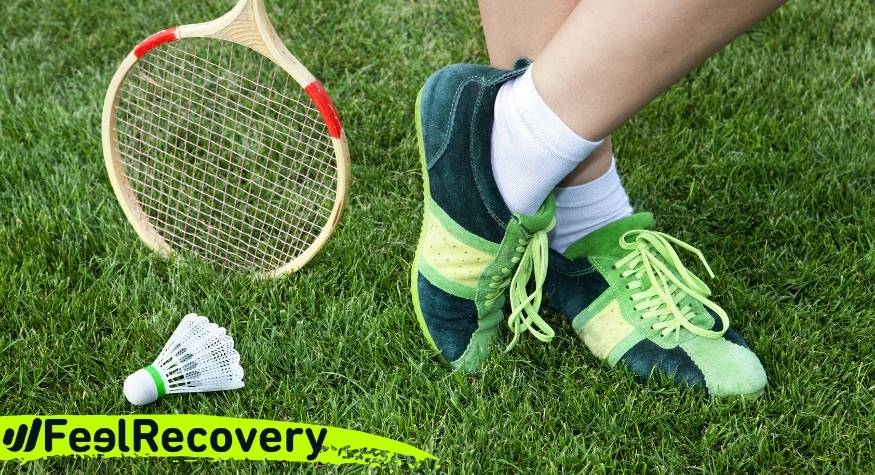 This area of alternative medicine has spent decades in studies and research, mainly because of its therapeutic functions, treating conditions such as: oedemas, varicose veins and any blood problem, as well as its orthopaedic and post-operative use.
After many years, they started to be used in the sports area, which have also been corroborated, reaching the conclusion that mainly these garments, improve the sports performance and provide a quick recovery, both after a hard training, as well as after suffering injuries; creating a process free of pain and inflammation.
For racket players, this means great advantages to perform their sport, due to the great efforts and physical risks they are subjected to with such practice, being able to prevent them and improve their capabilities with only the use of ankle braces.
Therefore, we can assure that it does work and that their use generates a drastic change in the way these disciplines are performed, since you will be able to practice a sport free of pain, discomfort and accidents; which are the main causes of the end of a professional career.