In the crossfit a variety of exercises are performed where most of the weight and effort is placed on the ankles, which can be injured either by strain, wear and tear or overuse. To treat or prevent them, the best thing to do is to wear the appropriate garment for the injury you may be suffering from.
That is why in this article we will be telling you in detail about the best sports ankle braces for treating each of the types of trauma that can occur in the joint, including the characteristics that we recommend so that you can choose the right garment.
What are the most common ankle injuries when we practice Crossfit?
Crossfit is a physically demanding sport, especially of certain parts that carry more responsibility than others, such as the ankles, which are present in jumping, running, weight bearing, deep squats, and other exercises.
It is therefore normal for crossfit athletes to suffer injuries to the ankles due to overuse, overloading, poor footwork or not tensing the feet sufficiently for the joint to cushion falls. Find out in detail what and how are the most common ankle injuries in people who do crossfit.
Lateral ankle sprains
These are injuries that occur to the lateral ligaments, when the sportsman or woman makes sudden movements. Ligaments are firm, solid elements which, when they are twisted or overloaded, are injured. Crossfit occurs when all the weight is placed on the feet, or when when jumping falls on the toes, heels or edges. Its most frequent symptoms are: pain, bruises and swelling.
Stress fracture
This is the breakage of one of the two bones that are joined at the ankles by ligaments. This occurs when the injury goes beyond the trauma, at the level of the ligament, reaching the bone, fracturing it. They are called "stress" because they are triggered by repeated micro-trauma. That is, the affected area has received multiple impacts that have not been treated, and the bone gives way and breaks.
When doing crossfit exercises, great care should be taken with those that require continuous over-exertion, which are of intense physical activity, sudden changes in training or where there is muscular fatigue and the ankle is not rested.
Sinus tarsus syndrome
A condition that the person will have for life, unless treated in time. Sprains is a syndrome where there is pain on one side of the foot and ankle that does not go away until the person is at rest. This condition occurs when a person has had repeated sprains and has not completely cured them. It occurs at the crossfit when incorrect foot movements are made when running, jogging, jumping, or carrying excessive weight.
Achilles tendonitis
At the back of the ankle there is a tendon that has been called "Achilles". When this is overused in high pressure movements, Achilles tendinitis occurs. It starts with an inflammation in the back of the ankle, and then turns into a sharp pain that will restrict mobility.
It is a very common injury in the crossfit as it is produced by frequent exercises such as steep jumps, demanding runs at body and foot level, or carrying excess weight and then dropping it.
Arthrosis of the ankle
It is the progressive wear of the surface of the ankle joints, specifically in the joint area of the tibia, in the talus and fibula, which are responsible for cushioning the movements made from front to back when the sportsman performs excessive repetitive exercises such as running, long jumps, strides, squats, and others.
In crossfit, repetitive movement exercises to strengthen the body and tone it are common. Part of this performance falls on the ankles, which are responsible for giving support and cushioning to the whole body, making this joint a zone prone to this trauma.
Bestseller
What kind of sports ankle braces are best for strength sports injuries?
Exercises within the crossfit demand an extra and pronounced effort from the body. In the case of the ankles, they are the part of the body that receives the greatest impact, and the most recommended is the use of sports ankle braces, as they will protect you from any injury or help you recover from it.
Below we will mention the best sports ankle compression sleeves for crossfit and strength sports injuries:
Ankle compression sleeves
Compressive elastic ankle braces are made for exercises that demand a lot of mobility, strength and tension in the ankles, such as those performed in crossfit, providing the security and support that the joint needs while you exercise. You can also use them to help recover from sprains, and relieve any pain you may have while exercising, walking, or standing. They work by compressing each part of the ankle, performing a therapeutic function.
Neoprene ankle braces
They treat mild sprains, light tendinitis, or post-operative recovery processes. They serve as stabilizers and keep the ankle and its parts in place, avoiding sprains. This is an important aspect in the crossfit, where most exercises require the ankles to be stable and strong enough so that they do not fracture or suffer injuries. They are very light and comfortable to relieve pain and give the right support for recovery, allowing complete mobility and flexibility of the joints.
Stabilized ankle support
The support and compression it exerts on the ankle, serves to prevent and recover from injuries in this area, mostly in the lateral ligaments. Its cross design prevents sprains in people with weak feet, oedema, arthritis or who suffer from plantar fasciitis, including cases of serious injury such as Achilles tendinitis where the joint becomes damaged and unstable.
Ankle strapping
The strapping ankles are characterised by their perfect adjustment to the ankle and its internal parts. They are mainly used to accompany, prevent and treat sprains in the lateral ligaments. It serves your ankle as an extra support for occasions where you have to perform pressure exercises or where you demand a greater effort, such as in the exercises of overweight lifting in crossfit, top speed running and others.
Ankle supports
They were manufactured especially for higher grade and more damaging injuries. Their main feature is the two side bars that are located on each side of the ankle. They are steel curves, and their main function is to provide maximum stability and support to the tendons and lateral ligaments. They are frequently recommended to help reduce inflammation and regenerate damaged ankle tissues, very common injuries in crossfit as a consequence of overuse and overweight in these demanding exercises.
What characteristics should you take into account before choosing the best sports ankle brace to train Crossfit?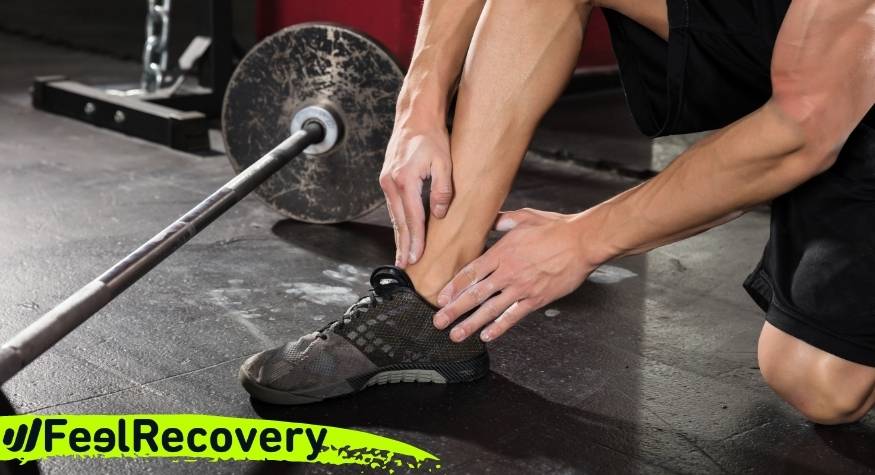 It should be taken into account not to wear any kind of ankle brace for superficial reasons. It must be adapted to the needs of our ankles and the requirements of the exercise routines. To enable you to make the best choice, some of the most important characteristics to be taken into account when choosing your own sports ankle brace will be detailed, whether they are physical, financial or functional aspects.
Depending on your function
Ankle braces to stabilize the joint: There are specially manufactured sports ankle braces to give your ankle muscle support to keep it stabilised, preventing it from twisting during certain pressure exercises in crossfit, while also reducing muscle vibration by keeping it firmer. This benefit is also very good for preventing your muscle from becoming tired and therefore stopping it from working properly, thus avoiding possible injuries.
Ankle braces to improve blood circulation: Compressive ankle braces produce better blood circulation around your ankle. Especially those made of neoprene, which give your muscle and this whole internal part a thermo-dynamic effect. This means that it keeps the joint warm and active, which is the best way to avoid fatigue or injury from stress.
Ankle braces for recovery from injuries: These garments were created to help the ankle recover correctly and more quickly from serious injuries. Although they also serve to treat sprains and conditions that are in recovery.
Ankle braces to reduce pain: One of the main functions of sports ankle braces is to relieve or avoid pain. This is due to their thermo-compressive effect on the joint, relaxing the muscles and keeping them in a constant state of rest.
Manufacturing material
Sports ankle sleeves vary depending on the material they are made of, which affects their usefulness, flexibility, durability and quality. Thus, the best known and most used are those made of neoprene, as it is a material that adjusts perfectly to the shape of the ankle and has thermal adherence, but does not allow the skin to breathe properly.
To counteract this, the ankle braces were created of fabric, nylon and with spandex, which allow a correct blood circulation and a more natural breathing of the skin. Although they can also be created in different percentages with the neoprene.
Type of support
Below are some of the most common and effective types of restraints we recommend to keep in good support and tight to your ankles, for when you do all kinds of crossfit exercises.
Adjustable: These are the ones with an elastic band that is anchored to the opposite side of the ankle. They give you very good support and compression for jumping and crossfit exercises.
Crossed ankle braces: This type has two bands on both sides of the foot which are placed one above the other in a criss-crossed manner, so that they not only act to compress the ankle quite well, but also keep it well secured and limit the movement mainly of the lateral ligaments.
Velcro: Velcro compression ankle braces are quite common as they are very easy to put on and take off. Their power and effectiveness of subjection are due to the fact that they are not a common Velcro, but a special one, more resistant and more adhesive that does not allow them to come off in the most important moments of the crossfit, especially in running exercises or those with a lot of movement of the ankles.
Size
You can find a lot of different styles of ankle braces, as well as types, but one of the aspects that doesn't vary much is the sizes. This is because they were designed with each person's build in mind and adapt to the body in such a way that they provide safer and more effective support. Having an ankle brace that is too loose or too tight will only have a negative effect on any demanding crossfit exercise.
To find out your ankle size, all you have to do is get a tape measure and measure the circumference above your ankle. There are some that are one size fits all, but we recommend you go for the best option that fits your body best.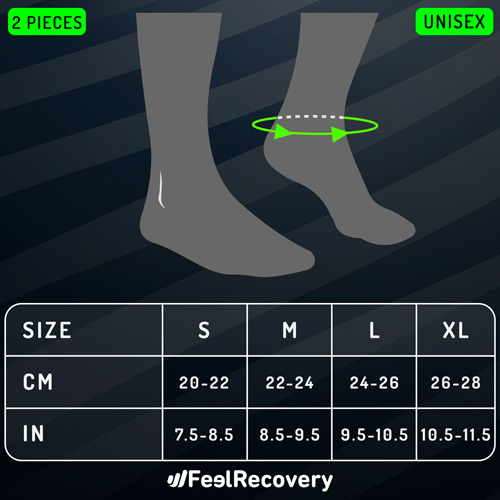 SIZE

S

M

L

XL

CM
20-22
22-24
24-26
26-28
IN
7.5-8.5
8.5-9.5
9.5-10.5
10.5-11.5
WHERE TO MEASURE?
The circumference is measured right at the ankle bone (*See image)
*Note: If after measuring you are between two sizes, choose the larger size
Design
The ankle braces are not exactly aesthetic but rather functional garments, most of them being single-coloured (black, grey, dark green) without many accessories or attachments. The important thing and the focus of these are rather therapeutic as such. However, the types of elastic compression ankle braces are those with a slightly wider variety than the typical unicolour basic. You will find in your search for the best crossfit garment, some with special designs, with dark or striking prints.
Price
As products become more specialised, they tend to increase in price. As is the case with compression sports ankle compression sleeves, which have important factors that differentiate them from other garments of this type.
Its high quality materials, in combination with the fastenings and the design adapted to your tastes, concludes in the ankle brace most recommended for the protection and recovery of your ankles. Emphasizing that, acquiring a garment of minor amounts, could result in a loss of money since their materials do not possess the necessary characteristics for the care of the health of this articulation.
Do the ankle compression sleeves really work for Crossfit?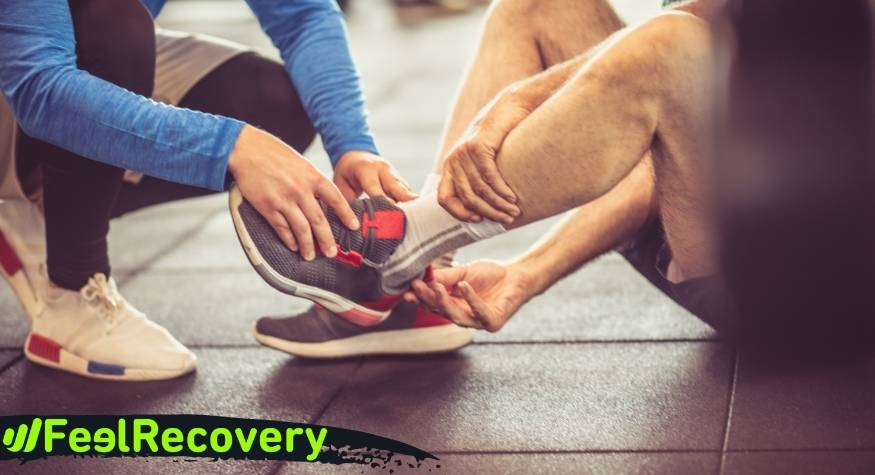 Compression ankle braces were manufactured with the health of athletes in mind, especially to promote health maintenance and prevention, during and after training, including possible injuries.
The purpose of the compression ankle sleeves is to ensure the physical and mental well-being of any athlete, especially crossfitters, who are the most prone to ankle trauma. Their benefits lie in the compressive therapy they exert on this joint, providing better blood circulation, thus reducing any pain and inflammation, as well as a rapid recovery.
Compression sports ankle braces are the great ally of those who practice crossfit, as it increases their performance, prevents you from suffering any type of injury to that joint, and if you have any, they are available to participate in the recovery, maintaining and ensuring that your ankles are always healthy and ready for the crossfit.