Weightlifting is no longer a hobby or a simple exercise for developing muscle mass, but has become a professional sport with a worldwide reach and is increasingly practiced by men and women.
This sport, which consists of maximum weight lifting, requires a lot of skill and technique to avoid injuries, but they are still quite common. That is why in the following article we will know in detail the most common traumas and how to prevent them through the use of knee braces to protect us during the exercise of this sport.
What are the most common knee injuries when practicing weightlifting?
As mentioned above, weightlifting consists of lifting the maximum possible weight distributed on discs hanging from a barbell. This sport has two modes, the snatch and the clean and jerk, but in both cases the athlete must use net force to lift the weight from the ground in a squatting position either with or without an interruption.
Injuries can occur due to different factors, for example, incorrect technique when lifting the weight, poor position of the legs in relation to the spine, muscles torn by over-training, inadequate warm-up or simply lack of specialised supervision. Among the most common injuries are
Rupture or sprain of ligaments
Generally known as a rupture of ligaments, it occurs when the ligaments change shape or size in a forced way, either by contracting or by overstretching. The main cause of this change in size is due to sudden movements for which the muscle was not prepared during a rotation or flexion, actions that are very common in weight lifting, especially flexion in the knees.
In this joint, the most obvious signs of ligament distension are severe pain, rapid swelling or inflammation and a feeling of heat, which can become temporarily immobilising and in the worst cases requires medical surgery to restore the ligaments to their original size and position.
Muscle rupture
It is caused by the breakage of the fibres of the muscles that protect the knee, when this is tightened in a sustained manner over a short period. It generally occurs when the knee is subjected to long intensity exercises. The most common symptom is acute pain accompanied by a feeling of internal tearing.
In weight lifting, muscle breakdown is very common due to the constant use of the back as a strength tensor and the muscles behind the leg to perform the bending more known as calfs, due to the pressure that is constantly exerted on these parts of the body, it is common for the muscle fibres to be injured to a lesser or greater extent.
Tendinitis
It is an injury that occurs when the tendon is injured by fibers that, in the form of "cords", join the muscle to the bone. These fibers can be irritated or simply inflamed when they are repeatedly forced with sudden movements. This trauma is common because of the forced stretching that is done when weights are lifted, especially in the first movement.
Tendinitis can cause an irritation or stabbing pain in the knee. During weightlifting the joints are used quite often to lift the weights in one or two movements at most so that quite a lot of pressure is put on them, the tendons can easily be compromised as a result.
Muscle contractures
Muscle contractures or spasms are injuries characterised by severe pain in the muscle when it contracts violently, caused by constant tension in the knee. It is quite common, and not only in people who practice weightlifting as a professional sport, but also in amateur practice. This condition can cause various discomforts that can persist over the days, such as: reduced mobility of the area, muscle weakness, muscle stiffness and even immobilising pain if it worsens.
Poor movement caused by lack of technique, constant muscle fatigue from overtraining or simply a change in the usual exercise routine that over-stimulates the muscle, can cause muscle spasms, during weight lifting. It is important to have the necessary clothing to protect the muscles, as well as care on the part of the athlete with regard to his training, since in this discipline they are common due to the high level of physical demand required.
Chondromalacia patellaris
It is a very common injury to the knees in weightlifting sport, which causes wear on the upper cartilage of that joint due to the constant friction from the squats and the weight exerted on it plus the additional weight from the weights, more specifically between the kneecap and the femur. Generally when this occurs, rehabilitation treatment and therapy is prescribed to relieve the pain and special protectors that prevent the damage from getting worse through further friction.
Bestseller
What type of knee supports and patella straps are best for strength-sport injuries?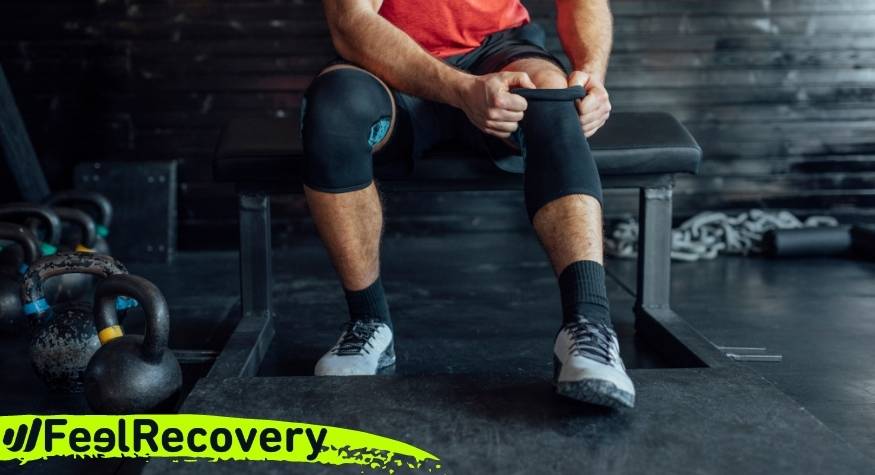 In strength sports such as weightlifting and Crossfit, it is recommended to use knee braces that are capable of exerting only adequate pressure with excellent heat distribution for comfort and with flexible materials but capable of holding efficiently during high performance exercises.
In that sense it is recommended:
Knee compression sleeves
Generally made with a neoprene cover to guarantee a good blood flow.  The elastic fabric with design makes it more comfortable on the skin and with more support preventing it from coming off or sliding down.
This type of knee braces also helps to improve circulation, prevents and improves injuries such as tendinitis and chondromalacia of the patella, due to the pressure it exerts, avoiding friction and wear of the knee. It is also highly functional due to its adaptability and comfort as it easily adapts even to the daily routine without causing major discomfort.
Knee Wraps
For high performance competitions where generally weightlifters are subjected to twice the pressure and training, these knee supports prioritise stress and double support to the joint. Unlike neoprene garments, these are usually thinner and stronger, guaranteeing greater support. In addition, they have the benefit of helping to prevent an injury from worsening or causing degenerative damage.
Orthopaedic knee support
Mended by a doctor after an injury during weight lifting. They are usually used to speed up the recovery process and to prevent further injury in daily activity. It is important to follow the instructions given by the doctors. Within this category there are many others but depending on the patient's condition, these can be tailored to suit the medical decision or pathology presented.
Elastic knee sleeves
They are generally ultra thin, made with very flexible material, provide support for powerlifting, Olympic lifting and CrossFit, and also allow greater mobility and are easily adapted. The material is breathable and easy to use. This type of knee braces are also used for recovery from acute knee injuries. Their main advantage is that according to the adjustment, they guarantee a better rebound.
Patellar knee strap
It is a specialized tape with a simple and quite functional design. This type is intended to tighten the kneecap to reduce symptoms such as acute pain caused by injury or weakness but in case of not much severity. This class is known as the specialized type, designed to treat occasional or recurrent injuries in an athlete. As for other additional benefits. The high-end knee braces offer advantages such as increased perspiration to avoid accumulation of odours, better fastenings and snaps that make it easier to put on and take off, as well as the durability of these.
What features should you consider before choosing the best sports knee brace for squatting and weightlifting?
When it comes to choosing knee compression sleeves, whether you are just starting out in the sport or are a professional in the field, you need to have certain standards for your purchase, always adapted to your needs, objectives and goals, so that you can choose those that are capable of accompanying you in your physical activities without causing you discomfort, but still fulfilling their function.
To choose we have prepared a series of characteristics to take into account to help you in your decision:
According to their function
Pain relief knee brace: Some knee braces are specifically designed to prevent the most common injuries and to relieve pain. The compression type with incorporated gel is formulated to massage the soft parts with movement to reduce or prevent swelling caused by friction and wear of the cartilage. It also soothes discomfort caused during training sessions or when starting on a new weight limit.
Protective knee brace: Provides greater care. They are designed to offer protection at all times during use, avoiding situations that subject the knees to great stress and cause severe joint or muscle pain, in itself they offer a therapeutic service. They are used as a treatment for recurrent symptoms or damage caused by old injuries and are even recommended outside of training camps.
Stabilizing knee supports: They exert greater pressure and distribute the weight better, thus offering not only support, but also balance and better use of force. During the practice of weightlifting this type of knee braces are able to provide enough safety due to their high standard of protection design avoiding serious injuries.
Open knee braces: This class of braces is very famous for its ability to protect mobility, that is, it allows the joint to move properly without having to make much effort and thus avoid any type of injury in the area. Their shape is open in the front for patellar containment and better transpiration.
Closed knee braces: They protect the whole knee area providing greater protection. They are generally used with gel supports to preserve the protection of the softer parts and to guarantee much more comfort when lifting weights.
Manufacturing material
The knee supports have certain standards in terms of materials suitable for resistance in sport and adaptability to the body, however this may vary according to the purpose of the sport. Among them we find:
Elastic material: Mostly made of interlocking tapes of flexible rubber-like material, but suitable for sports and skin. It does not cause irritation and can be used for daily training of moderate intensity. These guarantee better rebound and avoid excessive pressure on the tendons during squats performed to lift the weight.
Neoprene: Mostly, compression type knee sleeves are designed with neoprene covers to guarantee a better support when holding the weight and distributing it over the knees and legs. Their weakness is the little transpiration so it is recommended to wash frequently.
With gel pieces: Although it is not their main material, some garments contain incorporated gel that helps in a therapeutic way, providing a massage and support to the muscle with every movement. It is generally used when there are symptoms of an injury or damage generated, causing weakness to the muscle. The amount of gel can vary according to the design.
Thermal material: Some knee braces are specially designed with thermal material that is capable of retaining cold or heat, thus helping muscle rehabilitation and pain relief. Very useful after a session of weights where the muscles have been pushed to the limit and there are signs of inflammation.
Type of support
Although it is not one of the most important characteristics, it is one of the most important, since it is necessary that the knee braces have good support ensuring the adjustment during exercise and sport. In this way, you will avoid uncomfortable moments when they get out of adjustment or even worse, they get loose during some training with weights, causing imbalance which in turn can lead to an injury in any part of the body.
Generally the knee braces are designed in function of the main material generating support but, if you look for even more adjustable ones, you will get some that are made with additional articles to guarantee a better grip, some of these are
Hinges: This is an auxiliary tool made of light but resistant metal that allows you to open or close the knee brace. It is added to guarantee or improve stability and allow free movement, but with the necessary compression, they are adaptable to meet both requirements.  Used in pieces that require greater support according to the needs of the athlete.
Velcro: It is a velvet hook very useful to hold or close the garment according to the person's taste. It is highly recommended for weightlifting because of its soft material, high resistance, support and good grip.
Size
The sizes of the knee supports can be expressed in the universal number system or by standard measurements in letters. The S as the smallest and XL onwards as the largest, you need to know the diameter of your knee which you can do with a simple tape measure. Each one is designed for an almost perfect fit, being too loose would impede its function and being too tight would cause circulatory problems.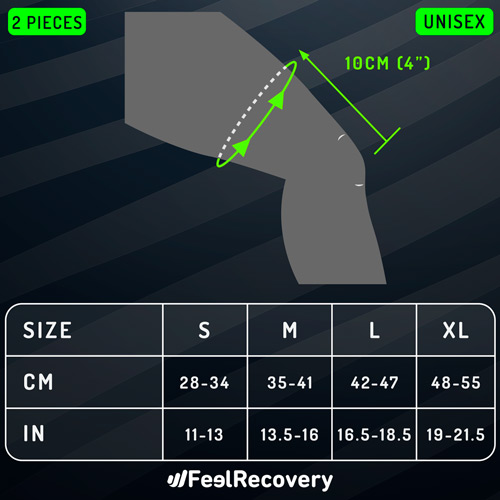 SIZE

S

M

L

XL

CM
28-34
35-41
42-47
48-55
IN
11-13
13.5-16
16.5-18.5
19-21.5
WHERE TO MEASURE?
Measure the circumference of the thigh, 4 inch/10 cm up from the center of the kneecap (*View image)
*Note: If after measuring you are between two sizes, choose the larger size
Design
The designs on the knees braces seek to finish as many aspects as possible to satisfy the consumer, these range from the pleasantly aesthetic design, functionality, adaptability, sports performance and other amenities such as breathability, ease of storage, and guarantee in time.
If you are one of the most daring people who wants to stand out in weight lifting, there are very striking designs that go from fluorescent paint to military prints, also designs for women, men or unisex. These details do not have to affect the functionality for which the knee supports are made, on the contrary it adds a plus.
These garments are designed to get the most out of them. Other factors must be taken into account, such as the support, the quality of the straps, tapes etc, as well as whether it is suitable for your type of foot if it is sensitive or whether it is simply functional according to your needs.
Price
There is a wide variety of prices on the market, according to the manufacturers, the material used, and the functions. Before making an investment, evaluate which one you should choose according to your weight lifting needs, your body type, your medical history and your resistance. Depending on this, you can make a better decision with all this information. It is always good to choose ones that have a longer life, higher quality of manufacture and better performance.
Do compression knee sleeves for weightlifting and squatting really work?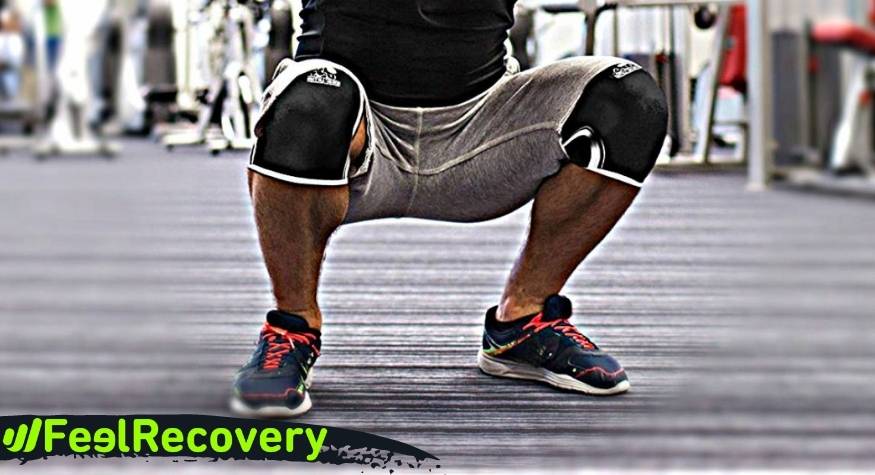 The compression knee sleeves are indispensable when performing a high performance and physically demanding sport such as weight lifting. Because of the very nature of squats and repeated bending, our muscles, tendons and joints tend to suffer. It has been proven that knee braces are an extra support that provides relief for our muscles during this sport. They also help us to improve our technique by offering advantages such as better rebound.
This kind of garment has the advantage that, not only does it help us during training as such by avoiding injuries due to sudden movements, but also, to protect the muscle in the long term from degenerative injuries such as cartilage wear. They are therefore widely recommended by weight-lifting professionals.
The constant use of knee supports by way of prevention, avoids even annoying pain that is not necessarily caused by an injury, but by muscle exhaustion. They thus lead to greater sporting performance during training sessions and are also of great help during competitions where greater physical effort is required.
Weightlifting is a beautiful sport, which reflects our internal and external strength. However, it is a discipline where we are putting our body to the test, so extra support is always an advantage. Our knees will appreciate it in the short or long term.