Lotus flower mats are one of the most practical ways to perform acupressure therapy, but nowadays they have become so popular that it is difficult to find the ideal mat among so many brands that often do not deliver what they promise in terms of quality.
That's why today we will guide you in your mission to find the best acupressure needle mat, so that you can take advantage of all the benefits of this millenary therapy, which will allow you to improve your lifestyle and feel recovered from any pain or discomfort.
How can acupressure therapy improve our health according to science?
For some years now, acupressure therapy has become a favourite among patients and specialists to lead a healthier, more relaxed and pain-free life. Born millennia ago in the Chinese culture, which has spread to the West, it focuses on the stimulation of the thousands of points that connect the meridians through which energy flows in the body.
It is often confused with acupuncture as both basically treat the same points and have the same philosophy about them, but the most notable difference between the two is the way in which they are stimulated: while acupuncture uses needles to do so, acupressure does it with the hands and fingertips.
Although traditional scientific medicine has not given much importance to its study when considering it, the few studies that have been carried out on it have been favourable. Here are the most scientifically proven benefits of acupressure:
Stress reduction
Acupressure can regulate the flow of energy in the body, but also the flow of blood in the bloodstream and stimulate the muscles so that the brain generates more endorphins and oxytocin, which will greatly reduce the stress that is the culprit of so many other ills in your health.
Limits myelosuppression from chemotherapy
Bone marrow suppression is one of the worst side effects of chemotherapy. But it can be reduced by practising acupressure. This is demonstrated by a study conducted in 2017 by the specialists Ya-Wen Shih, Shun-Fa Yang, Ming-Hsien Chien, Ching-Wen Chang, Vincent HS Chang and Hsiu-Ting Tsai.
In this study, acupressure was applied to 28 female patients during their chemotherapy treatment for gynaecological cancer, and a significant increase in blood stem cells was noted, which counteracted the effects of myelosuppression.
Improved aerobic capacity
Aerobic endurance is one of the most important qualities in any athlete's sporting performance. Although acupressure does not involve any exertion on the part of the patient, it has been shown to have beneficial effects in this regard.
In 2018 Shahin Ahmedov and Baris Filiz in a study of healthy young male athletes who received acupressure, the result was that they improved their aerobic endurance by more than 10%. Although it is not clear how this was possible, the experts conclude that it could be as a result of achieving a state of relaxation sufficient to reduce anxiety, which would allow them to make better use of their lung capacity.
Improves sleep and reduces fatigue
Sleep disorders are undoubtedly one of the worst misfortunes that can happen to any human being as they cause a chain reaction of increased stress and damage to the nervous system A clinical trial was conducted in 2016 the study was conducted by Seyyed Abolfazl Vagharseyyedin, Mohaddeseh Salmabadi, Hamidreza Bahrami Taghanaki and Hamidreza Riyasi in which the effectiveness of acupressure to improve sleep in patients suffering from migraines was tested.
The study involved monitoring 76 patients who underwent targeted acupressure. Although the improvement in sleep quality was minimal, significant results were seen in terms of reduced fatigue.
What is a acupressure mat and what are the benefits of using it regularly?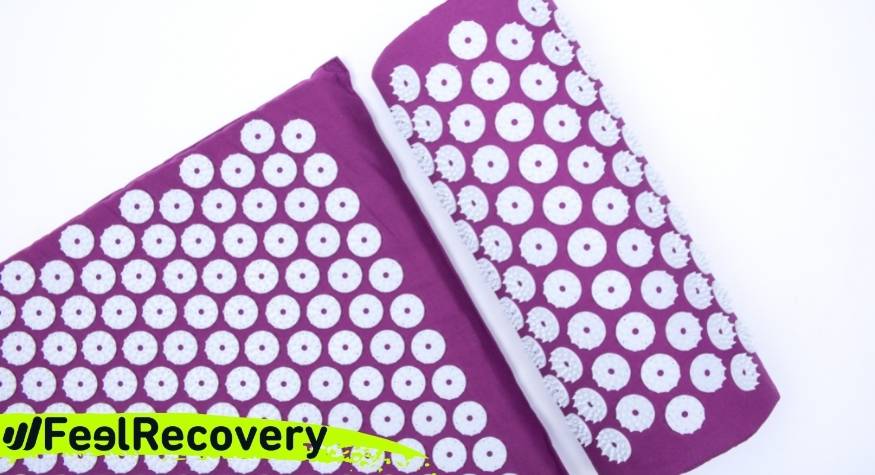 It is a mat that has a series of spikes that have the ability to activate the points and meridians through which energy flows in the body.
Regular use can have the following health benefits:

Release stress and reduce anxiety: using the mat for 10 to 20 minutes a day helps to reduce tension in the soft tissues, and stimulates the release of endorphins and oxytocin that will allow you to be more relaxed and free of tension and stress.
Improve sleep: as shown in the studies cited above, acupressure can help you get better, uninterrupted sleep, as well as making it easier to fall asleep so that you don't suffer from insomnia again.
Relax muscles and joints: the hundreds of barbs on the mat greatly facilitate the release of tension in the soft tissues. This allows both muscles and joints to be more relaxed and less prone to injury.
Relieve muscle soreness: if you suffer from severe stiffness or DOMS after training at the gym, a few minutes on the acupressure mat on a regular basis will allow you to relieve these and other ailments caused by soft tissue injuries.
Minimise migraines: if you suffer from migraines on a regular basis, you'll be pleased to know that using the acupressure mat will help to greatly reduce them by stimulating the release of endorphins which have a powerful effect on both the prevention and relief of migraines.
Relieve chronic pain: the fact that they stimulate the production of endorphins and release tension throughout the body makes acupressure mats a great ally in relieving pain caused by chronic ailments or trigger points.
What to consider before buying the best acupressure mat?
Now that you know how an acupressure mat can improve your quality of life, it's time to learn what are the most important things to consider when choosing which one to buy.
Materials
Materials are important as they will define both the quality of the product and the user experience. You should make sure that they are made with hypoallergenic textiles such as cotton and linen on the outside. As for the filling, the most advisable is that they are filled with coconut fibre or cotton as these maintain their texture for much longer.
As far as lotus flowers are concerned, you should make sure that they are made of a material that is strong enough to apply even pressure all over your body while you use them, but not so strong as to hurt your skin. A HIPS plastic or high impact polystyrene is ideal.
Dimensions
This is an aspect that you should take into account as it will largely determine the amount of space the mat can cover on your body. In this sense, the width of the mat is most important, especially if you are a tall person who is likely to have a fairly wide back and a mat that does not cover all of it will not provide the desired benefits.
Design of the "Lotus flowers"
The way the lotus flowers are designed on a mat is crucial as it will determine the quality and quantity of pressure exerted on the body points and meridians. Usually the tines are grouped in circles or hexagons, which does not change much how they work, but what is decisive is the way the tines are distributed in those circles or hexagons.
Make sure that they are distributed in a similar way to a lotus flower seen from above, and not just as a bunch of points grouped inside a circle. Otherwise they will not apply harmonious pressure and the points and meridians will not be stimulated properly.
Number of pressure points
The number of prongs on the lotus flowers is important as it will determine the stimulating potential of the mat. You may think that the more the better, but acupressure is not a matter of size but of harmony. There can be hundreds of lotus flowers on a mat, but ideally there should be at least 15-20 spikes on the mat.
Cleaning
Cleanliness is essential for obvious reasons. Remember that this is an item that you are likely to be exercising on, which means it will accumulate dirt and sweat that over time will become a breeding ground for bacteria that is potentially harmful to your skin.
So make sure that the outer cover of the mat is removable, and that the material of the lotus flowers is strong enough so that it won't lose its firmness or peel off when washed. As for washing the mat, even if it says you can use a washing machine, it is best to wash it by hand to preserve the life of the product.
Extra accessories With or without a pillow?
It is normal for the mat to come with its own mat and a pillow, which if not included would be a real reason not to buy it, but in some cases you can get a good deal to get a complete self-massage kit. This usually consists of a set of lacrosse massage balls and also a foam roller.
How to use a lotus flower mat to relieve muscle aches and pains?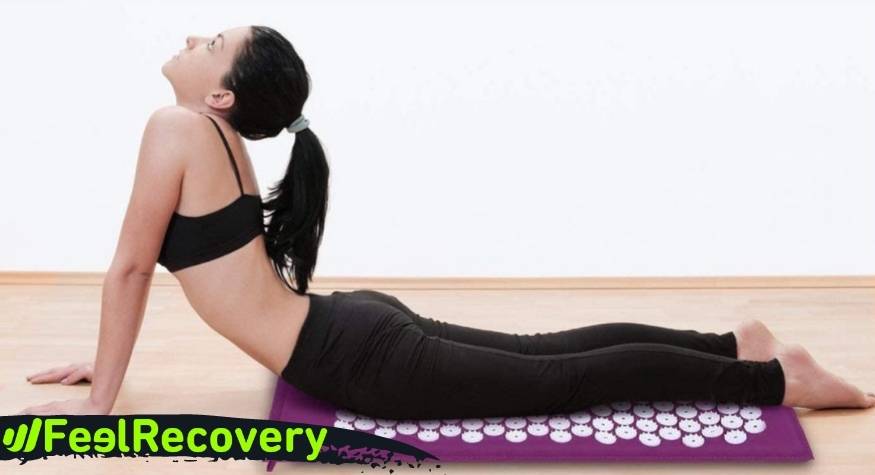 We are now going to show you briefly how to use a lotus flower mat to relieve muscle aches and pains throughout your body.
For this we will focus on the following aspects:

How to lie down: depending on the exercise you are doing, you will probably be in many different positions, but in all of them the most important thing is that the part of the body you want to treat rests completely and evenly on the lotus flowers, so that they can activate and stimulate the points and meridians located on them.
Session time: the length of time you use your mat may vary depending on the type of exercise you are doing. If you are using it to lie on while reading or watching TV, 30 minutes or more is ideal. If you are doing a yoga, meditation or other exercise routine, holding each position for at least 5 minutes is recommended.
Regularity of the sessions: experts recommend that you make it a constant habit to practice every day for at least 30 minutes in your free time, but if you can't afford that luxury, taking advantage of a moment 2 or 3 times a week will be enough.
Tips on how to take care of your acupressure mat and extend its life as long as possible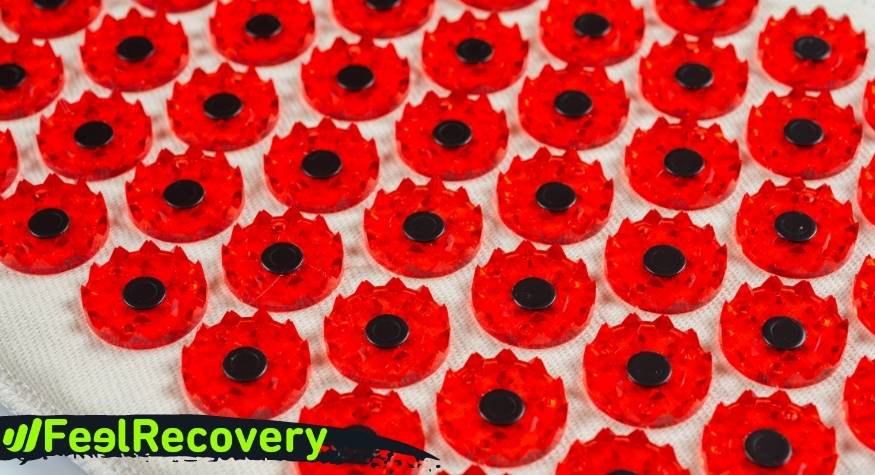 Finally, we are going to give you some invaluable tips that will allow you to extend the life of your acupressure mat to the maximum, so that you won't have to buy another one for a long time.
Always keep it in its bag: after use, don't just leave it lying around. Keep it in its respective case, as this is designed to keep out humidity, dirt and other external contaminants that reduce its durability.
Follow the cleaning instructions: always follow the washing instructions as this is the correct way to prevent damage to the materials during washing.
Do not use directly on the floor: avoid placing it directly on hard surfaces as, despite being a carpet, its materials can be easily damaged if you place it on a stone or fragment of any other material that is on the floor at that moment, so the ideal is to place some insulating material between the mat and the floor, such as a towel or a cloth mat.
Do not bend it excessively: the fact is that the mats should never be bent because if the spikes are banging against each other, they will end up losing both their firmness and their tip, which will gradually make them less effective. So always store it in the same way it was when you first took it out of its case.
Do not use a washing machine or bleach: even if it says on the instructions that you can use a gentle wash programme, which is unlikely, the ideal is to do it with your own hands and without using bleach or any strong detergent.