We know that you like to do things very well and even more so if it is the first time or the first time you use something, such as a thermal pillow for seeds and aromatic plants.
We are going to see in this case what is the best temperature for which the thermal pillows have to be, either to apply them as heat or cold therapy, so that you can get the maximum benefit from these great natural remedies for all kinds of pain.
How to use the wheat bag microwavable with lavender for heat therapy?
Heating the wheat bags for pain relief gives us many benefits derived from the contribution of heat to our body, in addition to enhancing the very pleasant aroma of lavender. As in every house we have different types of microwaves, the maximum power will be different in each case, but we will always heat it to the maximum power.
So, what will change will be the times. For a microwave with a power of 800W, we must heat the wheat bag for pain relief and herbs for about 1:30 minutes, although the size will also influence, below you have a table with the heating times according to model.
To begin with, we recommend heating the wheat bag for pain relief in the microwave for 50 or 60 seconds. When you take it out, check in your hands that it is not too hot to apply to the painful area. If you feel you need to heat it up more, you will have to wait for it to cool down to room temperature before you can heat it up again and try it again for a longer time than before.
Special care must be taken in people with advanced diabetes, as they lose sensation in their extremities, and also in those with more sensitive skin, such as babies and the elderly. In these cases we will always put less time.
The analgesic effect is produced when our organism detects temperatures higher than 40ºC, it is not necessary to measure the temperature of the wheat bag for pain relief and herbs since we assure that they will have reached this temperature whenever you notice a heat contribution, since our body has an average temperature of 36.5ºC. Simply the first time you can help yourself from these tips, because you will see that it is very easy and simple to use.
Below is a small list where you can see some applications of the wheat bag microwavable with lavender:
Relieve pain caused by arthritis, osteoarthritis, menstrual cramps, muscle ...
Warm up cold hands and feet.
Apply for pleasure on colder winter days.
Use before a massage to prepare the area.
During a skin cleansing.
Warm up beds and cribs (totally safe, as there are no electrical elements or possible hot water leaks).
Bestseller
Five Stars - Easy to use, retains heat well.
Definately recommend 🙂 - Brought this for a friend. She loved it helped her with her backache.Good choice of covers, great service and quick delivery.Great for those with little aches and pain or just to warm after a cold day.
Excellent. - Excellent product. Been using them now for a couple of months. They do not get overhot like hot water bottles and retain some warmth for longer. And they don't leak! Came with clear instructions. Perhaps the lavender fragrance could be a bit stronger. Would definitely recommend.
This item was delivered quickly and I love it. It heats up in 2 mins in the microwave and the fleecy cover is so cosy. I will probably buy another for my daughter in the near future.
Great purchase - Received promptly, well packaged, good quality and a lovely colour. Works really well - heats up quickly and easily. Better than traditional hot water bottle.
Five Stars - Great product exactly what I was expecting
Four Stars - Good product
Good product/service - Product took a little time to arrive but was exactly as described and has been popular with the family
Toasty toes - Love this. Heat it for abut 2.5mins and it stays toasty for a couple of hours in my bed. I use it without the cover as I find it dilutes the heat a bit but great product, very happy with it.
A product that actually does what it states on the label - Great product as good as water filled bottles but without the danger of scalding
How to use the wheat bag for pain relief as a cold therapy?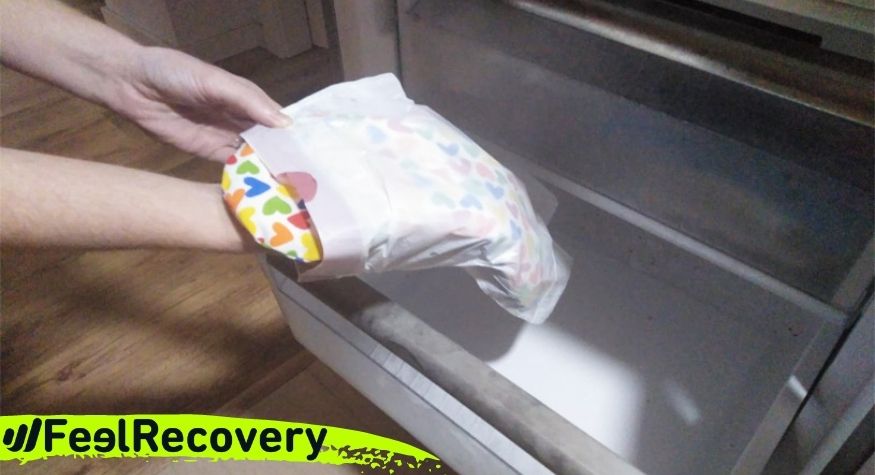 We can not forget the benefits of applying cold in certain conditions or in personal wellness and beauty treatments. The wheat bag microwavable with lavender is indicated for use as a complement in treatments for fever, migraines, reduction of swelling, tendinitis, etc.
This is thanks to the fact that, as it does not contain any liquids or oils, nothing is frozen, so the cold that it provides is not aggressive and can be maintained on the areas that are affected, improving circulation and thus removing pain.
Although these wheat bag for pain relief are usually used in heat therapy, you will be surprised to know that they are also used as cold therapy, are very pleasant and recommended, because by not carrying liquid (or water or oil), do not freeze, so the cold that provides is ideal for relieving conditions such as migraines, headaches, fevers, and so on.
In addition, they also serve to take care of us in a natural, comfortable and simple way. For example, if you spend a lot of time in front of a computer because of work, when you get home you can put the heating pad for microwave eye mask inside a plastic bag and put it in the freezer. After an hour, take it out of the freezer and out of the bag, and apply it over your eyes and head. This will relax your eyes and reduce bags and dark circles.
To enjoy the gentle cryotherapy with the wheat bag microwavable with lavender models that have been most adapted to your tastes or needs, you will simply have to keep the wheat bag for pain relief in the freezer for one or two hours in a plastic bag, in order to cool it down so that it can be used as a treatment.
Some of the benefits of applying cold in a gentle way and with a slight smell of lavender are:
Relief from migraines, headaches and headache.
As a beauty treatment against eye bags, a sign of exhaustion and stress.
Complement in treatments to reduce fever.
In case of tendinitis and muscular inflammation.
Cryotherapy in the most sensitive skins.
To refresh us in hot summer days.
Finally, remind yourself that both thermotherapy (heat treatment) and cryotherapy (cold treatment) can be used for pain relief and personal care, all to improve your health naturally.
How long do you have to heat the wheat bag for pain relief in the microwave?
As we have already mentioned, each microwave brings its own power from the factory, but as a general rule, the maximum power in most of them is about 800 to 1000W. When we heat the wheat bag microwavable with lavender for a reasonable time and you take it out and don't feel it hot enough, we have to let it cool down and put it back in the microwave for a longer time than before.
Below are the heating times according to size and model for a power of 800W:
| Model | Size | Weight | Time (800W) |
| --- | --- | --- | --- |
| Multipurpose | 35×18 cm / 14x7 in | 1000 gr / 2.2 Lb | 2 minutes |
| W/ Bottle Shaped | 30×22 cm / 12x8,5 in | 1000 gr / 2.2 Lb | 2 minutes |
| Neck | 60×15 cm / 24x6 in | 1000 gr / 2.2 Lb | 1 minute & 30 seconds |
| Neck and Shoulders | 60×22 cm / 24x8,5 in | 1000 gr / 2.2 Lb | 2 minutes & 30 seconds |
| Slippers | S/M & L/XL | 600 gr / 1.3 Lb | 1 minute & 30 seconds |
| Mittens | One Size | 1200 gr / 2.6 Lb | 2 minutes |
| Lower Back* | 60×20 cm* | 1200 gr / 2.6 Lb | 2 minutes + 2 minutes* |
*Note: As this heat pack is very large, it is recommended to fold it in half to put it in the microwave and heat it up for 2 minutes, then take it out, turn it over and heat it up again for another 2 minutes.
Every 8 or 10 uses, it is convenient to introduce a glass half full of water together with the heat pad inside the microwave, this way we will return some humidity to the seeds and besides taking less time to heat up, the heat will last longer thanks to the rehydration of the seeds.
Is it possible to heat the wheat bag for pain relief in the oven or in the radiator?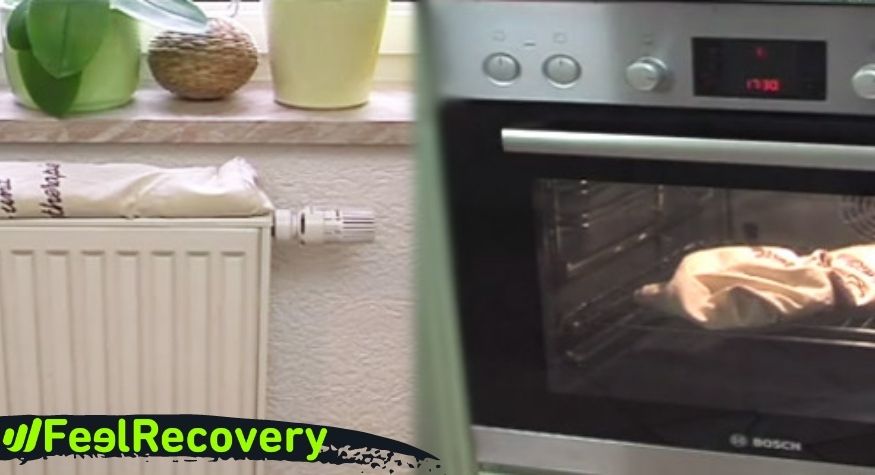 To the question whether it is possible to heat a microwave heat pad without a microwave, the answer is yes. Although this is not ideal as there are some risks, with the appropriate safety and security measures nothing has to happen.
Using the radiator: On cold winter days it is a very good option to leave our wheat bag for pain relief on top of the radiator so that it gets warm. You do not have to be more careful, just go around the heat pack so that one of its parts does not get too hot, and of course, be always present watching at all times.
Use in an electric oven: Other people use the oven, for this you have to preheat the oven to 120ºC and when it has reached this temperature, turn off the oven and place the heat pad wrapped in aluminium foil (optional) for 10 or 15 minutes, for the smaller ones, about 5 to 8 minutes. This method is fine as long as we take extreme safety measures, always being attentive to the oven at all times. Never use a gas oven.
Is it safe to use the wheat bag microwavable with lavender or are there any risks?
Like any product, if we use it properly it does not have to be dangerous, in this case it is the same. If we follow the simple instructions for heating and applications, the use of heating pad for microwave is totally safe and also beneficial to our health.
Other important tips to keep in mind are:
Keep the microwave or oven clean, so that there are no traces of fat that could burn or stain our wheat bag microwavable with lavender.
Use a turntable in the microwave so that the heating is uniform throughout the wheat bag for pain relief.
Keep a close eye on your oven or microwave while the microwave heat pads are heating.
Check the temperature of the wheat bag microwavable with lavender before placing it in the area to be treated to avoid possible minor burns.
Do not reheat the heat pack before it has cooled down completely.
Do not exceed the recommended heating time thinking that this will make the heat last longer, as this will not happen and there is a risk of burning the heat pad for microwave.
Do not place on open wounds or infected areas.